America's late-night hosts are uniformly disappointed with Trump's Charlottesville abdication
Did you hear the one about all the things Trump has immediately denounced?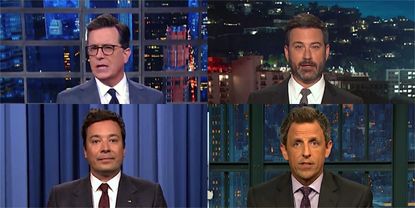 (Image credit: Screenshots/The Late Show with Stephen Colbert, Jimmy Kimmel Live, The Tonight Show, Late Night With Seth Meyers)
On Monday, President Trump finally unequivocally denounced neo-Nazis, the Ku Klux Klan, and white supremacists, two full days after armed, armored, and organized "Unite the Right" marchers descended on Charlottesville, Virginia. He did not appear to be happy about having to amend his original statement on Saturday condemning "many sides" for the violence that ensued.
Lots of people had been calling on Trump to specifically criticize the white-supremacist groups, especially as one of their members had run down a group of counter-protesters, killing 32-year-old Heather Heyer and wounding at least 19 others, and among those not impressed with Trump's delayed response were the hosts of late-night comedy shows. Yes, even Jimmy Fallon.
"Even though The Tonight Show isn't a political show, it's my responsibility to stand up against intolerance and extremism as a human being," Fallon said at the beginning of Monday night's show. "What happened over the weekend in Charlottesville, Virginia, was just disgusting." As his young daughters and other kids grow up, he added, "they need people to look up to, to show them what's right and good. They need parents and teachers and they need leaders who appeal to the best in us. The fact that it took the president two days to come out and clearly denounce racists and white supremacists is shameful, and I think he finally spoke out because people everywhere stood up and said something."
Subscribe to The Week
Escape your echo chamber. Get the facts behind the news, plus analysis from multiple perspectives.
SUBSCRIBE & SAVE
Sign up for The Week's Free Newsletters
From our morning news briefing to a weekly Good News Newsletter, get the best of The Week delivered directly to your inbox.
From our morning news briefing to a weekly Good News Newsletter, get the best of The Week delivered directly to your inbox.
Fallon, apparently fighting back tears, noted that Americans have fought and died for human rights, including Heather Heyer on Saturday, and he said "we can't go backwards. We can't go backwards."
On Jimmy Kimmel Live, Kimmel took a stock of yet "another disturbing Monday in America," explaining, "You know, we went into the weekend worrying about Kim Jong Un starting a war, we came out of it wondering if our president is cutting eyeholes out of his bedsheets." He played Trump's original response to the Charlottesville attack on Saturday, and was clearly underwhelmed: "He had to throw in 'on many sides.' 'Well, let's not lay all the blame on the Nazis and the Klan — there were people who marched against them, you know.'"
"It isn't as though he doesn't like to speak out," Kimmel pointed out. "You know, when Donald Trump is upset, when there's something serious happening, he doesn't keep it bottled up. He lets us know," like that time he railed against the all-female Ghostbusters remake. Kimmel then played Trump's updated condemnation of the white supremacists, finding it perhaps a bit forced. "What a difference a teleprompter makes," he deadpanned. "He sounds like a kid whose parents made him apologize for egging their neighbors' house."
On The Late Show, Stephen Colbert also noted Trump's quick Twitter finger. "It's not like Trump is a shrinking violet!" he said. "He's known for criticizing things. If only the president was as mad about neo-Nazis murdering people in the streets as he's been about Hillary Clinton, The New York Times, CNN, Joe Scarborough, Kristen Stewart, the cast of Hamilton, Diet Coke, Nordstrom not selling his daughter's clothes, Arnold Schwarzenegger, the mayor of London Sadiq Khan, me, the state of New Hampshire, Gold Star families, Penn Jillette's Las Vegas show, the movie Django Unchained, Meryl Streep, and lady Ghostbusters."
On a more somber note, Colbert shook his head at how easy it should have been to avoid this own-goal. "Our hearts go out to the victims and their families, and it is difficult to express how heartbreaking it is to see something like this happening in our country," he said. "But here's one thing that's not difficult to express: Nazis are bad. The KKK? I'm not a fan. That wasn't hard, that was easy — I enjoyed saying it." Trump obviously did not. "Many sides? Mr. President, this is terrorism, not your order at KFC," he said. "I have seen angrier Yelp review, and they weren't afraid to use the word 'Nazis' when describing how long their jalapeño poppers took."
On Monday's Late Night, Seth Myers added to the list of things that Trump has tweet-attacked, including, in the past week, Mitch McConnell and Kim Jong Un. "Trump has a permanent hard-on for condemnation, and when when it came time to condemn white supremacists and Nazis, it was limp-d--- city," he said, colorfully. "The whole thing is such a bummer because Nazis were like the last thing we all agreed on." After running through the various other Trump officials and allies who might be contributing to the problem, and making fun of the Tiki-torch-wielding white supremacists, Meyers had a final message for Trump: "Mr. President, you didn't have to rise to the level of FDR or JFK. All you had to do was show the same courage and moral clarity as the people who make Tiki torches, and you failed."
Maybe nobody tell Meyers that FDR put Japanese-Americans in internment camps.

Continue reading for free
We hope you're enjoying The Week's refreshingly open-minded journalism.
Subscribed to The Week? Register your account with the same email as your subscription.