The great Republican deficit swindle
Democrats keep getting rolled on the national debt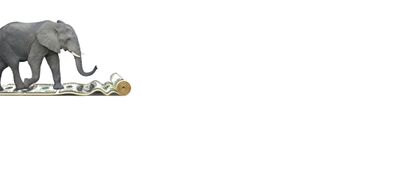 (Image credit: Illustrated | Image courtesy iStock)
Republicans are planning a push for tax "reform" — which predictably consists almost entirely of huge tax cuts for the rich. They're going to sell them with what is becoming the standard Republican tactic: transparent deception. President Trump's economic adviser Gary Cohn loves to say that the tax cuts are going to pay for themselves with supercharged growth, and that rich people won't be getting a cut — but, in fact, the top 1 percent of incomes will claim roughly four-fifths of the benefits by 2027.
"A ceaseless tide of duplicity" is basically the Trump administration motto. But at least we can get a clear picture now of the great Republican deficit swindle. For the entire Obama presidency, the Republican Party constantly bleated like lost baby goats over the deficit. "We can't afford it," was the chanted Republican mantra that confronted the prospect of any new social program.
Now, Republicans — and their ultra-wealthy donor class — are scenting some great big juicy tax cuts, which are absolutely certain to explode the deficit — by $2.4 trillion over a decade, according to a recent analysis — and they have completely abandoned even the pretense of caring about borrowing:
Subscribe to The Week
Escape your echo chamber. Get the facts behind the news, plus analysis from multiple perspectives.
SUBSCRIBE & SAVE
Sign up for The Week's Free Newsletters
From our morning news briefing to a weekly Good News Newsletter, get the best of The Week delivered directly to your inbox.
From our morning news briefing to a weekly Good News Newsletter, get the best of The Week delivered directly to your inbox.
For this Republicans should really thank President Obama, who successfully pursued deficit reduction from the second year of his administration. Despite a large initial stimulus, which combined with collapsing tax revenue blew up the deficit in 2009, he pivoted to austerity by February 2010. From then on, the White House internalized the austerian frame, made virtually all of its proposals deficit-neutral, and routinely celebrated its considerable deficit reduction.
Through tremendous, pointless agony inflicted on the American people, a Democratic president got the deficit to come down. Now Republicans are in charge, they've taken the budget headroom thus created, and they're going to immediately give it to the rich. Sound familiar?
The fact that Obama was getting rolled by deficit concern trolls was obvious from the very second he took office and Republicans magically rediscovered deficit anxiety, after two terms of whistling nonchalantly at George W. Bush's immense war spending, budget-busting tax cuts for the rich, and vice president who said outright that "deficits don't matter."
It is quite baffling why Democrats are such gullible rubes about this. One political engine behind this tendency, I think, is an unreasoned knee-jerk suspicion of debt as such. People think to their own personal lives, reason that debt is bad by definition, and conclude that the responsible thing to do is to pay it off as soon as possible. It makes a certain intuitive sense.
Now, this comparison often fails on its own terms. To draw an analogy to recent history, suppose your house's roof needs emergency repairs, your carpenter son is out of work, and the bank is offering you a negative interest rate — literally free money. Borrowing in such a situation would only be sensible — you'd be an idiot not to do so and spend on whatever you possibly needed in such a situation. It sounds outlandish, but that was precisely the reality the United States was in for much of the past eight years, and we didn't do it.
But that bizarre scenario points to a deeper truth: United States debt is not simply a distasteful obligation, but a key lever of economic policymaking. The U.S. government can manufacture, at will, the most reliable and most liquid financial asset in the entire world. In a crisis, when people flee to stability and security above all, they buy U.S. bonds. That is why demand for American debt was so strong after the 2008 crisis that interest rates on treasury bonds routinely came in below zero in inflation-adjusted terms, and occasionally even in nominal terms.
It is, of course, possible for states to borrow too much, especially small ones that do not borrow in their own currency. But America not only does borrow in U.S. dollars, that currency also happens to be the world's reserve currency. For such a state, it is equally if not more dangerous to borrow too little as it is to borrow too much — especially during a recession. The proof is what happened to GDP, productivity growth, and prime-age employment rates during Obama's deficit-cutting presidency.
But an even greater political engine is class war. Over the past several decades, ultra-rich Wall Street pirates have dumped hundreds of millions of dollars into dozens of political pressure groups, think tanks, and lobbying efforts to push deficit cutting. Even several years ago, it was pretty clear what these groups were about in how they always pushed service cuts to Medicare instead of addressing the price increases that were behind projections of immense future deficits.
But we now have inarguable proof that this stance was mostly a pretext for an agenda of 1 percenter self-interest. Now that Republicans are going to blow trillions on tax cuts for the rich, and the thundering "deficit hawks," who drove the Washington political establishment into a hysterical frenzy over borrowing in 2010-11, are almost completely silent. Why? Because they're about to make out like bandits.
The next time a Democrat is elected president, Republicans are going to start up the same routine again. Next time, let's please not be fooled.

Continue reading for free
We hope you're enjoying The Week's refreshingly open-minded journalism.
Subscribed to The Week? Register your account with the same email as your subscription.