The GOP budget resolution would savagely cut the safety net — and no one seems to care
It might just let Republicans cut trillions from Medicaid, Medicare, unemployment insurance, ObamaCare's subsidies, and more with only a 51-vote majority. Here's how.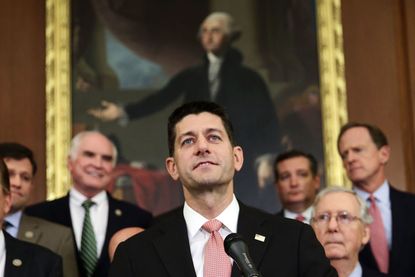 (Image credit: Alex Wong/Getty Images)
Stories about the GOP's tax reform plans have dominated policy headlines for awhile now. This week, for instance, Senate Republicans started hashing out their future plans for the U.S. federal budget in earnest, which they're using to set the stage for — you guessed it — tax reform.
But taxation is only one side of the budget resolution. The other side is spending. And the GOP has big plans there, too — $5.8 trillion in plans to be exact.
That's how much the Senate Republicans' plan would cut from federal spending over the next decade. If enacted, those reductions would gut public investment in communities across the country, hamstring the economy, and leave millions upon millions of already-vulnerable American families without the basic help they need to make ends meet.
Subscribe to The Week
Escape your echo chamber. Get the facts behind the news, plus analysis from multiple perspectives.
SUBSCRIBE & SAVE
Sign up for The Week's Free Newsletters
From our morning news briefing to a weekly Good News Newsletter, get the best of The Week delivered directly to your inbox.
From our morning news briefing to a weekly Good News Newsletter, get the best of The Week delivered directly to your inbox.
So far, Democrats and their allies are treating this savagery like they did Trump's hypothetical budget back in the spring: an opportunity to bash the GOP for cruelty and hypocrisy. But no one is really treating it with the urgency it arguably deserves. Because here's the kicker: It's possible that Senate Democrats wouldn't be able to mount a filibuster against at least some of those cuts. The Republicans could pass them with a bare 51-vote majority.
To explain how, we're gonna have to get wonky.
What the Senate is preparing is technically known as a budget resolution. "It's a statement of policy preferences going forward over the next 10 years," as Jacob Leibenluft, a senior adviser at the Center on Budget and Policy Priorities, explained to The Week. "What revenues look like, what spending looks like, and what spending looks like in specific categories."
Some programs are singled out for specific cuts in the resolution. But a lot of the spending reductions are assigned as bulk sums to various "budget functions," to be distributed among a range of programs. Once the budget resolution has passed, lawmakers will come in with other, smaller budget bills to nail down all the specifics. But the resolution provides enough detail that we can get a picture of where the GOP intends to cut that $5.8 trillion.
It isn't pretty.
Remarkably, Medicare is effectively singled out for $473 billion in cuts. Senate Democrats are shouting their heads off about this one, since President Trump repeatedly promised during his campaign that Medicare wouldn't be touched.
Another $1.3 trillion would be taken out of other health programs, which will mostly mean Medicaid and the various subsidies provided by ObamaCare. A cut of that size would reduce this bucket of programs by a whopping 30 percent by 2027.
The Republicans aim to cut $653 billion from the general bucket that includes food stamps, cash assistance to needy families, a range of refundable tax credits, and more. They'd cut $199 billion from programs that include Pell Grants, student loans, and block grants for social services. Then there's another $500 billion in cuts assigned to various other budget functions. And there's even $1 trillion in free-floating cuts the Republicans know they want to take out of something — they just don't know what yet.
A lot of the above are called "mandatory" programs, because their spending each year is determined by their overall design and how many Americans are eligible. But lots of government spending programs are "discretionary" — Congress decides each year how much it wants to pump into them.
The military is the single biggest chunk of the discretionary budget, and the Republicans are loath to touch it. But nondefense discretionary spending covers just about every bit of civil society you can think of: fighting homelessness, lending in poor communities, scientific and medical research, public transit, local investment, home repair, foreclosure prevention, job programs, and even Meals on Wheels.
You might remember that the Budget Control Act of 2011 imposed automatic cuts to nondefense discretionary spending going forward. These cuts were meant to be so painful and absurd they would force Democrats and Republicans to hammer out a better arrangement.
Well, the Republicans want to reduce nondefense discretionary below even those automatic cuts — 10 percent below in 2019, and 18 percent below by 2027.
The one bit of good news is that passing any of these cuts through the Senate ostensibly requires 60 votes to beat a filibuster. That means eight Democrats have to sign on, which will never happen.
But there's a catch.
The reason Republicans need to pass a budget resolution first, before the smaller and more specific budget bills, is that the resolution sets reconciliation in motion. That's the Senate procedural rule that allows you to pass certain bills by a simple majority without dealing with the filibuster. This year, the Republicans used reconciliation instructions to try to pass their various repeals of ObamaCare. (Though even with the lower vote threshold, they failed.) In the coming year, they want to use reconciliation to pass their tax reform plans.
As Leibenluft explained it, the reconciliation instructions apply to two Senate committees: energy and natural resources, and finance. The assignments to the first are negligible. But the instructions to the finance committee give it a $1.5 trillion deficit increase to play with. The Republicans' whole tax reform project falls under finance's jurisdiction. So presumably, $1.5 trillion is the amount of revenue the GOP anticipates it will lose from its tax changes over the first decade. (Those tax cuts will likely have to expire after that, because bills passed by reconciliation can't add to the deficit beyond the first 10 years.)
But what if the Republicans decide they want even bigger tax cuts in the first 10 years? Then they'll need to cut spending somewhere to offset the extra revenue losses, and stay within the $1.5 trillion ceiling. The spending programs that fall under the finance committee's jurisdiction include Medicaid, Medicare, unemployment insurance, ObamaCare's subsidies, and more. Any spending cuts the finance committee makes to those programs, and which are directly tied to making room for the GOP's tax cuts, would fall under the purview of reconciliation.
Then they could be passed through the Senate with a bare 51-vote majority.
So while the spending cuts in the Republicans' new budget resolution technically fall outside of reconciliation, there's a way they could sneak at least some of that $5.8 trillion in through the back door. No one knows if this is the GOP's plan. It may well not be. But the design of the budget resolution makes it a real live possibility — one that not nearly enough people are taking seriously.

Continue reading for free
We hope you're enjoying The Week's refreshingly open-minded journalism.
Subscribed to The Week? Register your account with the same email as your subscription.