Why can't Bernie headline a women's march?
The most popular politician in America will speak to a women's march. No, this is not the end of feminism.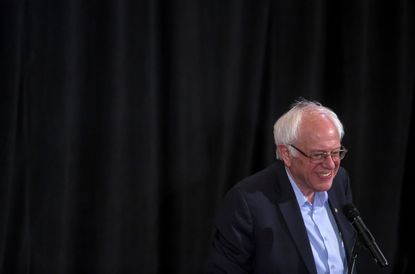 (Image credit: Eric Thayer/Getty Images)
Sign up to our 10 Things You Need to Know Today newsletter
A free daily digest of the biggest news stories of the day - and the best features from our website
Thank you for signing up to TheWeek. You will receive a verification email shortly.
There was a problem. Please refresh the page and try again.
Identity politics strikes again. This time, the battlefield is the Detroit Women's March scheduled for late October, which will feature an opening night address from — horror of horrors — Bernard Sanders. For many Democrats, this is apparently a cause for crisis. MSNBC host Joy Ann Reid, for instance, took to Twitter on Thursday to object that Sanders is a "white man" who believes "uteruses are just much less important than jailing the bankers and free college for the Rust Belt." Like many centrist Democrats, her angst was visceral. "Literally nothing matters anymore," she said.
Now, I'm sympathetic to the symbolic value of having a woman deliver the opening night address, but given the circumstances, there is simply no reason why Sanders shouldn't speak.
After all, it's not like women weren't invited. A Women's March representative clarified to Bustle that prominent female politicians like Hillary Clinton, Kamala Harris, Elizabeth Warren, and Kristen Gillibrand were all invited, but declined to attend. Sixty other women will be given a platform, however, including crowd favorite Maxine Waters, who will be delivering the convention's keynote address, and a number of prominent leftists, like Nina Turner and Nomiki Konst. In light of the unavailability of the prominent women who were asked to attend, the appeal of featuring the most popular politician in America strikes me as obvious.
Subscribe to The Week
Escape your echo chamber. Get the facts behind the news, plus analysis from multiple perspectives.
SUBSCRIBE & SAVE
Sign up for The Week's Free Newsletters
From our morning news briefing to a weekly Good News Newsletter, get the best of The Week delivered directly to your inbox.
From our morning news briefing to a weekly Good News Newsletter, get the best of The Week delivered directly to your inbox.
And yet the criticism persisted.
Some on Twitter objected to Sanders' 2016 remark that Planned Parenthood is "establishment" (it is, in fact, one of the oldest, the largest, and, yes, the most established reproductive rights provider in America). Others were upset that earlier this year, he endorsed Democratic mayoral candidate Heath Mello — a pro-life Democrat with a 100 percent Planned Parenthood rating who periodically took conservative positions on women's rights issues ... just like Clinton's vice presidential pick, Tim Kaine.
But perhaps the most troubling brand of criticism was the notion that Sanders shouldn't headline the event because, in Reid's words, he is "a man who dismisses women's control of our own bodies as secondary." This is a criticism one hears often leveled at leftists in general and Sanders in particular. But it completely falls apart upon close scrutiny.
First, what does being "secondary" even mean?
It seems to relate to the truth that Sanders privileges economic issues over identity-based causes. If you adopt a class-based lens, you tend to prioritize broader but inclusive legislation like Medicare for all over causes which relate more specifically to identity. As a result, some members of marginalized groups, including women, have expressed anxiety that Sanders' populist message would leave them behind. After centuries of marginalization, women, people of color, the LGBTI community, and undocumented immigrants are concerned that by "centering" or prioritizing economic issues, their unique concerns will be entirely abandoned or, at least, significantly marginalized.
This anxiety is understandable.
Each president does tend to choose a narrow set of causes: George W. Bush ran on tax cuts and isolationism — the latter of which quickly went out the window on Sept. 11, but the former of which was executed to dire effect. Bill Clinton, perhaps more industrious than most, achieved welfare and criminal justice "reform." (Lucky us). Obama was often warned that he might "waste" his "political capital" on health insurance. If the ACA failed, it was widely assumed that failure would be the defining feature of his presidency — nothing else of substance would be able to get off the ground.
But even if it's true that a president or party can only pursue one or two significant policy objectives at a time, shouldn't it choose the objectives which would help the most people the greatest amount? If we accept that political goals need to be ranked or prioritized, are centrists arguing that women's issues should be the primary priority of the party? What about Black Lives Matter? Trans rights issues? Prisoners' rights?
The reality is that voters are less sympathetic to each of those interests than the last. The number one priority for voters in 2016? The economy. The next highest rated domestic issue? Health care. Sanders has chosen to prioritize that which America has prioritized. Should it be otherwise?
Minority issues may never rank as highly as other concerns for pure demographic reasons, despite often being more exigent. For that reason, identity-based advocacy will always be critical. But by focusing on those concerns which are more salient both to specific marginalized groups and across marginalized groups, new majority coalitions can be formed that, when "centered," can offer wide reaching and substantive benefits.
For example, one in five trans people is homeless — an economic issue. Disproportionate sexual assault, incarceration, and death at the hand of the police are also significant concerns for the trans community. Black Lives Matter is, therefore, entwined with trans rights, as are fair housing and anti-poverty movements. Framing problems as "economic justice issues" casts the widest net. It obscures the divisions between groups who might otherwise jockey to occupy the first, second, third, or fourth spot on the ladder of national priorities, and in doing so, pull shared agendas tumbling down. Feminists, good ones anyway, speak frequently of intersectionality. But there is no intersectionality without class. So why does "centering" class, but not gender, cause hackles to raise?
Yes, we should be wary that specific interest groups risk being erased when class is prioritized. But pretending that someone who advocates class first is necessarily a threat to gender equity is wrongheaded. Moreover, it's completely contrary to the stated goals of Sanders' class-based movement.
The economic justice movement is an intersectional movement. Medicare for all, if successful, would be the single most significant gain for women's health in recent history. And behaving as though making women's issues "secondary" to economic issues hurts women — women who bear the brunt of poverty's most crushing effects — is disingenuous and dangerous. Political prioritization means that someone is "secondary." The question should be whether the issue slotted in first place is well chosen.
In economic justice, Sanders has chosen correctly. He deserves to be heard.
Editor's note: This article has been clarified to better summarize the conference lineup.
Continue reading for free
We hope you're enjoying The Week's refreshingly open-minded journalism.
Subscribed to The Week? Register your account with the same email as your subscription.
Sign up to our 10 Things You Need to Know Today newsletter
A free daily digest of the biggest news stories of the day - and the best features from our website
Briahna Joy Gray is a lawyer and co-host of SWOTI Podcast whose writing has appeared in Current Affairs and Paste Magazine. Follow her on Twitter.