The depressing ritual of mass murder in America
By now, we know what the response to the Texas church shooting will be. It's all part of our collective disease.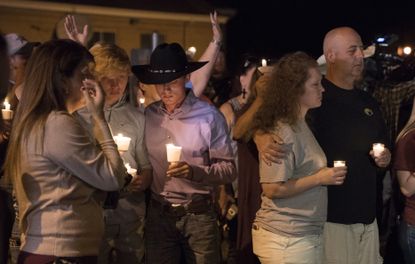 (Image credit: AP Photo/Darren Abate)
Sign up to our 10 Things You Need to Know Today newsletter
A free daily digest of the biggest news stories of the day - and the best features from our website
Thank you for signing up to TheWeek. You will receive a verification email shortly.
There was a problem. Please refresh the page and try again.
Yesterday afternoon, the tenuous peace of the country was interrupted yet again by the latest in a long, seemingly endless line of unfathomable mass killings, this one carried out inside a church in rural Sutherland Springs, Texas. Before he was finished, one man had murdered at least 26 churchgoers in cold blood and wounded many more before dying in a fusillade of gunfire. Americans recoiled in horror. Twitter convulsed with anger and indignation. The country though, by all indications, will quickly move along.
America's mass shooting ritual is, by now, so familiar that it is beyond parody, beyond cynicism, indeed, beyond any reasonable explanation at all other than that we are too weak and too divided to make obvious changes to our laws and society to prevent more such tragedies. Sutherland Springs is Las Vegas is Sandy Hook is Orlando is Columbine. The names of the dead change but the political impotence remains very much the same.
Bet on this: Republican elected officials will tweet their "thoughts and prayers," a shoebox currency so degraded it can barely buy a week of freedom from these atrocities. Someone will post that Onion article, the headline of which contains an irrefutable indictment of America's policies and responses to gun violence. You know the one. Someone will offer Dan Hodges' endlessly retweeted observations that, "In retrospect Sandy Hook marked the end of the U.S. gun control debate. Once America decided killing children was bearable, it was over."
Subscribe to The Week
Escape your echo chamber. Get the facts behind the news, plus analysis from multiple perspectives.
SUBSCRIBE & SAVE
Sign up for The Week's Free Newsletters
From our morning news briefing to a weekly Good News Newsletter, get the best of The Week delivered directly to your inbox.
From our morning news briefing to a weekly Good News Newsletter, get the best of The Week delivered directly to your inbox.
If you're honest with yourself, you can predict with eerie precision exactly what everyone you know will say after every mass shooting. Democrats will call for "common sense" gun control measures, and they will immediately be accused of "politicizing" the tragedy. Republicans will offer up tepid arguments that gun control can never prevent insane people from taking out dozens of innocents on the way to their own private paradise. A few days later the last emotionally exhausted reporters will get on the last red-eye flights out of town and breathe a sigh of sweet relief. It's over now. Like a bank reusing a surveillance tape after a robbery, we will record directly over our most recent, most painful memories, our abject terror, the erasure of humanity embedded in every act of senseless violence.
President Trump has further debased this longstanding ritual by very publicly losing his Fox-addled mind every time any Muslim commits an act of violence anywhere in what he perceives as the West. These crimes inspire tweetstorms and incoherent calls to action and vague promises to pursue some more extreme policy of discrimination. But when the shooter is some white dude distributing random violence with his SCOTUS-approved arsenal of Second Amendment hardware, the president issues a predictably anodyne statement, obviously detached from any emotional investment in the tragedy. "May God be w/the people of Sutherland Springs Texas," he (or an aide with higher executive functioning) scribbled on Twitter shortly after the shooting yesterday. As of midnight Sunday, President Trump had sent one more impotent tweet. On the other hand, he has sent 20 tweets about last week's horrific vehicular attacks in New York City by an Uzbek immigrant.
Twenty. Trump has the wherewithal to gather his thoughts when he decides it's necessary.
His derangement at every act of violence committed by a Muslim, combined with his shocking silence when similar horrors are perpetrated by native-born Americans, is not just a cheap point made by any sentient liberal on Twitter, and indeed it is not an accident at all. It is part of the ritual. It is part of our collective disease.
Yesterday's horror, of course, confounds those who wish to inscribe it with easy political significance. A white man shot up a church in rural Texas for no apparent reason — the worst mass shooting at a church in American history. In Sutherland Springs there was, seemingly, no racial animus, no religious zealotry, no political motivation at all. Congratulations America, by the way, on so incompetently responding to your epidemic of gun violence that you need to invent sub-categories to rank your most catastrophic acts of mass casualty gun violence. Worst mass shooting at a concert. Worst mass shooting at a movie theater. Worst mass shooting at a school. It's like a drop-down menu leading straight to a hell from which there is no escape but emigration.
The reason Republican elites react in the same dispiriting, cynical way is not terribly complicated: It's not that they don't care — I'm sure some of them do — but rather that their electoral fortunes inside the assault weapons cult called the Republican Party are dependent on them pretending not to care. That's why after the Las Vegas atrocity when a handful of influential Republicans made the terrible mistake of entertaining a ban on "bump stocks," it was forgotten about within days and, predictably, nothing has been done. That's why not a single, even half-hearted attempt to address this epidemic has been seriously entertained this century by a Republican Congress with other priorities.
In the long run, the United States will be forced to reckon with its demented gun laws, but progress will be slow. This is a country that compartmentalized chattel slavery for a century and then convinced itself that it had dutifully faced down its demons when in fact it had condemned African-Americans to an epoch of marginalization. We are no stranger to legalizing suffering when taking stronger action would upset political coalitions and deeply-held, evidence-free fantasies. Only when we reckon with the human costs of our indifference and decide to act — when so many of us are touched by the sudden, incomprehensible murder of a wife, husband, mother, father, son, daughter, or friend, that we are moved to action — will our torment end.
On this, one terrible morning among so many, that reckoning feels as far away as it ever has.
Continue reading for free
We hope you're enjoying The Week's refreshingly open-minded journalism.
Subscribed to The Week? Register your account with the same email as your subscription.