The fog of troop deployments
Our government is lulling us into foreign policy ignorance by lying about troop deployments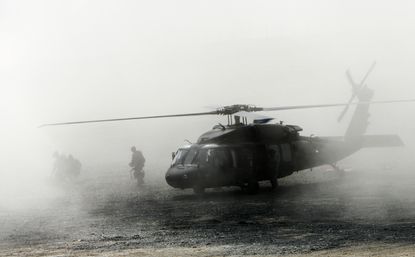 (Image credit: REUTERS/Nikola Solic )
How many troops does the U.S. military have deployed around the world, and what are they doing?
The question is not merely a contemporary version of the sort of numbers-and-dates minutiae that plague the high school history student. We need to know the answer, because it is already difficult enough for the public to muster interest in foreign wars so far removed from our daily experience. If we are kept in the dark about the scale of our military's commitments abroad, our ignorance tempts us to greater and more dangerous apathy.
That we are ignorant here is the fault of the Department of Defense, which has an extensive record of confusing and contradictory statements on how many American troops are doing what and where. This month, for example, a new DoD report said some 44,000 American soldiers are in "unknown" deployments overseas. When pressed, the Pentagon declined to elaborate.
Subscribe to The Week
Escape your echo chamber. Get the facts behind the news, plus analysis from multiple perspectives.
SUBSCRIBE & SAVE
Sign up for The Week's Free Newsletters
From our morning news briefing to a weekly Good News Newsletter, get the best of The Week delivered directly to your inbox.
From our morning news briefing to a weekly Good News Newsletter, get the best of The Week delivered directly to your inbox.
Then there are the active war zones, most notably Afghanistan, Iraq, and Syria. When the White House sent Congress an accounting of U.S. military presences in these three countries on Dec. 11, the letter left out troop totals altogether — perhaps because the executive branch can't seem to agree on how those totals should be reported.
Consider the situation in Syria. On Dec. 6, the Pentagon said there were about 2,000 U.S. troops there, which is four times the previous official count of 503. That discrepancy is big, but the new number may be wrong, too. In late October, Army Maj. Gen. James B. Jarrard, who is commander of the U.S.-led Special Operations task force fighting the Islamic State in Iraq and Syria, told reporters there are "a little over 4,000 U.S. troops in Syria right now that are supporting efforts against" ISIS. Moments later, Jarrard claimed he misspoke, and a Pentagon representative, Eric Pahon, jumped in to tout the 503 figure we now know to be false.
At the time of Jarrard's comments, Pahon told The Washington Post that it is "widely acknowledged" that there are more Americans in the battle than official numbers acknowledge. He attributed the disparity to the fact that force management level reports "don't include temporary forces," but that's clearly not the only factor in play. The reports also fail to include military contractors, who outnumber reported military personnel by at least two to one in the Middle East. (That ratio may be too low, Foreign Policy notes, because it does "not include contractors supporting CIA or other intelligence community activities.")
So per the latest official numbers, there are about 26,200 U.S. boots on the ground in our three largest theaters of war: 2,000 in Syria, 8,900 in Iraq, and 15,300 in Afghanistan. For all three nations, these figures are significantly higher than the Defense Department previously admitted. On revealing the larger counts in November and December, the DoD took pains to explain it was not announcing a surge, merely being a little more honest with the public.
Per more comprehensive assessments, the total is more like 64,700. That's 4,000 in Syria (using Maj. Gen. Jarrard's number), 17,000 in Iraq (about 8,000 contractors plus the 8,900 soldiers), and 43,800 in Afghanistan (about 28,500 contractors plus the 15,300 troops) — all told, more than double the official number, and perhaps still too low thanks to those intelligence contractors and temporary deployments.
At the very least, the 64,700 figure neglects to encompass the war on terror's entire multitude of unaccountable and little-noticed missions involving an unknown number of forces in an unknown number of countries for an unknown period of time pursuing unknown objectives.
In the run-up to the 2003 invasion of Iraq, then-Secretary of Defense Donald Rumsfeld uttered a tongue twister. "There are known knowns," he said. "There are things we know that we know. There are known unknowns. That is to say, there are things that we now know we don't know. But there are also unknown unknowns. There are things we do not know we don't know."
In retrospect, after 16 years constant war, Rumsfeld and his fellows in the bipartisan Washington foreign policy establishment would have done well to pay more attention to all three categories before recklessly embroiling the United States in such a panoply of costly and counterproductive military interventions. Still, while we cannot undo the past, we can demand answers on these "known unknowns" now.
The DoD's inaccurate reporting and halfhearted gestures of transparency are unacceptable, serving as they do to suggest to the American people (not to mention a Congress that has all but abandoned its constitutional authority in this realm) that our foreign interventions are small projects that may be safely kept out of sight and out of mind. That is a dangerous assumption for denizens of an ostensibly representative state. It is a part of why we have foreign policy dominated by unaccountable, sprawling military commitments abroad, most of which have no plausible end in sight.
It is moreover an assumption that guides us away from asking important questions about our foreign affairs, questions like under "what circumstances can Americans expect nations in [which we have longstanding interventions] to assume responsibility for managing their own affairs," as Ret. Col. Andrew Bacevich, a military historian, has asked — or whether it is prudent or necessary for "the United States to police vast swaths of the planet in perpetuity."
Asking the Pentagon for real transparency on deployment numbers (including contractors) in Syria, Iraq, Afghanistan, and beyond may seem like a small thing given how serious a rethink U.S. foreign policy requires. But this is not mere pedantry. If Congress and Americans are deeply misinformed about the scale of Washington's wars, we will be unable to effectively demand the change in policy priorities that is so long overdue.

Continue reading for free
We hope you're enjoying The Week's refreshingly open-minded journalism.
Subscribed to The Week? Register your account with the same email as your subscription.