What if Al Franken unresigns?
Here comes Democrats' big Franken flip-flop ...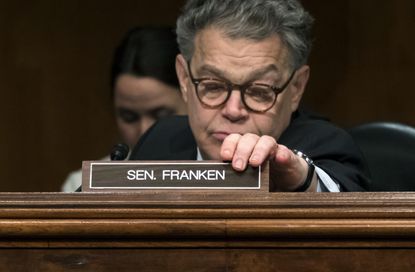 (Image credit: AP Photo/J. Scott Applewhite)
Sign up to our 10 Things You Need to Know Today newsletter
A free daily digest of the biggest news stories of the day - and the best features from our website
Thank you for signing up to TheWeek. You will receive a verification email shortly.
There was a problem. Please refresh the page and try again.
Ever heard of buyer's remorse? Senate Democrats have put a new twist on the phenomenon in their application of "zero tolerance" and Al Franken. After more than 30 of his colleagues ganged up on the former comedian to force him into a resignation, several of them now want Franken to "unresign."
West Virginia's Joe Manchin, who had remained mum on Franken's status after several women alleged sexual misconduct against the two-term senator from Minnesota, told Politico that Senate Democrats had mistreated Franken. "What they did to Al was atrocious," Manchin said in a taped interview, saying that the reaction to his resignation speech on Dec. 11 "made me sick."
"The most hypocritical thing I've ever seen done to a human being," Manchin said of the full-court press to force Franken out, "and then they have enough guts to sit on the floor, watch him give his speech, and go over and hug him? That's hypocrisy at the highest level I've ever seen in my life."
Subscribe to The Week
Escape your echo chamber. Get the facts behind the news, plus analysis from multiple perspectives.
SUBSCRIBE & SAVE
Sign up for The Week's Free Newsletters
From our morning news briefing to a weekly Good News Newsletter, get the best of The Week delivered directly to your inbox.
From our morning news briefing to a weekly Good News Newsletter, get the best of The Week delivered directly to your inbox.
Well, Manchin should pay attention to what's coming next. Some of the same senators who demanded Franken's resignation have suddenly found a little more tolerance than zero, at least when it comes to their allies. Two other senators told Politico — without revealing their identities — that they now feel they "acted prematurely, before we had all the facts."
Reportedly, this budding unresignation movement includes Pat Leahy of Vermont, who as former chair of the Senate Judiciary Committee should understand a few points about rushes to judgment and due process. According to Politico's sources, Leahy has privately expressed regret to Franken over issuing a public statement demanding his resignation. If true, this should bump Manchin's hypocrisy meter to new heights — offering private regrets for a public scolding. Surely Franken's staff is already working on the secret thank-you note for Leahy's covert emotional support.
This sudden remorse from some of the Senate Democratic caucus is as transparently political as it is hypocritical. The allegations against Franken had piled up for three weeks, with the most significant allegations coming first from Leeann Tweeden: an accusation of a forcible kiss, followed by a humiliating photograph which went immediately viral. The only accusation of misconduct while in office had emerged days earlier than the choreographed avalanche of resignation demands on Dec. 6. Six women had already stepped forward well before that date, and yet within the span of a few hours on that Wednesday, the count of Senate Democrats demanding Franken's resignation went from zero to over 30.
Why the need for a frantic bum's rush on Dec. 6? The answer was found not in Washington or Minnesota, but in Alabama. The special election to fill the seat vacated by Jeff Sessions appeared too close to call despite several credible allegations of sexual misconduct from decades earlier against Republican candidate Roy Moore. Senate Democrats argued that Moore should not be seated at all if he won the election, and that Mitch McConnell's intention to refer the matter to the Senate Ethics Committee was merely a dodge meant to keep the seat in the GOP's hands.
Franken's presence in the Senate undercut that argument, as did his request to have the Senate Ethics Committee investigate the allegations. Democrats saw Franken as entirely expendable, thanks to the presence of a Democratic governor in Minnesota and a lack of any significant party or Senate assignments, and sacrificed Franken to strengthen their "moral high ground" in Alabama. It may have paid off; Doug Jones easily beat Moore for the Senate seat the day after Franken's resignation, although it's impossible to know its impact on voters with any certainty.
Now that Jones has the seat, some Senate Democrats suddenly want to clear their consciences even more than they wanted to hug Franken after his speech. Perhaps that impulse comes from a public swipe from Washington Post editor James Downie over the stark hypocrisy of Democratic self-congratulation over their "zero tolerance" for bad behavior. Sen. Robert Menendez (D-N.J.), Downie pointed out, has been credibly accused of corrupt acts while in office, for which he remains under indictment. The Department of Justice still may decide to try him again after a hung jury last month, and the Senate Ethics Committee has again taken up its own probe into his activities with convicted Medicare fraudster Salomon Melgen. If due process was good enough for Menendez for allegations of corrupt acts in office, why wasn't it for Franken and his allegations that took place entirely outside of his Senate work environment?
That question has an easy answer. Franken has the misfortune of having a reliable Democratic governor to pick his replacement. Until Jan. 16, Republican Gov. Chris Christie would appoint Menendez's replacement. Perhaps when Democrat Phil Murphy gets inaugurated, Senate Democrats will once again rediscover their "zero tolerance" and "moral high ground." For now, Senate Democrats are not only continuing to stand by Menendez, they're still pouring money into his campaign.
Maybe Franken will want to keep his resignation in place just to get away from his "friends" on Capitol Hill. With friends like these, who needs Republicans?
If he decides to "unresign," there would be little standing in his way. A resignation is effective when it is formally made and accepted, and not until then. Even public statements promising to submit a resignation carry no procedural weight, a point that some critics noted when wondering whether Franken might reverse himself if Moore got seated after the election.
Franken has precedent for a reversal, although he might think twice about invoking it. In September 2007, then-Sen. Larry Craig (R-Idaho) declared he would resign after pleading guilty to a misdemeanor in Minnesota. Police had caught him soliciting another male for sexual activity in a Minneapolis airport restroom, and ended pleading guilty to disturbing the peace. Just three days later, Craig reversed himself, insisting that he wanted to fight for his reputation in an Ethics Committee probe. He ended up serving his full term, although Republicans nominated James Risch to replace him in 2008.
It seems doubtful that Franken will rescind his resignation. Minnesota Gov. Mark Dayton has already nominated his lieutenant governor, Tina Smith, as Franken's replacement; Franken and his staff have begun the transition. A reversal at this point would embarrass the state party and perhaps make Franken even more persona non grata than he already is. Either way, the cycle of hypocrisy over Democrats' moral preening on "zero tolerance" has been fully realized.
Continue reading for free
We hope you're enjoying The Week's refreshingly open-minded journalism.
Subscribed to The Week? Register your account with the same email as your subscription.
Sign up to our 10 Things You Need to Know Today newsletter
A free daily digest of the biggest news stories of the day - and the best features from our website
Edward Morrissey has been writing about politics since 2003 in his blog, Captain's Quarters, and now writes for HotAir.com. His columns have appeared in the Washington Post, the New York Post, The New York Sun, the Washington Times, and other newspapers. Morrissey has a daily Internet talk show on politics and culture at Hot Air. Since 2004, Morrissey has had a weekend talk radio show in the Minneapolis/St. Paul area and often fills in as a guest on Salem Radio Network's nationally-syndicated shows. He lives in the Twin Cities area of Minnesota with his wife, son and daughter-in-law, and his two granddaughters. Morrissey's new book, GOING RED, will be published by Crown Forum on April 5, 2016.