The Democrats' foolish fantasies about the GOP tax bill
Sorry, Democrats: You can't just repeal the GOP tax bill and take all the cash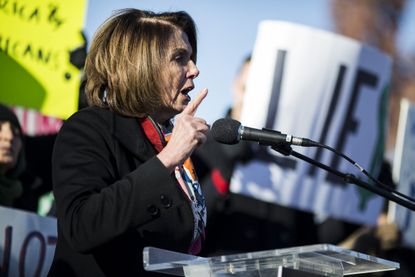 (Image credit: Zach Gibson/Getty Images)
In this time of daily political norm-shredding, there's something immensely comforting about, well, normalcy. And really, nothing in American politics is more normal than Republicans passing a tax cut that strongly favors the wealthy and big business — or Democrats sputtering in furious opposition to it.
We've gotten plenty of both over the last several weeks, as the House and Senate (and then the House again) have passed, and President Trump has prepared to sign, the Tax Cuts and Jobs Act.
But there's something else normal, though far less reassuring, in the politics surrounding the passage of the tax bill. That's the way that Democrats are interpreting — or rather, overinterpreting — its political implications in the near-term. Yes, the bill is unpopular, as is the Republican-controlled Congress, and the Republican Party as a whole, and the Republican president. Put it all together and it looks like the bill will further weaken the GOP going into the 2018 midterm elections and the 2020 presidential election.
Subscribe to The Week
Escape your echo chamber. Get the facts behind the news, plus analysis from multiple perspectives.
SUBSCRIBE & SAVE
Sign up for The Week's Free Newsletters
From our morning news briefing to a weekly Good News Newsletter, get the best of The Week delivered directly to your inbox.
From our morning news briefing to a weekly Good News Newsletter, get the best of The Week delivered directly to your inbox.
That may well be true. But some Democrats are going further, to conclude that Republicans have not only set themselves up for a major setback at the ballot box but also handed liberals a blank check for future spending on progressive priorities. Boston Globe columnist Michael Cohen states the view with admirable clarity in a series of tweets: "One effect of the GOP tax bill is that Democrats can now run in 2018 & 2020 on new spending initiatives paid for by reversing the GOP tax cut … [They] have a built-in revenue source when they inevitably get asked 'how will you pay for all this new spending.'… [Republicans have] handed Democrats … a revenue source for a massive expansion of the welfare state."
There you have it: the liberal dream not only of undertaking a "massive expansion of the welfare state," but of decisively prevailing in the political argument over this expansion without even having to try, because those who oppose such policies will just self-destruct, vanishing from the field of ideological battle while conveniently leaving behind a big pile of cash for the spending.
This is a foolish fantasy — and one that Democrats would be wise to dispel.
There are several reasons why. For one, while it's true that the bulk of the tax cuts in the bill go to the wealthy and corporations, those cuts are structured to give many more people than that a noticeable cut up front in the first few years after the bill is passed. That means in the short-to-medium term, the politics of the bill is likely to shift away from today's abstract talk of doom to focus on the concrete benefits (in the form of lower taxes) enjoyed by millions of taxpayers.
But let's assume the benefits prove to be modest for many and the bill remains unpopular — unpopular enough that Democrats move to repeal it at their first opportunity. Even if we make that assumption, there's no reason to suppose the result would be a surge of revenue that enables Democrats to enact a series of liberal reforms. On the contrary, a repeal of the tax cut would return revenue levels to … where they are right now — a status quo in which there's a large and persistent budget deficit even without gobs of new spending on progressive priorities.
To do any number of the things on the liberal wish-list — from propping up ObamaCare (or whatever's left of it after the repeal of the individual mandate contained within the tax bill) to lowering the cost of college tuition to a large infrastructure bill — will require substantially more revenue than current levels. Which means that pursuing a progressive policy agenda would require Democrats both to repeal the tax cut and to raise taxes relative to the present.
That would be a heavy lift, politically speaking.
But even that expectation might be too optimistic. How likely is it, after all, that the Democrats will be able to repeal the Republican tax bill in its entirety? Even if many of its provisions are unpopular, that doesn't mean all of them will be reversible. As soon as any major federal legislation becomes law, it gains defenders who fight to preserve the new order. And no one will fight harder or with more resources than the corporations who will benefit enormously from the massive tax cut Republicans have bestowed upon them.
Can anyone seriously believe that the corporate tax rate is going to return to anything like its current level of 35 percent once the rate has dropped to 21 percent? Maybe, in the wake of a massive Democratic wave that lifts a Bernie Sanders-style left-wing populist into the White House with solid majorities in both houses of Congress, the party would be able to raise rates to 25 or 30 percent. But as the defenders of big business never tire of reminding us, 35 percent is, when judged by comparative international standards, quite a high rate for corporate taxes. The country's business sector will use every tool at its disposal, including vast sums of money for lobbying and advertising, to ensure that rates stay below that level.
And that means that even a strong push to repeal the Tax Cuts and Jobs Act is likely to produce an outcome in which the federal government is forced to make do with lower levels of revenue than it enjoys today.
Which also means that Democratic dreams of a federal government flush with cash are just that — dreams from which the party would do well to rouse itself.

Continue reading for free
We hope you're enjoying The Week's refreshingly open-minded journalism.
Subscribed to The Week? Register your account with the same email as your subscription.