America needs a massive infrastructure bill. But we won't get one.
Both parties will fail on infrastructure in 2018. You can count on it.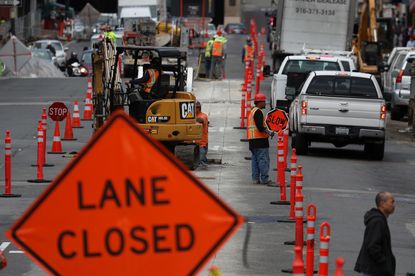 (Image credit: Justin Sullivan/Getty Images)
The prospect of a trillion-dollar infrastructure spending bill is an appealing one for those of us who have sat stalled for hours in a train car somewhere between Providence and Boston, watched rain leak through the ceiling of a major metropolitan airport, or driven on an interstate that looked like it belonged in a Mad Max set, which is to say, roughly 100 percent of the voting-age American population.
What a golden opportunity for pragmatic statesmen of both parties to come together with President Trump and get something done on behalf of the American people.
Too bad it's never going to happen.
Subscribe to The Week
Escape your echo chamber. Get the facts behind the news, plus analysis from multiple perspectives.
SUBSCRIBE & SAVE
Sign up for The Week's Free Newsletters
From our morning news briefing to a weekly Good News Newsletter, get the best of The Week delivered directly to your inbox.
From our morning news briefing to a weekly Good News Newsletter, get the best of The Week delivered directly to your inbox.
Instead, Republicans will do what they always do and cling to the supposed principles that exist only as cover for their lack of real ones. I wonder which GOP senator will give the most throat-clearingly bathetic and barf-inducingly sanctimonious speech about the neglected virtues of fiscal responsibility that he was sent to Washington to uphold only months after support the budget-gutting tax bill? My money is on Ted Cruz.
This is not cynicism on my part. Indeed, the Republican campaign against President Trump's plans for infrastructure began before he was officially the Republican nominee in 2016. Even Trump's own economic advisers are made sick by the prospect of the federal government spending money on infrastructure, especially if it involves paying "inflated union wages." For people like Stephen Moore of the Heritage Foundation, it is an article of faith that the federal governments cannot fund or develop effective infrastructure, and it is the duty of the rest of us to suffer to prevent the reality of fast Japanese trains, clean Swiss airports, and other horrors from encroaching upon their paradise of ipso facto incompetence.
In a fantasy world in which the GOP were capable of removing its ideological blinders, the Democrats could still be counted upon to prevent anything good from happening for which their opponents could take credit, a pattern that dates back at least as far as Congress' rejection of Richard Nixon's plans for universal health care and a guaranteed minimum income. Even if a bill did gain support among House and Senate Republicans, it would not tax the imaginations of parodists to think up the ludicrous statements Democratic leaders would issue explaining their reasons for opposing it. There will always something materially irrelevant — a renewal of DACA, say — to the issue at hand that they will ask to see tacked on in bad faith.
At the state and local level things would get even sillier. The lack of funding allocated to a sufficiently woke pet project or an insensitive lack of regard for intersex members of the Laborers International in the provisions concerning the funding of harbor redevelopment projects could and would be blown out of proportion until President Trump's hypothetical infrastructure package becomes "the most discriminatory bill in the history of this country." Bill De Blasio of New York and other Democratic mayors and governors would refuse to accept the money — indeed, the former has already said he would — and they would be congratulated by liberal dilettantes for their courage in doing so.
Finally, there is always the very real possibility that the president himself will refuse to sign a bill that his own staff have helped to draft because it is pointed out to him at the last minute that among the support for low-income housing in Manhattan and canal maintenance in Michigan not a dime is allocated for the construction of his fabled wall.
This is why I shake my head when people feign surprise at the fact that in California, after nearly a decade, with $70 billion spent and a hundred micro-deadlines and budget estimates blown, the state-mandated plan to connect San Francisco to San Diego via high-speed rail has gone nowhere.
Why can't we build things in this country? Why does nothing ever get done? It has absolutely nothing to do with the abilities of our engineers or the skills of our workforce or the amount of money we have at our disposal and everything to do with the fact that there are only two major political entities that control the destinies of all 50 states, both of which are entirely beholden to two occasionally overlapping groups of rich people, the kind that like luxury trucks and the kind that pretend to care about something called "the arts." At the end of the day, their interests bind them together, and what America gets represents some kind of silently hashed-out compromise between evangelical fracking magnates and GLAAD-supporting tax lawyers. These are people who don't need better public transportation, who might like better roads and airports but who have other, more urgent priorities now and presumably always will.
Until the rest of us get a word in, we are just going to have to sit and there and smile while listening to Amtrak personnel argue over whether we are stopped because a bear just hit the front car or because our electric train is out of diesel fuel.

Continue reading for free
We hope you're enjoying The Week's refreshingly open-minded journalism.
Subscribed to The Week? Register your account with the same email as your subscription.