All the crazy things Trump wants you to believe about the Stormy Daniels scandal
Do you know any lawyers who would pay $130,000 of their own money on a client's behalf, just to be nice? Me neither.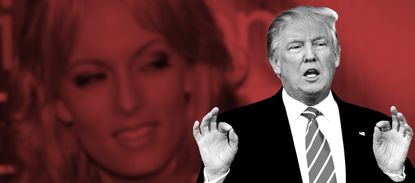 (Image credit: Illustrated | Evan Agostini/Getty Images, DON EMMERT/AFP/Getty Images)
White House Press Secretary Sarah Huckabee Sanders is no Sean Spicer — when she gets up before the press to lie about something, you can't detect even the barest whiff of guilt or discomfort. In fact, if there's a prevailing sentiment she sends out to the assembled journalists in the briefing room and all watching at home, it's contempt — contempt for anyone who has the temerity to question either the rancid pile of lies she's dumping in front of you or President Trump's manifest greatness.
So the last thing we expect to hear is that President Trump is displeased with the quality of Sanders' advocacy on his behalf. Yet that's just what we heard this week, on the matter of the adult film actress who goes by the stage name Stormy Daniels (her real name is Stephanie Clifford). Sanders was subjected to relentless questioning from the White House press corps about whether Trump knew of, authorized, or repaid the $130,000 in hush money Trump's personal lawyer Michael Cohen arranged for Ms. Daniels to receive to allegedly keep quiet about what she says was a consensual affair the two had some years ago. The president was apparently displeased with Sanders' answers, since she seemed to acknowledge that Trump was a party to the non-disclosure agreement. "This case has already been won in arbitration," Sanders said, referring to a proceeding initiated by Cohen that found that Clifford is still bound by the agreement that mandated her silence. Clifford is now suing Trump, claiming he never signed the agreement and so she's free to say what she likes.
It's almost — not quite, but almost — enough to make you feel a moment of sympathy for Sanders. No matter how enthusiastically you carry water for Trump, it's just never enough.
Subscribe to The Week
Escape your echo chamber. Get the facts behind the news, plus analysis from multiple perspectives.
SUBSCRIBE & SAVE
Sign up for The Week's Free Newsletters
From our morning news briefing to a weekly Good News Newsletter, get the best of The Week delivered directly to your inbox.
From our morning news briefing to a weekly Good News Newsletter, get the best of The Week delivered directly to your inbox.
This scandal provides a vivid reminder that in the Trump era, not only are we lied to constantly, we're also asked to believe lies that are so obvious and absurd that one can only marvel at their epic shamelessness. Granted, if you had an affair with a porn star and paid her $130,000 in hush money, you might be spinning out a few implausible excuses to explain the whole thing away, too. But the preposterousness of the Stormy lies really sets them apart.
Here are some of the things Trump and his defenders would have us believe:
Donald Trump never had an affair with Stormy Daniels. This one isn't outside the realm of the imagination; just because Trump is a serial adulterer who objectifies women doesn't necessarily mean that he slept with any particular porn star. But does anyone actually believe it? Daniels' story has been remarkably consistent for years, ever since she gave an interview about the affair to In Touch magazine in 2011. Her tale, furthermore, is rather banal, much more drab than debauched. She says they had some forgettable sex, he shared with her his fear and hatred toward sharks, he promised her a spot on The Apprentice but never delivered.
Trump's lawyer Michael Cohen paid Daniels $130,000 out of his own pocket. In October 2016, Cohen established an LLC in Delaware to make this payment, and in his statement about it, he said, "I used my own personal funds to facilitate a payment of $130,000 to Ms. Stephanie Clifford." This was obviously meant to convince people it was Cohen's money, but that word "facilitate" stands out as rather lawyerly. He could have just meant he paid the filing fee for the LLC out of his own pocket. Do you know any lawyers who would pay $130,000 of their own money on a client's behalf, just to be nice? Me neither.
Daniels was paid $130,000 even though her story is false. This is one of the weirdest assertions of all. Trump claims that the whole thing is "fake news," but who would pay someone six figures to keep quiet about a story that wasn't true? If someone came to me and said, "Pay me $130,000 or I'll tell everyone you killed Tupac," I'd call the police, because that's called blackmail and it's against the law. Yet we're supposed to believe that Cohen, a bare-knuckled attorney given to tossing around threats ("I'm warning you, tread very f—ing lightly, because what I'm going to do to you is going to be f—ing disgusting. You understand me?" he once told a journalist who asked an uncomfortable question about Trump), learned of this blackmail and said, "Okay, sounds fair. I'll pay."
Cohen never told Trump about the hush money. This question — Did Trump know? — is one reporters kept asking Sanders to answer, and she finally said, "there was no knowledge of any payments from the president." We're supposed to believe that Trump was being blackmailed with a false story by a porn star, and Cohen never told the boss about it. Trump didn't know, Trump didn't approve the payment, Trump didn't reimburse Cohen. Right.
None of this had anything to do with the presidential campaign. This is an important legal question. It seems obvious that if you're running for president, it's less than a month before the election, and a $130,000 payment is arranged to keep an embarrassing story from reaching the public, the purpose is to prevent damage to your candidacy. But if it was for the purpose of helping the campaign, then either Cohen, Trump, or both of them violated campaign finance laws. If Cohen made the payment on his own, it was a $130,000 in-kind contribution to the Trump campaign, which would have been illegal. If Trump paid it, it was a $130,000 in-kind contribution to his own campaign — which is legal, but must be reported to the Federal Election Commission. Needless to say, it appeared in none of Trump's mandated finance reports. That's the thing about hush money: If you report it, it's no longer hushed up.
While the Stormy Daniels affair may not seem as momentous as some other Trump scandals, we have to keep reminding ourselves that the president allegedly had an affair with a porn star and paid her $130,000 in hush money to cover it up. It would have ended the presidency of just about any of his 44 predecessors, and yet we treat it like it's somewhat amusing but not really any big deal.
Just as important, Trump and his allies are acting like we're all idiots and we'll believe any ludicrous claim they make. But at this point, what else would we expect from them?

Continue reading for free
We hope you're enjoying The Week's refreshingly open-minded journalism.
Subscribed to The Week? Register your account with the same email as your subscription.