Disenchantment isn't a masterpiece. But it's still the work of a master.
Matt Groening's new series is refreshingly inessential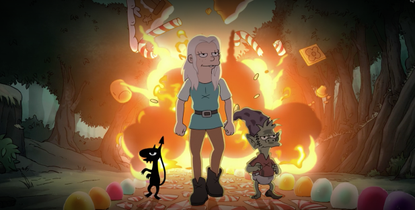 (Image credit: Disenchantment on Netflix)
Sign up to our 10 Things You Need to Know Today newsletter
A free daily digest of the biggest news stories of the day - and the best features from our website
Thank you for signing up to TheWeek. You will receive a verification email shortly.
There was a problem. Please refresh the page and try again.
If you're even a little bit familiar with creator Matt Groening's long-running TV series The Simpsons and Futurama, you'll immediately recognize Netflix's new animated fantasy parody Disenchantment as a Groening project. The characters have his usual bugged-out eyes and prominent overbites, and many of them are voiced by familiar Futurama actors Tress MacNeille, Maurice LaMarche, Billy West, and John DiMaggio.
Plus, the comedy is zippy, digressive, and self-aware. Disenchantment is set in a medieval land populated by a chain of convenience stores called "VII-XI" (with a sign that reads, "Open since 711!") and the potion-making establishment "Little Seizures" (with the slogan "Poison! Poison!"). Those are Simpsons-style jokes, which pop on the screen for just a few seconds, to make sure the audience is paying attention.
Of course, in the pop culture universe that Groening helped birth, there's scarcely a hip cartoon that doesn't liberally pepper in visual gags and winking references. Seth MacFarlane's Family Guy routinely fills its episodes with so many asides that there's little room for anything else. Rick and Morty, The Lego Movie, Bob's Burgers ... some are just a little bit arch and some are a lot, but these three and more have all built on The Simpsons' foundation.
Subscribe to The Week
Escape your echo chamber. Get the facts behind the news, plus analysis from multiple perspectives.
SUBSCRIBE & SAVE
Sign up for The Week's Free Newsletters
From our morning news briefing to a weekly Good News Newsletter, get the best of The Week delivered directly to your inbox.
From our morning news briefing to a weekly Good News Newsletter, get the best of The Week delivered directly to your inbox.
Which raises a question: Do we really need a new show from the actual Matt Groening, when we already have so many perfectly good imitations? Many critics have answered in the negative, but I think we do — and that Disenchantment proves it.
Co-created with Simpsons and Futurama writer/producer Josh Weinstein, Disenchantment stars Broad City's Abbi Jacobson (or her voice, anyway) as a young woman everyone calls "Bean," the rowdy boozehound princess of the kingdom of Dreamland. As the series begins, Bean's dad, King Zøg (DiMaggio) and her multi-tentacled stepmother Queen Oona (MacNeille) are preparing to marry her off to a dimwitted prince from a rival land, to secure a peace. But then the princess makes two new acquaintances: a mischievous, malevolent demon named Luci (Eric Andre), and a naive, upbeat elf named Elfo (Nat Faxon). They goad her on to strange adventures, and distract her from her royal duty.
Unlike Groening's earlier work, Disenchantment's 10-episode first season is semi-serialized. The action in any given half-hour directly affects what follows, although for the most part each episode tells its own standalone story: Bean goes on a crime-spree; Bean throws a party while her dad's out of town; Bean gets a job; et cetera. The primary inspirations here are Game of Thrones and the Disney versions of old fairy tales, though like The Flintstones and The Jetsons before it, Disenchantment uses the fantastical as the backdrop for standard sitcom plots.
The Flintstones and The Jetsons are among Groening's influences, if only because he was born in 1954 and grew up in the first era where TV became a child's constant companion. He's also beholden to Rocky and Bullwinkle, MAD magazine, Zap Comix, Monty Python's Flying Circus, and just about any other piece of hip, subversive, quasi-underground entertainment that emerged in the '60s and '70s. Groening himself first gained notice in the mid-'80s with his alt-weekly comic Life in Hell, which served up the Reagan-era version of "resistance," expressing an exhausted cynicism toward authoritarians and corporate stooges.
That attitude — slightly rounded-off — carried over to The Simpsons, which famously alarmed the pundit class during the Bush/Quayle administration due to its unapologetic flippancy. Futurama then refined and expanded Groening's worldview, offering a vision of an entire universe (a multi-verse, even) that's cruel and absurd, yet also filled with living creatures who mean well.
Based on the seven episodes provided in advance to critics, Disenchantment's first season is just as heavy on the cruelty and absurdity, but less so on the characters with good hearts. The show sets up a contrast between Luci, who's pure chaotic evil, and Elfo, who's lived his entire life in a happy candy village and knows nothing of the real world. Both are equally reckless — one intentionally, one ignorantly.
Princess Bean is both the heroine of Disenchantment and the show's soul. This is ultimately the story of a woman who's had her life planned out for her since she was a baby, and how she goes from petty rebellion (like drinking too much and sleeping around) to outright revolt (like refusing to become a bride). At one point, a frustrated King Zøg sends Bean to a convent, and when she washes out there, he says, "You screwed up as a princess, you screwed up as a nun ... Those are the only two girl jobs I know."
Is trashing the Disney princess archetype enough to make Disenchantment meaningful? Early critics have been skeptical. At Slate, Sam Adams writes, "There's a lot to be said for easy pleasures ... But even your favorite comfort food dishes can grow tiresome with repetition." And The Hollywood Reporter's Daniel Fienberg says, "The first seven episodes offer frequent chuckle-inducing diversions but no one installment that clearly shouts, 'Here. This is the special show Disenchantment wants to become.'"
I don't disagree with any of that. Disenchantment isn't going to make anyone forget the early '90s heyday of The Simpsons or the complete run of Futurama. The new series has some visual distinction: The colors are both muted and more varied, giving Dreamland the look of a medieval illumination. But the humor is pretty stock. This is the kind of show where a dungeon's torture chamber is supplied with a rack, multiple whips, and a book of golf jokes. Not exactly the edgiest schtick.
Nevertheless, I tore through the seven advance Disenchantment episodes in a hurry and can't wait to watch the next three. If season two were available next week, I'd watch it immediately. I suspect Disenchantment is going to do very well for Netflix, appealing to Groening fans, fantasy buffs, and anyone looking for a funny, clever, artfully made show that they don't have to save until after their kids go to bed.
While Disenchantment has a point-of-view, it doesn't have a strong, clear point — which is also a nice change-of-pace. The show isn't trying to be a realistic depiction of a drunk, or a brutal dissection of family life, or a merciless takedown of patriarchal systems. It'd be fine if it were doing any of those things. But it's also fine for a comedy just to be inconsequentially comic.
Then there's this: I've seen so many cartoons in the past 10, 20, 30 years that have tried to be The Simpsons (including The Simpsons itself, which has mostly been set on repeat since the turn of the millennium). There's a confidence to Disenchantment that's missing from many of those other shows. It's made by skilled, veteran craftspeople, who genuinely seem to be enjoying working with this new material. Their sense of fun is infectious.
Groening and his team have contributed enough to animation, television, and comedy that if they'd rather just goof around and make something inessential, I see no reason to reject it — so long as it's enjoyable, which this show is. And it's entirely possible, given their track record, that in time Disenchanted will be as uniquely brilliant as its predecessors.
If not? It's nice to look at, it's funny, and it has some sass. That alone makes it the kind of show that a young Matt Groening would've dug. Perhaps the next Matt Groening will be watching.
Continue reading for free
We hope you're enjoying The Week's refreshingly open-minded journalism.
Subscribed to The Week? Register your account with the same email as your subscription.
Sign up to our 10 Things You Need to Know Today newsletter
A free daily digest of the biggest news stories of the day - and the best features from our website
Noel Murray is a freelance writer, living in Arkansas with his wife and two kids. He was one of the co-founders of the late, lamented movie/culture website The Dissolve, and his articles about film, TV, music, and comics currently appear regularly in The A.V. Club, Rolling Stone, Vulture, The Los Angeles Times, and The New York Times.