The miracle of the United States Postal Service
If all of America worked as well as the Post Office, this would be a much better country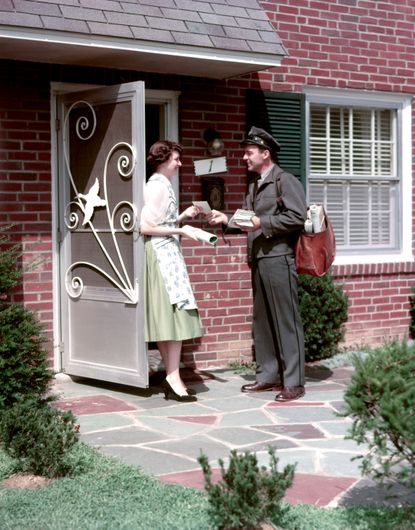 (Image credit: ClassicStock/Alamy Stock Photo)
Sign up to our 10 Things You Need to Know Today newsletter
A free daily digest of the biggest news stories of the day - and the best features from our website
Thank you for signing up to TheWeek. You will receive a verification email shortly.
There was a problem. Please refresh the page and try again.
When I was a boy, I lived in a tiny Utah town called Torrey (population: 171), and my parents worked as river guides in Grand Canyon. They rowed wooden dories — fragile boats that require considerable skill to navigate through the big rapids down there, but also provide a near-magical river experience.
On a lark, one of their friends from another state once tried to send a letter to my mother with only three words in the address field: "Dory," plus her first name, plus "Torrey." No surname, no house number, no street, and no zip code.
It was delivered just like any ordinary letter.
Subscribe to The Week
Escape your echo chamber. Get the facts behind the news, plus analysis from multiple perspectives.
SUBSCRIBE & SAVE
Sign up for The Week's Free Newsletters
From our morning news briefing to a weekly Good News Newsletter, get the best of The Week delivered directly to your inbox.
From our morning news briefing to a weekly Good News Newsletter, get the best of The Week delivered directly to your inbox.
I thought of that while watching The View co-host Meghan McCain splutter that democratic socialism would instantly turn the U.S. into Venezuela. "If you think the government is so good at running things — the Post Office is [such a] great run business?"
We should be so lucky. Postal service has been absolutely central to the history and development of the United States, and the USPS continues to provide fast and efficient service despite being beset by enormous problems. If everything worked as well as the Post Office — and there's certainly room for improvement — this country would be a much better place.
The Post Office is by far the oldest federal agency in America, and the only one explicitly authorized in the Constitution. As Winifred Gallagher writes in her delightful history How the Post Office Created America, its main architect was none other than Benjamin Franklin, who had been heavily involved in the earlier colonial postal service. On the orders of the Continental Congress, he built up its first iteration as part of the Revolutionary War effort.
It was an expensive business, because in those days paper was not cheap, transport was accomplished with animal power, and roads were generally terrible. But the need for it was barely discussed, because a nation at war simply must have reliable communications.
After the war, a similar need was recognized for the fledgling American republic: thus the Constitution granted Congress the power "To establish Post Offices and Post Roads." This rather vague language was finessed into the Postal Service Act of 1792, which was signed into law by President Washington.
Under the arguments of Washington and his ally Benjamin Rush, Congress conceived of a Post Office conforming to democratic values. Unlike European postal services, which were generally expensive provinces of the elite (plus state surveillance and espionage), the U.S. Post Office would ideally be available to just about anybody who needed it. Tampering of any kind, state or private, was outlawed.
So instead of making a profit for the government, the Post Office was set up to be self-sufficient. Profitable short routes between big cities would subsidize longer deliveries — which were naturally somewhat more expensive. A democratic Post Office should serve the dock worker writing to his sweetheart just as it should carry important state correspondence. Meanwhile, newspapers were cross-subsidized even more — a democratic citizenry, it was thought, depended on regular, accurate news of political developments.
It's easy to forget today, but up until the development of the telegraph in the 1850s, mail was the cutting edge of both communication and state modernization. On the Postal Service Act, Gallagher quotes historian Richard R. John that it inaugurated "a communications revolution that was as profound in its consequences for American public life as the subsequent revolutions that have come to be associated with the telegraph, the telephone, and the computer."
In fact, for much of early American history, to a first approximation the Post Office simply was the United States government. By the 1820s, it employed roughly three-quarters of federal employees — who were spread widely throughout the country.
Universal, cheap postal service also required infrastructure, so tens of thousands of better roads were thus eventually (and reluctantly) built by the states, and Congress started creating an administrative apparatus to deal with a plague of riverboat explosions. Later, railroads would carry the mail.
The Post Office ran into troubles after the financial crisis of 1837. The self-supporting mandate for a vastly larger country meant it became prohibitively expensive to send long-distance letters, while even short-distance posts grew costly due to the cross-subsidy. Illegal private competitors sprang up to cream off the lucrative short-haul deliveries, providing better service at a much cheaper price. Congressmen and activists began to agitate for cheap postage.
Eventually, Congress enacted a series of reforms providing for permanent government subsidies and cracking down on abusive mail contractors. Postage costs were drastically cut — now to be paid with a new innovation, the postage stamp (previously postage had to be paid at the office, or by the recipient). Letters still had a slight sliding scale for distance, but it was mere pennies even for the longest deliveries. Letter-writing exploded, finally fulfilling the democratic dream of mail service for all. To handle the increased traffic, separate Post Office buildings — some of them magnificently beautiful — gradually became the norm.
Of course, it was not all a perfect success. The Post Office in those early days was the major vehicle of patronage politics, with victorious politicians awarding their supporters with plum jobs, sometimes with lousy consequences for efficiency. And when the political crisis over slavery gained steam, Post Office-delivered papers fanned the flames of sectionalism and rebellion.
But all that is to say that the Post Office was at the center of 19th-century American history. It was the country's nervous system, for good and ill.
What's more, the Civil War provided impetus for new innovations under President Lincoln's energetic Postmaster General Montgomery Blair: free delivery by letter carrier within cities (you used to have to pick up letters at your local office), which not only streamlined service, but also required the development of systematic, accurate addresses (these hadn't previously existed in many places). Meanwhile, the new "money order" allowed non-rich people to send funds safely and easily — primarily to help Union soldiers send money home, but quickly taken up and sent in spectacular volumes by the broader population. Finally, Blair developed a Railway Mail Service, complete with special cars allowing for mail to be sorted en route — once again dramatically increasing efficiency and throughput.
The war also made the Post Office an engine of gender and racial equality, if imperfectly. It had long been one of the few places where women could occasionally get work, but that dramatically increased during the war, with men in short supply and women considered more scrupulous and honest in dealing with valuable mail. After the war, African-Americans entered postal employment en masse. President Grant appointed hundreds of blacks as postmasters and letter carriers, viewing it as important on both racial equity and political grounds — after all, there were not many loyal Republican whites in the South. Decades later, President Wilson did segregate federal employment, largely cutting off opportunities for black advancement within the Post Office, but that was reversed under subsequent administrations.
By the turn of the century, the Post Office was a simply enormous enterprise. The Railway Mail Service evolved into an incredibly sophisticated distribution network operating on tens of thousands of miles of track, with elaborate schedules and highly-skilled employees (one clerk managed 99.31 percent accuracy on a sorting test of 11,743 cards; by 1891 the agency was handling 15 million registered letters with a loss rate of only 1 in 12,227).
During the Progressive Era, the Post Office continued to develop new innovations like pneumatic tubes for city delivery, simple savings accounts for the poor and working class, and after a bruising political battle, delivery of packages. More importantly, it rolled out free delivery for rural areas. The cost was enormous, with tens of thousands of new letter carriers needed, but the benefits were commensurate: Democratic benefits enjoyed by city dwellers were now extended to the other half of the population, and even the remotest areas were connected to an important national institution. Mail volume skyrocketed further.
With the development of the airplane, the agency developed an air mail service, and later subsidized the commercial flight industry by selling lucrative air mail contracts — which pushed Congress to develop flight infrastructure and regulations to improve safety and efficiency.
But the Great Depression and the Second World War created serious funding problems that led to a trend of austerity and disinvestment in the Post Office that continues to this day. Mail volume continued to increase dramatically, with new publications and catalogs. But the rise of the automobile made service less efficient, as it was mostly impossible to do sorting en route as with the railway model. Sorting centers were thus swamped, and management was barely able to keep the agency's head above water — though they did manage to develop an optical sorting technology that would later be used to handle the enormous mail volume.
And with the rise of the conservative movement and Democratic Party neoliberalism, politicians began demanding the Post Office operate more like a business, or even be privatized outright. In the 1970s, it was transformed into an independent agency, the United States Postal Service, and once again required to be self-sufficient — but also to provide nationwide service at uniform prices. Making matters much worse, in 2006 Congress added a nonsensical requirement that the USPS pre-fund its pensions over a 75-year time horizon. Once these huge, unnecessary payments were required, the USPS was immediately pushed into deficit — even today, the agency would be profitable without this onerous requirement.
Given that recent history of malign neglect and deliberate sabotage, it is downright astonishing that the modern Post Office works as well as it does.
It maintains six-days-a-week service to 150 million locations, operates 26,410 post offices, and handled nearly 150 billion pieces of mail in 2017 — or 47 percent of all the mail in the world. UPS and FedEx could not possibly handle that volume, especially not to unprofitable far-flung locations — not even for parcels, as the USPS accounts for about 40 percent of Amazon shipping. It's not as important as it was in the 1820s, but the beleaguered, taken-for-granted USPS really does keep the American nation putting one foot in front of the other. That may be why it consistently ranks as the most popular government agency, with 74 percent approval.
People like Meghan McCain believe as a matter of deep faith that government-run enterprises like the USPS will always be poorly managed, infringe on freedom, and probably inaugurate a totalitarian hellscape. As we have seen, that is garbage history. But more importantly, America could not possibly have become a wealthy, developed country without bedrock institutions like the Post Office looking beyond a narrow profit motive and towards the needs of the entire citizenry. And in an age of skyrocketing inequality, America is crying out for just that sort of perspective.
So next time you check the mailbox or send a letter, remember that we don't have to jam everything through private markets. The government can and does do many things better.
Continue reading for free
We hope you're enjoying The Week's refreshingly open-minded journalism.
Subscribed to The Week? Register your account with the same email as your subscription.
Sign up to our 10 Things You Need to Know Today newsletter
A free daily digest of the biggest news stories of the day - and the best features from our website
Ryan Cooper is a national correspondent at TheWeek.com. His work has appeared in the Washington Monthly, The New Republic, and the Washington Post.