I watched The Last Sharknado. I have questions. So many questions.
This is unnecessary and also important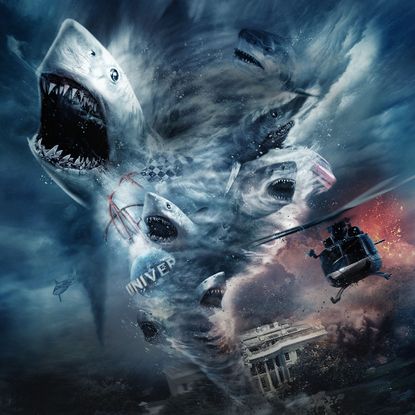 (Image credit: Syfy)
Sign up to our 10 Things You Need to Know Today newsletter
A free daily digest of the biggest news stories of the day - and the best features from our website
Thank you for signing up to TheWeek. You will receive a verification email shortly.
There was a problem. Please refresh the page and try again.
Before watching The Last Sharknado: It's About Time, I knew approximately three things about the franchise: First, that the titular "sharknado" is a frightening selachimorphic weather phenomenon that lifts hammerheads and great whites out of the ocean and sends them hurtling across the sky (and space? Unclear); second, that Sharknado 2: The Second One is Syfy's most-watched made-for-TV movie ever; and third, that there are six more Sharknado movies than there ever needed to be.
The Sharknado franchise has obvious viral appeal, the same appeal that finances other intentionally bad shark movies like Sharktopus, Sharktopus vs. Pteracuda, and Dinoshark. They all share some similarities: Sharks are crossed with non-shark entities, resulting in a self-explanatory portmanteau, and the movie is universally agreed to be so-bad-it's-good-but-wait-no-it's-actually-still-bad. The films are made with no respect for visual continuity, boast horrible CGI effects, and, if possible, even worse acting.
So why watch The Last Sharknado: It's About Time at all? Because it's the end of an era: The Sharknado series is finally coming to a close with its sixth installment, as if its goal all along had been to exceed the number of films in the original Rocky franchise. More likely, Syfy decided to pull the plug due to steadily declining viewership and the ol' idea well running dry in the writers' room (I have no evidence of this; I just imagine after making a time-travel Sharknado film they dusted off their hands, stood up, and said, "Our work here is done").
Subscribe to The Week
Escape your echo chamber. Get the facts behind the news, plus analysis from multiple perspectives.
SUBSCRIBE & SAVE
Sign up for The Week's Free Newsletters
From our morning news briefing to a weekly Good News Newsletter, get the best of The Week delivered directly to your inbox.
From our morning news briefing to a weekly Good News Newsletter, get the best of The Week delivered directly to your inbox.
At risk of putting far more thought into The Last Sharknado than anyone ever should, here are nine questions I had after watching the final installment.
1. What is a sharknado?
I have spent an absurd amount of time trying to figure this out.
On the surface, a sharknado is a weather phenomenon in which sharks are slurped out of the ocean and spun around in a tornado-like vortex. As one character explains, a tell-tale sign that a sharknado is approaching is light snow (which is a little confusing, meteorologically-speaking, because you need warm air to form a tornado).
The most frightening part of a sharknado, naturally, is not the winds: It's the sharks. Because the sharks are still, improbably, alive throughout this whole experience — and they are hungry. A sharknado is a swirling whirlwind of teeth.
That being said, our protagonist "Fin" (Ian Ziering) and his gang approach defeating sharknados as if the vortex is a living entity in and of itself. They bat meteorites haphazardly into the storm to "kill" it and later do the same with electrified cannon balls and laser beams. This apparently makes the storm dissipate and kills the sharks. Needless to say, this is not how weather modification normally works.
2. Is a sharknado inherently evil?
I have a deep, unaddressed suspicion that the sharknado is unfairly vilified by Fin. Hear me out: The sharks don't ask to be sucked up into the sky, and is it their fault that they are predators with multiple layers of extremely sharp teeth?
More importantly, the sharks in the sharknado have a peculiar habit of eating the Bad Guys right before they can do something Really Bad — to the point where the tagline for the entire franchise should really be pistris ex machina. How many times is Fin saved from certain death by a random bypassing shark in this movie — half a dozen? Even more disturbing, then, is the next thought ... could a sharknado be good?
3. Could a sharknado actually happen?
Hey, I've seen Magnolia, I know that frogs can rain from the sky! With global warming, who's to say sharks won't be next?
A true sharknado, of course, is not a realistic phenomenon, although if you're curious, Jet Propulsion Laboratory climatologist Bill Patzert has done some impressive gymnastics for the New York Daily News to explain how one is possible (if you have a loose definition of "possible").
4. So then how much does Sharknado care about accuracy?
I ask because Alexander Hamilton was 21 on July 4, 1776, so why is he, like, 60 during the Revolutionary War in the movie? And in an episode in the far-future, Fin claims that metallic robot sharks are the result of "evolution," which is definitely not how evolution works. That being said, there is a pretty good joke in The Last Sharknado when someone misidentifies a "pterodactyl," with another character jumping in to say: "Technically [it is a] pteranodon. She has a tail." Oh, so now we care about scientific accuracy?
5. Speaking of which, how does time travel even work in this movie?
Understanding the complications and paradoxes of time travel in any movie is a tricky thing, and it is no different in Sharknado. From what I can gather, Fin has been sent back in time by his son, Gil (Dolph Lundgren), to kill the first sharknado, which occurred, apparently, during the upper Cretaceous Period. Sharknados, as one character explains, are like "a big game of dominos, one sets off another," so by stopping the first sharknado, they stop all future sharknados. Fin's friends — a Mets fan named Bryan (Judah Friedlander), a shark-fighting woman named Nova (Cassie Scerbo), and Fin's wife, April (Tara Reid) — who "died" in earlier Sharknado films were actually pulled out of their timelines moments before death by Gil and have been waiting for a year in the prehistoric world for Fin to arrive.
Although I have some minor quibbles — like how exactly did April maintain her bleached hair in the Cretaceous Period? — we'll let them slide. So far so good.
Things start to get tricky after the crew tries to return to the present after defeating the first sharknado. They instead time-hop into the Medieval Era, where ... Bryan is a black woman.
The characters deduce this is due to a classic time travel conundrum: The consequences of whatever they changed in the past have affected the future. But what could possibly have resulted in that change during their crusade against the sharknado in the prehistoric era?
Whatever logic remains completely falls apart when, for no good reason, the team leaves Bryan behind in the Revolutionary War. Fin makes a huge deal about preventing Nova from interfering in her great-great-however-many-greats-grandfather's timeline because of the unforeseeable consequences, but is totally chill with dumping Bryan, who is still in his Mets clothes. Likewise, there are still sharknados in the Old West and 1960s Santa Monica ... but there is never a satisfactory reason why.
6. Is "go ahead, shark my day" even a pun?
The Sharknado franchise is famous for its puns (let me introduce you to Sharknado 5: Global Swarming). However, this is a rhetorical question.
It's not.
7. What genre is The Last Sharknado: It's About Time trying to be?
Sharknado is a comedic spoof on the disaster movie genre (imaginary scene from the pitch meeting: "WHAT IF TORNADO, BUT SHARKS?"), but at times The Last Sharknado veers into melodrama.
More than once the script pulls at our heartstrings, especially as a teary-eyed Nova begs Fin for the chance to prevent her grandfather's bloody, watery death. I was surprised just how often the film was earnest, even in the midst of really bad puns and Jagermeister product placement. The end result, alas, is just a confusing jumble of tropes and genres — I don't have the slightest clue how to file this movie, except under "hilariously bad" — but it's almost worse to see an intentionally terrible movie try to inject a little heart.
8. How did they get Neil Degrasse Tyson to agree to be in this nonsense?
I have no idea, but it's kind of great to see a time-travel-flying-shark movie feature a guy who tweets stuff like this:
9. Is it really the last Sharknado?
Never say never, but the sunny ending to The Last Sharknado (featuring a "perfect day everywhere" forecast by Al Roker!) seems to imply all is truly well for our heroes, who now exist in a universe where there has never been a sharknado. I wouldn't discount Sharknado spin-offs like Lavalantula, and after watching the fun intro theme song, I think there is something to be said for a cartoon Sharknado series. But for the time being, it looks like at long last we can lay this sharknado to rest.
And hey, if you really need another ridiculous shark movie to watch, there's always Santa Jaws.
Continue reading for free
We hope you're enjoying The Week's refreshingly open-minded journalism.
Subscribed to The Week? Register your account with the same email as your subscription.
Sign up to our 10 Things You Need to Know Today newsletter
A free daily digest of the biggest news stories of the day - and the best features from our website
Jeva Lange was the executive editor at TheWeek.com. She formerly served as The Week's deputy editor and culture critic. She is also a contributor to Screen Slate, and her writing has appeared in The New York Daily News, The Awl, Vice, and Gothamist, among other publications. Jeva lives in New York City. Follow her on Twitter.