Science Fair is full of cocky girl geniuses — and it's glorious
The new documentary shows why it pays to teach girls science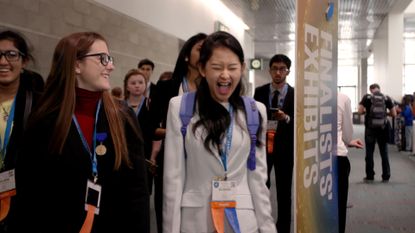 (Image credit: FUSION)
"I would say a lot of people are jealous of me. I know that sounds arrogant, but it's true."
If you didn't know any better, you might expect that line to have come from the script of a high school dramedy à la Mean Girls — not the mouth of a 15-year-old child prodigy, whose dream is to win an international science competition. But in Science Fair, a new documentary about the world's smartest students competing for Best in Fair, it's clear that girls are no longer strangers in laboratories; they're the envy of them. Years of efforts to encourage young women to pursue their interests in science have paid off in well-earned and abundant confidence.
The winner of the audience choice awards at both Sundance and SXSW, Science Fair follows nine high school students and one teacher on the journey to the 2017 Intel International Science and Engineering Fair (ISEF) in Los Angeles. Every year, some seven million science fair participants around the world are whittled down to 1,700 ISEF finalists in ninth through 12th grade, who compete for $4 million worth of prizes and scholarships, including the $75,000 that comes with Best in Fair.
Subscribe to The Week
Escape your echo chamber. Get the facts behind the news, plus analysis from multiple perspectives.
SUBSCRIBE & SAVE
Sign up for The Week's Free Newsletters
From our morning news briefing to a weekly Good News Newsletter, get the best of The Week delivered directly to your inbox.
From our morning news briefing to a weekly Good News Newsletter, get the best of The Week delivered directly to your inbox.
The students profiled in Science Fair are both male and female, but it's the girls who steal the show. Their ambition is as endearing as it is inspiring: One declares she wants not to cure cancer, but prevent it altogether. Another, from a small town where she says there is nothing to do other than drink and use drugs, wants to study the emotional responses of repeated risky behaviors on adolescent brains. (The film juxtaposes this with a boy who said his initial science fair idea had been to create a camera to take a picture of the inside of a steak while it's cooking, to see if it's done). All the while, they are balancing being scientists with being teenage girls. One is nervous about a dance with other students; another is so afraid of the science fair judges that, the year prior, she fainted when they came to her booth.
To the film's credit, the girls' participation in ISEF is not portrayed as a novelty — because it isn't. In recent years, ISEF's finalists have been just under 50 percent women. That reflects a broader trend: Between 1990 and 2013, female graduates in the fields of physical science, technology, engineering, math, statistics, and computer science skyrocketed — a leap of 130 percent, compared to a 76 percent increase by men in the same fields. Part of that surge can be traced to an increasing global awareness of the importance of integrating women into the traditionally male-dominated fields. Former President Barack Obama, for example, pushed to train thousands of STEM teachers, with an emphasis of attracting girls and minorities to the subjects.
That's not say there aren't challenges, of course. Despite women making up half the workforce, they still only hold about 28 percent of STEM jobs, one report found this March, even as another 6.6 million science and technology jobs will need to be filled by 2020. That's part of what makes the next generation of girls ready to step up so inspiring.
Anjali, the student who declared she is the subject of jealousy among her peers, is perhaps the best example of STEM programs' success. She is intensely driven — when her arsenic-testing project fails to impress her teachers at her high school fair, she shakes off the suggestion that it's a roadblock. "This doesn't reduce my research," she says, adding, "When I lose, it keeps me grounded." Anjali is so confident in her abilities that she finds a way to qualify for ISEF even after her school denies her the usual pathway.
Not all of the women have a support system like Anjali, though. Some, like 17-year-old Kashfia, have to find their confidence in STEM despite their schools' general disinterest in science. A shy but brilliant Muslim student who is practically invisible to her peers, Kashfia attends Brookings High School in South Dakota, where there are three gyms and halls of athletic trophies. But Kashfia is so determined to make it to ISEF that after being turned down by apathetic science teachers, she finds a mentor in, of all people, the football coach. When she returns from ISEF in 2017, she is visibly more confident: "It really helped me with opening up to people," she says of the fair, adding that she now feels comfortable "sharing my ideas."
It should not go without mention that all of the young women in the film are people of color, some of them immigrants or the children of immigrants. Just from the sweeping shots of the diverse crowd at ISEF, it's obvious that America is depriving itself of some of the brightest minds in the world through its recent policies, a point stressed by the filmmakers.
That's not the only cloud in the film's mostly sunny message. Science Fair is a testament to what happens when girls' inclinations are nourished and supported, when values are aligned. But in that inspiring message, there is a dark and unaddressed inverse: Who have we missed because of decades of dismissing women in the laboratory? What talent still gets left on the table in places like Brookings, South Dakota, where young women curious about science or math still don't get the institutional support that they need?
I won't spoil who ultimately wins at ISEF in 2017 — half the fun of the film comes from experiencing the suspense of the awards ceremony. To be honest, though, by the end of the film, ISEF almost seems like small fries for these big dreamers. "I'm going to be so proud when one of my kids wins a Nobel," Dr. Serena McCalla, a teacher at New York's Jericho High School, says. "Because one of them will."
When she puts it like that, how can you not believe her?

Continue reading for free
We hope you're enjoying The Week's refreshingly open-minded journalism.
Subscribed to The Week? Register your account with the same email as your subscription.