Outlander is the real TV novel
The Starz series packs a lot of story into a small space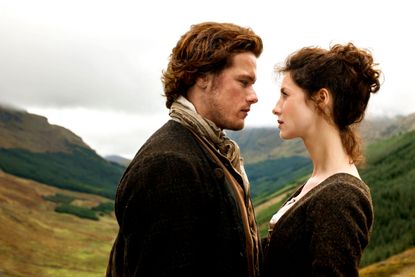 (Image credit: Album / Alamy Stock Photo)
Sign up to our 10 Things You Need to Know Today newsletter
A free daily digest of the biggest news stories of the day - and the best features from our website
Thank you for signing up to TheWeek. You will receive a verification email shortly.
There was a problem. Please refresh the page and try again.
Fans of prestige television can be a little snobby. As someone who's spent decades writing about the small screen, I often run into viewers who grew up in the post-Sopranos, post-Arrested Development era and have developed deeply ingrained ideas about what makes "good TV." For instance, no matter how much I insist that Mom and One Day at a Time are two of the best contemporary sitcoms, it's tough to convince people who reflexively roll their eyes at shows shot in front of live audiences.
One of the most frustrating opinions — which has taken hold not just among TV fans, but TV writers, too — is that there's something artificial about dramas that tell complete stories in a single episode.
Anthology series are allowed to do it; and some "case of the week" crime or medical shows get a pass, so long as there are enough subplots that run throughout the season. But the Best Drama Emmy winners of the 1960s and '70s — hard-hitting, smart social-issue teleplays like The Defenders and Lou Grant, which introduced a problem in the first five minutes and then wrapped it up by the closing credits — would have a hard time winning that kind of acclaim today.
Subscribe to The Week
Escape your echo chamber. Get the facts behind the news, plus analysis from multiple perspectives.
SUBSCRIBE & SAVE
Sign up for The Week's Free Newsletters
From our morning news briefing to a weekly Good News Newsletter, get the best of The Week delivered directly to your inbox.
From our morning news briefing to a weekly Good News Newsletter, get the best of The Week delivered directly to your inbox.
Myself, I miss those kinds of shows. That may be why I love Outlander so much.
Outlander isn't like Lou Grant, don't get me wrong. Based on a series of historical fantasy novels by Diana Gabaldon, the Starz series (which returns for its fourth season this Sunday night, Nov. 4) tells the story of a mid-20th century English medical professional named Claire (Caitriona Balfe), who on a trip to Scotland steps through a mystical time-portal and travels 200 years into the past, where she meets a handsome rebel named Jamie (Sam Heughan) and helps him resist British tyranny.
Over the course of its first three seasons, Outlander has jumped back and forth between the 1740s and 1940s — and later the 1760s and 1960s — as Claire and Jamie keep getting torn apart and then finding each other again. Separately and together, they've endured both domestic melodrama and life-threatening peril. They've each married other people and have reared children; and they've fought in wars, been imprisoned, and have tussled with pirates, spies, and magicians. They've also, in both timelines, journeyed from Europe to the Americas.
When Outlander debuted in 2014, the most obvious point-of-comparison for the show was Game of Thrones. Both are based on epic, ongoing literary sagas, adapting stories that are thematically complex, frequently fantastical, and at times grimly violent.
The creators of Game of Thrones though made a choice from the start to scrap the structure of George R.R. Martin's novels, which are told in a series of episodic chapters from different characters' limited perspectives. Game of Thrones episodes bounce between characters, moving its overall story forward in little chunks from week to week. Any given hour is made up of memorable individual moments that don't necessarily fit into a satisfying whole.
Outlander, on the other hand, is very much chapter-based — by which I mean that, for the most part, watching an Outlander episode is like reading a meticulously crafted chapter of a book, in which the characters are facing some new crisis, related to their larger situation.
It'd be difficult for someone who'd never seen Outlander to drop in on an episode and understand what's going on, if only because the show's writers still operate under the assumption that viewers know who all the characters are, and their significance to the overall story. But head writer/producer Ronald D. Moore (best-known for overseeing the excellent 2000s revival of Battlestar Galactica) takes full advantage of what Gabaldon has given him, by treating as many episodes as possible as complete adventures, with a beginning, middle, and end.
The Outlander books are action-packed, with Claire and Jamie perpetually finding themselves on missions that go awry, necessitating other missions, which also take wrong turns. In the second half of season three for example, the couple set sail to rescue Jamie's kidnapped nephew Ian, and along the way dealt with plagues, mutinies, shipwrecks — each more or less individually covered within a single hour of television, as a fresh dilemma to be resolved.
All of this is a welcome change of pace from so many other pricey prestige cable dramas, which treat plot as some scarce resource, to be doled out between long, quiet scenes — in dimly lit rooms, more often than not — where characters sit around mumbling about their feelings. Netflix's shows, which don't have to fit into TV's regular time-slots, have been especially guilty of this.
Each Outlander season though has pretty much followed the plot of one of Gabaldon's books. And they're big books, so the show doesn't have time to spend five or six episodes on a single piece of story. Claire goes undercover as a traveling singer to find Jamie? That's one episode. A jailed Jamie advocates for better treatment of prisoners? That's one episode.
What seems especially radical about Outlander's pacing is that we're in an era where TV producers talk a lot about making "a 10-hour movie" or a "novel for television," when what they're really doing is decompressing a two-hour movie or a short story, so that it runs much longer than it needs to. Outlander, though, actually is a novel for television, and with the grand sweep of classic Hollywood cinema.
I say seems radical, because Outlander's not the only show to pack a lot of story into a small space. A lot happens in Game of Thrones, even with the open-ended structure. HBO's The Leftovers (another literary adaptation) emphasizes episodic storytelling within season-long arcs. And some network dramas — like NBC's This Is Us and Shonda Rhimes' various ABC shows — try to make an impact with each chapter, even if that means their larger plot-lines ultimately end up going in circles.
But the combination of vigor and ambition in Outlander has become more impressive each year. While the series doesn't have the critical buzz that it drew when it premiered, its ratings have kept growing; it's already been renewed by Starz for a fifth and sixth season.
Outlander's writers have thousands of pages of source material to draw from, and don't have to sit in a writers' room staring at blank notecards. Still, it was a conscious choice by Moore and company to break up the twisty tale of Claire and Jamie into pieces that are discreetly focused, not fuzzy and elliptical.
If Outlander's season four is even better — and more popular — than season three, maybe that'll change some minds about what "quality" television looks like. If nothing else, it'd be great to see characters in TV dramas spend less time dwelling on what happened in the past, and more time asking themselves what their audience should be asking: What happens next?
Continue reading for free
We hope you're enjoying The Week's refreshingly open-minded journalism.
Subscribed to The Week? Register your account with the same email as your subscription.
Sign up to our 10 Things You Need to Know Today newsletter
A free daily digest of the biggest news stories of the day - and the best features from our website
Noel Murray is a freelance writer, living in Arkansas with his wife and two kids. He was one of the co-founders of the late, lamented movie/culture website The Dissolve, and his articles about film, TV, music, and comics currently appear regularly in The A.V. Club, Rolling Stone, Vulture, The Los Angeles Times, and The New York Times.