Where Halloween went wrong
This 11-movie franchise has a long history of boneheaded reversals and resurrections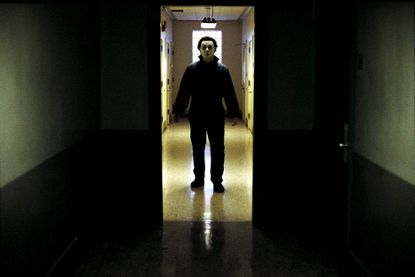 (Image credit: AF archive/Alamy Stock Photo)
When a movie franchise finds it necessary to reset its continuity not once, not twice, but four separate times over the course of 11 films, that's generally a sign that something has gone very, very wrong.
But that's the story of the Halloween franchise, which will see its 11th movie hit theaters this weekend.
While crafting the 2018 revitalization of Halloween, writer and director David Gordon Green, along with co-writer Danny McBride, had little choice but to wipe every sequel to John Carpenter's 1978 classic out of the canon. This decision to ignore some or all of the series' prior events was also made during the production of Halloween III: Season of the Witch (1982), Halloween H20: 20 Years Later (1998), and Halloween (2007), typically because there was no possible way to clean up after the mess the previous movie left behind.
Subscribe to The Week
Escape your echo chamber. Get the facts behind the news, plus analysis from multiple perspectives.
SUBSCRIBE & SAVE
Sign up for The Week's Free Newsletters
From our morning news briefing to a weekly Good News Newsletter, get the best of The Week delivered directly to your inbox.
From our morning news briefing to a weekly Good News Newsletter, get the best of The Week delivered directly to your inbox.
With this new critically acclaimed Halloween all but guaranteed to launch a new line of sequels, it's worth reflecting back on what, exactly, went wrong in the past so that these pitfalls can be avoided going forward. Because those who don't learn from horror history are doomed to repeat it.
The primary issue with the original Halloween series was that nearly every sequel in some way undermined what came before, with each new movie tossing much of the predecessor's hard work right in the garbage like an improv comedian wantonly violating the "yes, and" principle in favor of "no, but actually …"
This began with Halloween II, which famously revealed that hero Laurie Strode (Jamie Lee Curtis) and the murderous Michael Myers are brother and sister, information not present in the original. Immediately, this strays from one of the first film's appeals: that Michael is a random force of destruction. With their brother-sister relationship revealed, Laurie no longer seems to be a fairly ordinary babysitter who happened to be unfortunate enough to encounter pure evil. Michael was actually always fated to find her again. The original implied Michael could go after anyone next, even you. But the sequel set the precedent that he mainly just wants to kill his family, which isn't nearly as terrifying.
The third film — Halloween III: Season of the Witch — subsequently took place in its own universe, with the intention of launching a new anthology series separate from the Michael Myers storyline. But that setup for the future of the series was immediately abandoned with Halloween 4: The Return of Michael Myers (1988), which zipped us right back to the Michael plot. Although Halloween II ended with Dr. Sam Loomis blowing himself up and taking Michael down with him, they're both inexplicably alive and well here in the fourth movie. This tendency to reverse apparent deaths is not uncommon in horror franchises, but at least Friday the 13th, for example, honored the spirit of The Final Chapter's ending; when Jason was killed off in that movie, he was subsequently raised from the dead in the sixth installment. By contrast, The Return of Michael Myers essentially declared the ending of Halloween II fake news by saying Michael only "nearly" burned to death, even though we saw him burn to death with our own eyes. Loomis' apparent sacrifice in Halloween II is therefore reversed.
Even more problematic is the fact that Laurie Strode is also revealed to have died offscreen. After all that time we spent rooting for her to survive, she makes it through both Halloween and Halloween II … only to simply perish in an accident not long after. So to summarize, within minutes in Halloween 4, literally every major element of Halloween II's great ending — Michael's death, Loomis' sacrifice, and Laurie's survival — has been undone, making the last act of that movie pointless.
Halloween 4 did have some great new ideas, though, including the shocking finale: Laurie Strode's daughter, Jamie Lloyd, murders her foster mother by stabbing her repeatedly, and the final scene implies she will follow in Michael Myers' footsteps. Michael has been shot and seemingly killed by this point, so the implication is that the sequel will revolve around Jamie as the killer. But is that thread picked up in Halloween 5: The Revenge of Michael Myers? Of course not. Instead, Jamie never does anything like that again, and it turns out her foster mother actually survived the stabbing. In fact, it's suggested in Halloween 5 that Jamie was under Michael's control due to some sort of strange telepathic connection between them, so by taking the attack completely out of her hands and making it no longer a murder as originally implied, Halloween 4's ending becomes a lot less sinister, and therefore less remarkable, in retrospect.
The next sequel, Halloween: The Curse of Michael Myers (1995), introduced the highly controversial twist that Michael has actually been under the control of an ancient cult; he had a curse placed on him compelling him to murder all surviving members of his family. This again makes the previous films far less interesting. Now, when we rewatch the original masterpiece, we do so with the knowledge that Michael is actually just a poor sucker who is trying to kill a specific person because a cult is making him. What's so scary about that?
Halloween H20: 20 Years Later subsequently became the second film in the series to ignore previous movies despite the fact that The Curse of Michael Myers actually left things open-ended. Just three years after the cult nonsense was revealed, H20 got rid of it, and in this movie, nothing after Halloween II took place. The film becomes an opportunity for Laurie, played by a returning Jamie Lee Curtis, to finally go out in a blaze of glory, unburdened by all this messy continuity, and it ends with the most conclusive finale possible: Laurie beheads Michael Myers right before our eyes. The film is ultimately quite satisfying in part because it retroactively makes Halloween into an effective trilogy and gives Laurie a full arc as opposed to having her die at a young age offscreen. Now, we can assume that it's all over. Finally. Once and for all.
Except, no. In one of the lamest cop-outs in film history, Halloween: Resurrection (2002) tells us that it wasn't even actually Michael who Laurie beheaded. Instead, it was an innocent paramedic who Michael had swapped places with. The filmmakers must have felt they were so clever pulling off this reversal, but this ruins Halloween H20, turning Laurie's triumph into cold-blooded murder and making H20's final act impossible to rewatch with the same victorious feeling ever again. Resurrection also killed Laurie off almost immediately. So we have a repeat of Halloween 4 on our hands here: One movie seems to definitively kill Michael and give Laurie Strode a much-needed way out, only for the next film to weasel out of this promise to the audience and quickly kill Laurie off. Even though Resurrection ended on a cliffhanger, no one dared directly follow that catastrophe, and the next film would end up being a remake in 2007.
Of course, cheap reversals of what came before have been a problem to some degree with most slasher franchises; just take a look at the fact that the movie in the Friday the 13th series called The Final Chapter was literally followed by eight more films. But when it comes to constantly doubling back on what happened previously and revealing new information that makes some or all of the last film seem like a waste of time, there's absolutely no worse offender than Halloween.
With the new franchise, which is being released in a day and age when audiences care a lot more about consistent continuity than they did decades ago, let's just hope there's at least some planning for the future happening behind the scenes at Blumhouse. If not, don't be surprised to see yet another continuity reset on the horizon — and plenty of angry fans.

Continue reading for free
We hope you're enjoying The Week's refreshingly open-minded journalism.
Subscribed to The Week? Register your account with the same email as your subscription.