In praise of gridlock
Gridlock is coming. Savor it.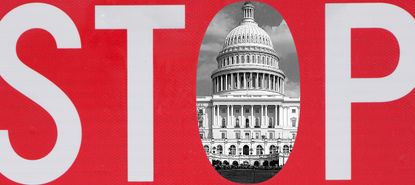 (Image credit: Illustrated | justinkendra/iStock, Wikimedia Commons)
Like Caesar at Alesia, congressional Democrats have encircled the Trump administration and yet are themselves beset by a Republican Senate. But they are unlikely to share Caesar's triumph; our collective fate here is gridlock.
Winning the House was not the shining blue victory for which many hoped. It simply marks the start of a two-year siege.
This will not be a popular result. Americans are, almost always, deeply unhappy with Congress, and gridlock is the top reason for our dissatisfaction. We want our lawmakers to do stuff. If we produced so little completed work product at our jobs, we gripe, we'd be fired in a flash. Gridlock is commonly held as an urgent problem to be solved, an emblem of the deep dysfunction that permeates our politics.
Subscribe to The Week
Escape your echo chamber. Get the facts behind the news, plus analysis from multiple perspectives.
SUBSCRIBE & SAVE
Sign up for The Week's Free Newsletters
From our morning news briefing to a weekly Good News Newsletter, get the best of The Week delivered directly to your inbox.
From our morning news briefing to a weekly Good News Newsletter, get the best of The Week delivered directly to your inbox.
But gridlock is not the worst-case scenario! Whatever your worst fears for the midterms were, gridlock is better. In fact, given the alternatives, it's arguably not so bad at all.
Crucially, gridlock entails a slower rate of change. Yes, this means the changes we would like to see will not happen any time soon. In the next two years, President Trump may be flattered into signing a few Democratic bills if they can somehow make it through the Senate — "Chuck and Nancy" dabbled in this effort to overcome the president's partisanship with adulation last year, and they briefly seemed close to clinching the deal. But realistically, Democrats won't have many such wins. Whatever House Minority Leader Nancy Pelosi (D-Calif.) promises about restoring "the Constitution's checks and balances to the Trump administration," serious legislative pushback is all but a nonstarter with a divided Congress. The sort of major structural reform we need to rein in overgrown executive power will not happen, even if Democrats were so inclined.
Likewise, any planned GOP juggernaut will have to be put on hold. It seems doubtful that would have happened regardless, for as The Week's Matthew Walther has noted, the GOP seems "satisfied with legislative paralysis in Washington and happy to see Trump make and implement policy via executive order." The tax cuts aside, Republicans have done remarkably little on the legislative front with control of the government, and gridlock will see that continue. The proper expectation for both sides is stasis.
But here's the really good news: That slower rate of change also means many of the changes you do not want to see will also be stalled.
Things will not get more miserable at a fast pace — and at this point, I'm honestly pretty happy with that. This would all be more reassuring were we not dealing with an imperial presidency that has become as much a source of policy as the Congress, but a concrete limit on the ways in which our government can get more terrible is welcome nonetheless.
In theory, at least, the laws which do pass under gridlock are subject to greater scrutiny. This is by design, as Alexander Hamilton, James Madison, and John Jay explained at length in the Federalist Papers. "It may perhaps be said that the power of preventing bad laws includes that of preventing good ones," Hamilton wrote in Federalist 73. "But this objection will have little weight with those who can properly estimate the mischiefs of that inconstancy and mutability in the laws, which form the greatest blemish in the character and genius of our governments," he continued. "They will consider every institution calculated to restrain the excess of law-making, and to keep things in the same state in which they happen to be at any given period, as much more likely to do good than harm."
As a libertarian I probably wish to see substantially greater change to our government than the average voter, but Hamilton is right here: Restrained law-making is desirable because things can always get worse. Too many bad laws is a greater and already more present risk than too few good ones.
In practice, of course, there is little daylight between the major parties on a whole host of legislative questions big and small, from "Should we stay at war for decades, cost and consequences be damned?" to "Should we name this post office branch after this nice person?" Much will proceed as usual. But again: Any limit on increased terribleness is a good thing.
Gridlock is like a cast or splint for a broken bone. It doesn't have inherent healing properties. Applied over bones which haven't been properly set, it can preserve some of the dysfunction of the break. But it can also keep the broken bone from being knocked about and injured further. As a temporary solution, it can hold the bone in stasis, shielded from fresh pain, until a fuller fix can be made.
Thus, the final benefit of gridlock is it creates a time for planning that fix. Anyone who seriously cares about good and principled governance now has two years of relative stability to develop a compelling, original, substantive vision to present voters in 2020. Maybe it can include a strong enough commitment to deliberation, decency, and restraint that a Congress which does something would be preferable to one which does nothing. But I confess I have my doubts.

Continue reading for free
We hope you're enjoying The Week's refreshingly open-minded journalism.
Subscribed to The Week? Register your account with the same email as your subscription.