Liberals' infantile Beto fantasy
Newsflash: He is not going to be president. Ever.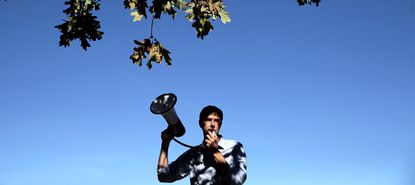 (Image credit: Chip Somodevilla/Getty Images)
I have offended some liberals in the past by referring to Robert Francis "Beto" O'Rourke as a "failson." I understand now why this might have come across as dismissive of his totally awesome campaign to skateboard his way into a Senate seat. So in the future I will be more measured in my language.
Beto is not a "failson." He is, in fact, the successful son-in-law of a billionaire real estate developer whose low-key contempt for barrio grandmas puts him squarely within the mainstream of the Democratic Party. His seemingly inevitable attempt to secure his party's presidential nomination in 2020 will be only slightly more embarrassing to himself and his delusional followers than his recent loss to the most loathed senator in the United States.
I don't mean to make light of Beto's chances here. Going straight from the House of Representatives to the White House by way of a Senate campaign isn't unheard of. I mean, James Garfield did it in 1880, though nitpickers might observe that he actually managed to win the seat in the upper chamber he was running for alongside the presidency. In more recent times, Ron Paul ran some very successful campaigns while representing a Texas district in the lower chamber of our federal legislature. Dr. Paul's followers raised millions of dollars for him on the internet, handed out lots of very neat stickers and buttons, had concerts, and annoyed millions of their fellow Americans with their gushing enthusiasm. With any luck, Beto, who is much younger than Paul was at the time of his third and least unsuccessful campaign, will be able to run unsuccessfully for president as many as five times, assuming the money keeps rolling in. The more I think about it, in fact, the more "Like Ron Paul, except less interested in gold nuggets" seems like the most even-handed characterization of O'Rourke's role in American politics. Here's hoping he has a mop-headed son who can translate his father's nationwide following into a safe seat in Hawaii or someplace like that in a couple decades.
Subscribe to The Week
Escape your echo chamber. Get the facts behind the news, plus analysis from multiple perspectives.
SUBSCRIBE & SAVE
Sign up for The Week's Free Newsletters
From our morning news briefing to a weekly Good News Newsletter, get the best of The Week delivered directly to your inbox.
From our morning news briefing to a weekly Good News Newsletter, get the best of The Week delivered directly to your inbox.
In all seriousness, though, I have no idea why anyone is taking the idea of O'Rourke's presidential campaign seriously. It's as mystifying to me as erotic tweets about him, which are as surprisingly common as they are unquotable in a family periodical. The biggest obstacle to his success will almost certainly be the crowdedness of the Democratic field. Beto might be the favorite of billionaire mega-donors and a man who came marginally close to becoming a U.S. senator, but he is going to have a hard time making headway against actual billionaire mega-donors like Tom Steyer and actual U.S. senators like Kamala Harris. And that's ignoring the off chance that Democrats might opt for a progressive instead, like Bernie Sanders or Sherrod Brown, in which case Beto will definitely be out of luck.
The news that party insiders in Iowa cannot wait to throw money and resources at Beto is the best early Christmas present President Trump's re-election committee could ask for. O'Rourke is never going to make it further than a San Francisco fundraiser or a CNN debate stage, but even if he did, he would lose in a landslide of proportions unseen since Ronald Reagan's second victory in 1984. I know this might be hard for alleged adults who consider his Instagram posts about cooking an aphrodisiac, but the aesthetic that gets Austin dog park goers racing to the polls will not go over as well in the Midwestern states that Democrats actually need to win in 2020. People in Mahoning County, Ohio, do not care how many indie rock EPs you have performed on or how totally sweet your Instagram feed is. They will also resent your opposition to President Trump's trade policies and your indifference to actual bread-and-butter issues in favor of a vague ethos of "cool" and "nice."
My advice to Democrats is that it's better to sound the wake-up call now. Let some formidable old hack like Dick Durbin, whose political fortunes do not depend upon the crucial WhatsApp constituency, just come out and say it now: Losers are not welcome in our party unless their last names rhyme with "Glinton."

Continue reading for free
We hope you're enjoying The Week's refreshingly open-minded journalism.
Subscribed to The Week? Register your account with the same email as your subscription.