The ballad of Donald and Dow
You always hurt the one you love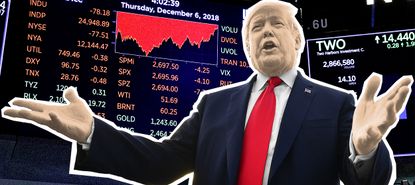 (Image credit: Illustrated | MANDEL NGAN/AFP/Getty Images, Spencer Platt/Getty Images)
President Trump has a self-defeating obsession with Wall Street. He crows about Wall Street when stock markets are booming, and goes radio silent or starts pointing fingers when the market tanks. He loves Wall Street. He's obsessed with the stock market. He wants to take credit for its success. But he cannot deal with its failure.
During a market boom between July and October, the president tweeted about it at least 18 times, touting the "all-time highs" and congratulating "all of you that have made a fortune in the markets." But he hasn't tweeted about stocks in nearly a month now. I wonder why ...
The Dow Jones Industrial Average plummeted roughly 700 points on Tuesday, and went down again Thursday. (It was shut down Wednesday in honor of the late President George H.W. Bush.) It's been on a roller-coaster ride trending down for several weeks now. Of course, the Dow is still way up since Trump's election — from a closing of 18,333 on Election Day 2016 to 24,948 on Thursday. That's an increase of 36.1 percent in a little more than two years.
Subscribe to The Week
Escape your echo chamber. Get the facts behind the news, plus analysis from multiple perspectives.
SUBSCRIBE & SAVE
Sign up for The Week's Free Newsletters
From our morning news briefing to a weekly Good News Newsletter, get the best of The Week delivered directly to your inbox.
From our morning news briefing to a weekly Good News Newsletter, get the best of The Week delivered directly to your inbox.
But the market has a major case of the jitters now. Why?
In many ways, it's the uncertainty sowed by President Trump. His trade war and capricious tweets are actively deflating the stock market.
You always hurt the one you love.
Last weekend, Trump sat down at the G20 summit with Chinese President Xi Jinping. Analysts hoped the meeting would cool off the growing trade war between the two countries. And as this week got underway, it appeared to have done just that: Trump announced a deal to hold off further tariffs for three months while the two sides kept talking. The stock markets calmed down.
Briefly, anyway.
Within another day or two it became apparent that no one inside or outside the administration was really clear on what the Chinese had agreed to do. On Tuesday, Trump himself drastically shifted tone: Having initially hailed the "incredible deal," he then sent a barrage of cooperate-or-else tweets at the Chinese. While his administration was looking into "whether or not a REAL deal with China is actually possible," Trump warned that if it wasn't, "I am a Tariff man." The stock markets promptly tanked.
Granted, there are other factors in play, including some negative signals from the bond market, and the prominent arrest of a major Chinese business official. But Trump clearly got the hint. On Wednesday he took to Twitter again for some damage control: "Very strong signals being sent by China," he declared. "I believe President Xi meant every word of what he said at our long and hopefully historic meeting. ALL subjects discussed!" Trump also referenced reports that China was gearing up to buy more soybeans and liquefied natural gas.
Trump absolutely loves to tout a booming stock market as proof of his impeccable governance. "The stock market is up massively since the Election," he trumpeted in October. Before that, in June, it was, "Stock Market up almost 40% since the Election." Yet making the stock market such a singular metric of his performance is also a problem for Trump, because he also loves tariffs and trade wars and bellicose posturing against foreign competitors — and all that tends to send the stock market into conniption fits. It's been a particularly rough ride since late September. If you take all the ups and downs as a whole, the stock markets have basically flatlined this year. (The Dow closed 2017 at 24,719 — meaning it has gained less than 300 points in 2018.)
Now, the idea that the stock market is a useful gauge of the economy's health is by itself pretty dumb. It arises from the neoliberal, free markets approach that holds that maintaining an ideal environment for private investment is the key to a flourishing economy, and that requires government austerity, light regulation, and liberalized global trade. The logical extension of this view is that corporate profits are the natural result of value creation. And that makes the stock market an absolutely key indicator of the economy's health.
For our purposes, whether or not that approach is right isn't the issue (even though it's not right!). The point is it's a coherent and internally consistent framework for economic policy.
Yet Trump has no coherent ideology on economic policy. He's a simpleton used car salesmen with fascist tendencies. He probably likes the stock market because it's easy to understand. But if Trump cared about coherency, he'd realize he can keep triumphantly applauding stock market returns or he can keep his trade war. But he can't do both.

Continue reading for free
We hope you're enjoying The Week's refreshingly open-minded journalism.
Subscribed to The Week? Register your account with the same email as your subscription.