Why Davos is the capital of the Resistance
If you are looking for the nexus of opposition to Donald Trump's presidency and insight into the minds of his most vocal critics, look no further than the 2019 meeting of the World Economic Forum in Davos, Switzerland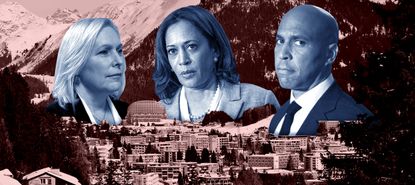 (Image credit: Illustrated | astra490/iStock, Chip Somodevilla/Getty Images, Zach Gibson/Getty Images, Alex Wong/Getty Images)
Sign up to our 10 Things You Need to Know Today newsletter
A free daily digest of the biggest news stories of the day - and the best features from our website
Thank you for signing up to TheWeek. You will receive a verification email shortly.
There was a problem. Please refresh the page and try again.
The Women's March, of blessed memory, imploded in 2019 after two years of showing the world how a shared commitment to wearing novelty headgear could be a force more powerful than, say, the Supreme Court. This was in large part due to the inability of some of its organizers to decide whether they agreed with Louis Farrakhan's conspiracy theories. Apparently the jury came back deadlocked.
That doesn't mean the #Resistance has no home this year. If you are looking for the central hub or nexus of opposition to Donald Trump's presidency and insight into the minds of his most vocal critics at home and abroad, look no further than the 2019 meeting of the World Economic Forum in Davos, Switzerland.
I have written previously that Davos serves as an annual reminder that the smartest people in the world are actually all morons. This was putting it too kindly. Davos is the Iowa State Fair, except instead of farmers and regionally famous bakers and carnies it's the amorphous class of people who do non-jobs: not only investment banking and "asset" management, but consulting, "start-ups," marketing, PR, "events." So far as I can tell the only qualification for any of these positions is being able to pretend that conventional wisdom or nonsense is the equivalent of being a highly qualified oncologist.
Subscribe to The Week
Escape your echo chamber. Get the facts behind the news, plus analysis from multiple perspectives.
SUBSCRIBE & SAVE
Sign up for The Week's Free Newsletters
From our morning news briefing to a weekly Good News Newsletter, get the best of The Week delivered directly to your inbox.
From our morning news briefing to a weekly Good News Newsletter, get the best of The Week delivered directly to your inbox.
What is on the agenda at this year's meeting? According to The New York Times, near the top of the list is a "chilling" letter from the gazillionaire investment guru Seth Klarman, whose Baupost Group is responsible for some $27 billion in assets, including the endowments of Harvard and Yale. Klarman's argument, per the Times, is that the post-industrial democracies of the West are doomed because they have too much debt, because there are too many protests going on ("Social cohesion is essential for those who have capital to invest"), and, most of all, because Donald Trump is president.
In other words, Trump has made Klarman and his cohorts billions of dollars in what amounts to, in historical terms, about five minutes, but he isn't doing it in the way they want him too. There is "uncertainty," you see, in generating giant Scrooge McDuck-like heaps of money overnight — vast gleaming hordes of doubloons that stand to benefit no one who does not already own swimming pools full of them. In the future, Klarman and his set would prefer someone who can guarantee a more modestly exponential growth rate for their already incomprehensibly large fortunes. If Democrats can do so while making life marginally more comfortable for the has-beens and whiners among their fellow citizens, that's fine — but they better not increase the existing debt-to-GDP ratio by a percentage that exceeds projected inflation. Otherwise the world as we know it will probably come to an end — and soon.
No one should be even slightly surprised by Klarman's opposition to Trump or his framing it in terms of the president's unreliability as a steward of the post-Cold War neoliberal economic and social order. Nor should the fact that the 2020 Democratic front-runners are, with the stolid exception of Bernie Sanders, doing their best to court Wall Street money men ahead of the election. You might not know off the top of your head who Mark Gallogly of Centerbridge Partners is, but Kirsten Gillibrand certainly does. And she wants to make sure that he knows her and understands that her DSA-flavored aspirations stop well short of interfering with his ability to make world-historically large amounts of money doing absolutely nothing. The same is true of Cory Booker and Kamala Harris, both of whom have already received support from Wall Street mega-donors like Robert Wolf, the CEO of something called "32 Advisers," who was previously an adviser to Barack Obama.
What does it actually mean to "resist" President Trump? Apparently making a lot of noise about how he is not very nice and refusing to fund his fantasy wall even if it means keeping the government shut down forever. A more important question is what is actually being resisted? It is the exploitation of the poor and the working class both at home and abroad by a global billionaire class who view the rest of us as (at best) potential servants? Is it reactionary arguments about the unsustainability of debt-financed spending on the welfare state? Or maybe it's microwaved Burkean nonsense about the all-consuming importance of "social cohesion"? Perhaps it has something to do with buying into conventional wisdom about free trade that the Democratic Party rejected for decades. Maybe Booker et al. will tell us during one of the debates later this year.
If the aspirations of the viable 2020 Democratic candidates tell us anything, it is that liberal democracy is not going to fail us soon, as Klarman and dozens of other would-be oracles predict with yawn-inducing pseudo-profundity — it has already failed. The future of electoral politics is people like me doing play-by-play as the the mean red team plays the cool blue team in increasingly expensive televised scrimmages whose outcomes will invariably make all of them and their friends richer — forever.
Continue reading for free
We hope you're enjoying The Week's refreshingly open-minded journalism.
Subscribed to The Week? Register your account with the same email as your subscription.
Sign up to our 10 Things You Need to Know Today newsletter
A free daily digest of the biggest news stories of the day - and the best features from our website
Matthew Walther is a national correspondent at The Week. His work has also appeared in First Things, The Spectator of London, The Catholic Herald, National Review, and other publications. He is currently writing a biography of the Rev. Montague Summers. He is also a Robert Novak Journalism Fellow.