Republicans want to make 2020 about capitalism vs. socialism. But there's a problem: Trump.
Trump isn't the defender that capitalism needs. Nor is he the one that any remaining free-marketeers in the GOP should want.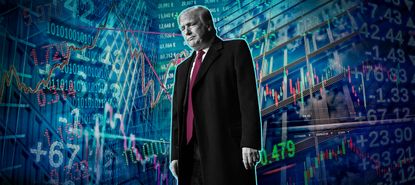 (Image credit: Illustrated | SAUL LOEB/AFP/Getty Images, gopixa/iStock)
The financial crisis bodyslammed public confidence in markets. And it has yet to fully recover, especially among millennials. Competitive capitalism needs defenders, preferably ones who understand and value it.
But champion of capitalism is certainly an odd and ill-fitting role for America's populist president.
Republicans seem determined to frame the 2020 U.S. presidential election as the ultimate showdown between the "socialism" of Democrats — which the GOP will define as more hellish Venezuela than happy Scandinavia — and the "capitalism" of Trumponomics. Playing off President Trump's recent State of the Union vow that "America will never be a socialist country," RNC chair Ronna McDaniel says the election will be a choice between the path "of individual freedom, of liberty, of entrepreneurship" or "a socialist path that Democrats are fully embracing."
Subscribe to The Week
Escape your echo chamber. Get the facts behind the news, plus analysis from multiple perspectives.
SUBSCRIBE & SAVE
Sign up for The Week's Free Newsletters
From our morning news briefing to a weekly Good News Newsletter, get the best of The Week delivered directly to your inbox.
From our morning news briefing to a weekly Good News Newsletter, get the best of The Week delivered directly to your inbox.
And that path doesn't lead to Norway, comrades. At the annual Conservative Political Action Conference taking place this week in Washington, former Trump White House aide Sebastian Gorka told attendees that they were on the "front-lines of the war against communism coming back to America."
None of this caricature is good news for folks (like me!) who think innovation-driven, competitive market capitalism remains America's and the world's best path toward greater opportunity and prosperity. The hysterical notion that Medicare-for-all, although a wrong-headed policy idea, would turn America into Soviet Russia is unlikely to find electoral purchase except with Fox Nation subscribers. It's a clownish argument that probably undermines support for capitalism among those already capitalism-skeptical younger Americans.
Of even greater concern is that Trump's portrayal of himself as a capitalist hero and his policies as true capitalism will further increase that skepticism. Tariff Man rejects the notion that the free exchange of goods and services between nations can be mutually beneficial. As Adam Smith writes in The Wealth of Nations, "In every country it always is and must be the interest of the great body of the people to buy whatever they want of those who sell it cheapest."
To protectionist Trump, a basic tenet of market capitalism is elitist drivel, the wisdom of suckers. This helps explain his confused trade war with China. Most American businesses and policymakers want less interference by Beijing in the Chinese economy. They want it to re-embrace markets rather than slip further back into central planning. But Trump is actually pushing for greater "state capitalism" in China by demanding Beijing direct the purchase of more American products to reduce the trade gap between the two economies. Under Trump, America forsakes its role in promoting democratic capitalism across the globe.
Second, Trump thinks government — or at least the Oval Office occupant — should be able to exercise a veto on the basic business decisions of American companies. Recall how Trump threatened General Motors after it announced job and production cuts in the key electoral states of Michigan and Ohio. He said he told CEO Mary Barra that the company was going to "have a problem" if plants stayed closed. Trump also threatens to regulate or break up companies, such as Google and Amazon, that he thinks are biased against him.
Third, what Trump is really doing is substantive rebranding of moldy nationalist populist ideas — although repeatedly a failure the world over — as 21st century market capitalism. The core of populist economics is the rejection of constraints and the ignoring of trade-offs. That's why Trump and Bernie Sanders have so much in common, and collapsing Venezuela is at least as much a cautionary tale of populism as socialism. Populist governments embrace fiscal profligacy, attack central bank independence, and wantonly futz with private enterprise.
But Trump shows zero concern about the rising federal debt. His public attacks on the Powell Federal Reserve are unprecedented. America's largest and most public companies feel they are vulnerable to Trump's caprice. And how can Trump defend American capitalism while neglecting the key role immigrants have played and continue to play in its astounding success? A big corporate tax cut shouldn't be nearly enough to placate folks on the right who still value economic freedom and understand how it changed the world.
Trump isn't the defender that capitalism needs. Nor is he the one that any remaining free-marketeers in the GOP should want.

Continue reading for free
We hope you're enjoying The Week's refreshingly open-minded journalism.
Subscribed to The Week? Register your account with the same email as your subscription.