Elizabeth Warren is absolutely right about Big Tech
Bust the internet trusts!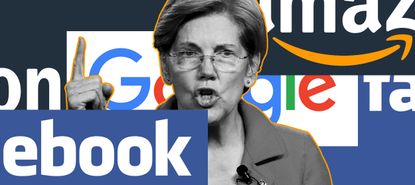 (Image credit: Illustrated | REUTERS/Gary Cameron, Wikimedia Commons)
Remember blogs? It seemed for a short time in the mid-2000s and early 2010s that this would become a viable business model for all manner of independent publishers and writers. But with few exceptions, that model of publishing is dead. What killed blogs was the rise of platforms like Twitter and Facebook, which sucked much independent writing into walled gardens, and more importantly, the consolidation of the Facebook-Google internet advertising duopoly. Thousands of viable medium-to-small websites were driven out of business by this development, and thousands more were forced into a fundraising or subscription model, not always successfully.
That's a good road into Elizabeth Warren's new proposal to break up and regulate Big Tech. Google, Facebook, and Amazon have rolled up great swathes of the internet economy (and obtained vast political power in the process). It's long since time they were cut down to size.
As Warren outlines, the internet giants have exploited their market power to shut down competitors and squeeze suppliers, stifling creativity and investment. Amazon ran Diapers.com out of business by dumping competitive products below cost. Google owns both the biggest online ad marketplace and the biggest ad purchaser, and it keeps the resulting key data streams to itself. It has used its search monopoly to down-rank competitors and boost its own products, and used its Android market power to boost its search engine. Facebook's sheer size — it owns over 70 percent of the social media market — gives it de facto monopoly control over that section of the tech market.
Subscribe to The Week
Escape your echo chamber. Get the facts behind the news, plus analysis from multiple perspectives.
SUBSCRIBE & SAVE
Sign up for The Week's Free Newsletters
From our morning news briefing to a weekly Good News Newsletter, get the best of The Week delivered directly to your inbox.
From our morning news briefing to a weekly Good News Newsletter, get the best of The Week delivered directly to your inbox.
Even venture capitalists say there is a "kill zone" around the big five tech companies (the other two are Microsoft and Apple) where nobody bothers to fund any start-up, because a newcomer can't possibly compete. As Warren writes, "The number of tech startups has slumped, there are fewer high-growth young firms typical of the tech industry, and first financing rounds for tech startups have declined 22 percent since 2012."
She suggests two basic solutions. First, reverse anti-competitive mergers. Facebook should have to sell Instagram and WhatsApp; Google would have to sell Waze, Nest, and DoubleClick; and Amazon would have to sell Whole Foods and Zappos. That's straightforward anti-trust policy.
Second, regulate the platforms: Warren would designate any online business with more than $25 billion in world revenue and which offers "an online marketplace, an exchange, or a platform for connecting third parties," as a "platform utility." These would be forbidden from owning any company that participates in the platform, and would have common carrier-style regulations requiring "fair, reasonable, and nondiscriminatory dealing with users" — thus banning the sort of supplier squeeze move noted above. They would also be forbidden from transferring data to third parties.
Finally, these smaller businesses would be less politically powerful. With less money, they would find it harder to subvert democracy by pressuring cities and states for outrageous bribes, less able to lobby Congress for special exemptions and tax breaks, and less able to exploit their strategic market position for political effect.
This is classic Brandeisian policy, which was central to the New Deal order that produced the most prosperous and egalitarian period in American history in the three decades after the Second World War. The idea is to force market competition to happen along socially positive axes of quality and price, rather than who can finance the most predatory tactics on Wall Street.
A powerful piece of the argument for tech anti-trust is the relative lack of downsides. In any policy discussion, one must consider the possibility of negative side effects. But suppose all the above arguments turn out to be mistaken. In that worst-case scenario, we would only have a somewhat more fragmented technology marketplace. Forcing WhatsApp and Instagram to become their own separate companies would only revert things to how they were before Facebook bought them — barely even a disruption, much less a disaster. Forcing Amazon to hive off its retail operation from its platform operation wouldn't break online shopping — retail businesses have thrived for hundreds of years without also owning a massive retail platform.
The only people who would unquestionably lose out here would be the tech baron CEOs, who would be running smaller companies and thus receive somewhat smaller salaries and compensation. But something tells me they won't end up on the street.
The chances of a great outcome are strong, and the chances of a bad one are minimal — so why not? It's a total gimmie.
As Warren notes, this wouldn't solve all the problems on the internet. But it would go some distance towards revitalizing the tech sector, and restoring democratic control over these dangerous monopolists. Let's make it happen.

Continue reading for free
We hope you're enjoying The Week's refreshingly open-minded journalism.
Subscribed to The Week? Register your account with the same email as your subscription.