The genius of Elizabeth Warren
Can a nerd win the presidency?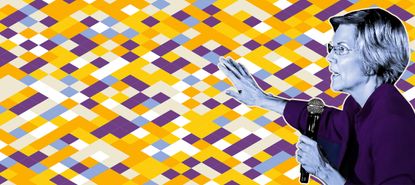 (Image credit: Illustrated | Drew Angerer/Getty Images, briddy_/iStock)
Did you know that Kamala Harris is not a huge fan of President Trump's proposed border wall? Oh, my yes. And not only that. She thinks that with his presidency we have arrived at "an inflection point in the history of our nation" and that "the American dream and our American democracy are under attack and on the line." She is also — get this — against "leaders who bully."
The California senator's remarks at the January kick-off rally for her 2020 campaign were typical of what we have been hearing from Democrats with presidential ambitions: a lot of guff about unity and the power of love and the real magic that has been inside our hearts all along.
You can't blame Democrats for sticking to this sort of thing. It's exactly what Barack Obama did in 2008, when he talked about "the fierce urgency of now" (as opposed to 500 years ago, I guess, which is hard to be urgent about even if you are a historian) and made some very grandiose and occasionally somewhat moving speeches. It is also totally compatible with having a record like Harris' on issues such as criminal justice reform that ostensibly matter to the party's base.
Subscribe to The Week
Escape your echo chamber. Get the facts behind the news, plus analysis from multiple perspectives.
SUBSCRIBE & SAVE
Sign up for The Week's Free Newsletters
From our morning news briefing to a weekly Good News Newsletter, get the best of The Week delivered directly to your inbox.
From our morning news briefing to a weekly Good News Newsletter, get the best of The Week delivered directly to your inbox.
There are exceptions, as there are bound to be in a field of approximately 607 declared candidates and goodness knows how many would-bes and has-beens and maybes and next-times. Bernie Sanders, for example, loves to talk about Medicare-for-all, a commonsensical policy solution with a rapidly expanding base of support everywhere except the halls of Congress. But even Bernie seems to half-believe that he is some kind of prophet-warrior who is leading hundreds of thousands of Fortnite addicts in a revolution that will culminate in a very moderate form of welfare statism.
Not so Elizabeth Warren. The genius of her campaign — and indeed of her entire career as a politician and public intellectual of sorts — is its clarity and pragmatism. She does not see herself as a transcendent figure. Nor does she expect her supporters to have some kind of frenzied emotional response to her speeches. The best she hopes for is that they come away feeling like they have heard a sensible woman point out some of the problems ordinary Americans face and suggest a handful of straightforward solutions to them. She doesn't do uplift, which is what people mean when they grumble about her lack of "charisma" and "energy."
This is one reason that much of Warren's agenda is negative. Not for her the Candy Land of Alexandria Ocasio-Cortez's Green New Deal, with its libertarianism-in-reverse promise of unlimited prosperity for everyone except the haters. Warren wants to ban Amazon, Google, and other tech companies from operating and using their platforms simultaneously. She wants to destroy monopolies, both vertical and horizontal, and would reverse Facebook's purchase of Instagram. She wants to limit the size and variety of activity undertaken by financial corporations. She wants to take money away from the wealthy by taxing assets above $50 million at 2 percent annually and those above $1 billion at 3 percent. And she has detailed, well-thought-out plans for accomplishing each of these goals.
Warren is aware of her shortcomings as a purveyor of what campaign hacks refer to as the "message." But her response to this is not to join the inspiration racket but to make fun of herself. "You want me to get this crowd up on net metering?" she recently asked the audience at a rally in New Hampshire. "Do I have any net metering wonks out here? I'm a big believer in net metering."
Will her unwillingness to run as our next kindergarten teacher-in-chief cost Warren the Democratic nomination? I think so. There are two things American voters like to hear from their politicians. The first is pep talks that make them feel as if by putting a sign in their yards or making an online donation they are participating in some of kind of world-historic people's movement. The other is free stuff, whether of the tax cuts or the government benefit variety. Warren isn't doing either of these things. (Even her plan for a universal child credit is always explained in the context of the necessity of hard work and other boring old-fashioned ideas.) Going forward, Warren will have all the problems that Jeb Bush faced in 2016, when the PDFs explaining his 25-point plan for comprehensive immigration reform went unread on his website while Trump raved about Mexico paying for the wall.
In a contest between a nerd who is inviting people to become fellow nerds and a charlatan who congratulates them for their incuriosity, bet on the latter.

Continue reading for free
We hope you're enjoying The Week's refreshingly open-minded journalism.
Subscribed to The Week? Register your account with the same email as your subscription.