Collusion? Plus 3 other things Barr has still not revealed about Mueller's report
Here's what we still don't know about Mueller's findings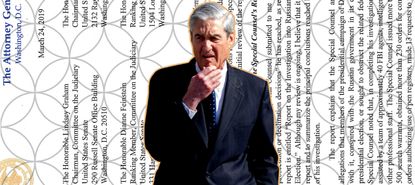 (Image credit: Illustrated | Tasos Katopodis/Getty Images, U.S. Department of Justice via Getty Images, ExpressIPhoto/iStock)
Attorney General William Barr released a four-page letter Sunday summarizing Special Counsel Robert Mueller's report, but "the public still has not read a single complete sentence of the Mueller report," legal reporter Adam Klasfeld notes. Or, as Lawfare managing editor Quinta Jerecic says wryly at The Atlantic: "No one who matters has read the Mueller report yet."
Here are four things we still don't know about Mueller's findings:
1. "No collusion"? Really?
Subscribe to The Week
Escape your echo chamber. Get the facts behind the news, plus analysis from multiple perspectives.
SUBSCRIBE & SAVE
Sign up for The Week's Free Newsletters
From our morning news briefing to a weekly Good News Newsletter, get the best of The Week delivered directly to your inbox.
From our morning news briefing to a weekly Good News Newsletter, get the best of The Week delivered directly to your inbox.
Mueller, Barr writes, "did not establish that members of the Trump campaign conspired or coordinated with the Russian government in its election interference activities." That has been interpreted by President Trump and many in the media as "no collusion," but "a careful reading of Barr's letter suggests that [assumption] may be wrong," explains national security lawyer Robert Litt at Lawfare. In fact, "Barr's letter suggests the possibility that, rather than 'no evidence' of collusion, Mueller did find such evidence — but ... did not conclude it warranted a criminal prosecution."
And anyway, "there's a large gap between not being criminally liable and having done nothing wrong," Jonathan Bernstein notes at Bloomberg Opinion.
2. How long is the report?
Barr never even mentions how many pages Mueller submitted. "I have no idea, and no one I've talked to has any idea or will say how long it is," Bob Woodward said Monday on MSNBC. "It might be thousands of pages." Oddly, Fox News host Todd Piro tweeted in passing Monday that Mueller's report is 675 pages long.
3. What about the counterintelligence part?
Mueller's office subsumed an FBI counterintelligence investigation into whether Trump was acting as a Russian agent. "It's still not clear what became of that counterintelligence probe after Mueller was appointed, and Barr did not indicate in his four-page summary how far the special counsel pursued it," Natasha Bertrand writes at The Atlantic. Barr's summary focuses entirely on any potential violation of federal criminal statutes, but the counterintelligence inquiry would explore if Russia has compromising information on Trump — or maybe provide other explanations for Trump's extraordinary affinity for Russian President Vladimir Putin.
NBC News reports that the FBI will brief Congress' "Gang of Eight" on Mueller's counterintelligence findings within the next month or two.
4. Why didn't Mueller decide if Trump obstructed justice?
Mueller explicitly did not "exonerate" Trump of obstruction of justice charges, and Barr decided there was no obstruction based on Mueller's evidence. He did not explain either conlcusion. "Most" — but not all — of the evidence of possible obstruction has been "the subject of public reporting," Barr wrote, and "many" of the suspect incidents "took place in public view."
The New York Times explores several of the questions raised by Mueller and Barr's unusual decisions, including whether Mueller wanted Barr or Congress and the public to weigh his evidence, and whether he felt constrained by the Justice Department policy that a president can't be indicted or Barr's stated view that presidents can't obstruct justice in the ways Trump might have done. Also, Lawfare's Jerecic asks, "to what extent did that view mean that Barr wrote off presidential conduct that the FBI worried might be both obstructive and a benefit to Russia — such as firing James Comey as FBI director?"
It's still not clear whether Barr will ever release any of Mueller's report. Peter Baker at the Times reports the Justice Department says "it will have its own summary ready to send to lawmakers within weeks," suggesting Congress and the public may not even get a redacted version of Mueller's conclusions. But it is abundantly clear that we know only slightly more about what Mueller did find than we did a week ago, and as Mueller watcher Marcy Wheeler writes, "Barr has already failed the test of whether he can summarize Mueller's results in good faith."

Continue reading for free
We hope you're enjoying The Week's refreshingly open-minded journalism.
Subscribed to The Week? Register your account with the same email as your subscription.