Want a job with President Trump? Go on cable news.
Trump keeps tapping cable news personalities for roles in his administration. This is extremely troubling.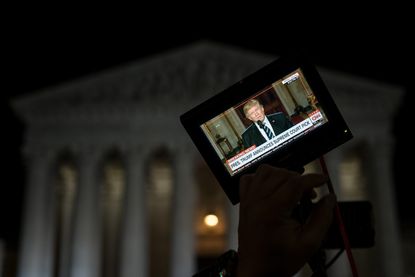 (Image credit: Drew Angerer/Getty Images)
First it was Stephen Moore. Now it's Herman Cain. President Trump's likely choices to join the Federal Reserve share several qualities: They're apparently unqualified for the job, but they're unalloyed Trump loyalists who will presumably prioritize his political needs as the Fed goes about the delicate task of keeping the American economy in balance.
But there's one other thing they have in common: They're on TV. A lot.
Cain is a Fox News contributor. In the last year he's been on the network opining about everything from identity politics to abortion to U.S. policy in Syria. Moore sticks to narrower economic ground from his perch at CNN. Both have followed a similar formula in their television commentary: Trump good, Democrats bad. The rest is just details.
Subscribe to The Week
Escape your echo chamber. Get the facts behind the news, plus analysis from multiple perspectives.
SUBSCRIBE & SAVE
Sign up for The Week's Free Newsletters
From our morning news briefing to a weekly Good News Newsletter, get the best of The Week delivered directly to your inbox.
From our morning news briefing to a weekly Good News Newsletter, get the best of The Week delivered directly to your inbox.
Why is this important to note? Because their ascendancy to major government jobs is one more signal that Fox News isn't just the propaganda arm of the Trump administration — the network, along with CNN, is turning out to be a virtual human resources department for the White House.
If you want Trump to give you a job, going on cable news may be one way to get your foot in the door.
Consider the list of cable news contributors and personalities who have joined the administration or been offered promotions in the last year or so: John Bolton became national security adviser, Matthew Whitaker briefly served as acting attorney general, Heather Nauert almost became U.N. ambassador, Morgan Ortagus was tapped as a State Department spokeswoman, and Bill Shine was Trump's short-lived communications director. That list doesn't even include earlier appointments like communications director Mercedes Schlapp, National Economic Council Director Larry Kudlow, former Deputy National Security Adviser K.T. McFarland, Assistant Secretary of the Treasury Tony Sayegh, and of course, who could forget Anthony Scaramucci, whose stint as communications director lasted just 10 days.
The wall between media and government has always been a bit too porous: George Stephanopoulos was a Bill Clinton campaign staffer before he became the face of ABC News; Tony Snow, a Fox News anchor, jumped over to be the spokesman for George W. Bush; Jay Carney, a former Time reporter, did the same for Barack Obama.
But such crossovers used to be exceptional; now they're everyday occurrences. They also used to occur along a relatively narrow line of expertise: Reporters transitioned into roles where they dealt with other reporters. Now TV personalities hold — or have recently held — critical roles in law enforcement, national security, diplomacy, and economics.
This isn't a big surprise. We also know that Trump can be remarkably superficial in his staffing decisions: Bolton missed out on an early job in the White House because Trump reportedly disliked his mustache. But his response was savvy, according to a recent profile in The Atlantic. No, he didn't shave. But he did go on Fox News repeatedly. He expressed pro-Trump opinions, and frequently used Trumpist language — dark invocations of the "deep state" — while doing so. He kept at it for the better part of a year until he garnered Trump's affections.
"John played Trump perfectly," one of Bolton's associates said. "Bolton auditioned for this position for essentially a year. And he nailed that audition."
Whitaker, who was acting attorney general during a crucial stretch of the Mueller investigation, took a similar route to his governmental post: He got Trump's attention as a CNN legal commentator critical of that investigation.
All of this matters. The skills that make for steady, wise governance are almost the opposite of the skills needed to shine on cable TV. Governing is a marathon, the sum of thousands of decisions designed, hopefully, to improve the lives of Americans and keep them safe. TV news stardom is a sprint — if you are able to argue for a stretch of five to 10 minutes, repeating the same talking points over and again, you can become famous. Performance skills can sometimes be useful in senior government positions; on TV, they're just about the only thing that matters.
Of course, Trump ascended to his job after his own razzle-dazzle performance, both on TV and at his rallies — and he seems fairly confident in his own qualifications. It may be little wonder that he applies similar logic to his administration's staffing decisions.
It's bad logic. Stephen Moore had a role in nearly destroying state government finances in Kansas, my home state, while Cain's own economic ideas have drawn nearly universal derision from mainstream economists. They're bad choices for the Fed — but it doesn't matter. In the Trump administration, they have the only qualification that matters: They're good on camera.

Continue reading for free
We hope you're enjoying The Week's refreshingly open-minded journalism.
Subscribed to The Week? Register your account with the same email as your subscription.