Why Democrats should run a celebrity in 2020
Time for Democrats to get with the program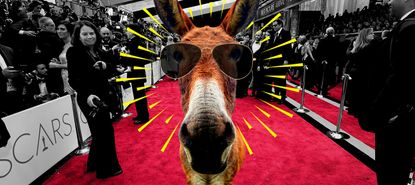 (Image credit: Illustrated | ELizabethHoffmann/iStock, Christopher Polk/Getty Images, Kuzmik_A/iStock)
In one of the Twitter rants he is always getting up to, Alec Baldwin claimed the other day that if he ran for president in 2020, he could beat President Trump. It would be "easy," he said. "So easy. So easy."
I'm not so sure he's right about this. No one over the age of 35 watches Saturday Night Live anymore, certainly not outside our major cities. Normal people don't know who is being parodied in your 37th different sketch about some minor White House official, which makes laughing along kind of difficult. What else do Americans associate Baldwin with these days, apart from 30 Rock and that one funny monologue in Glengarry Glen Ross? His stint narrating Thomas and Friends? The Hunt for Red October? I just don't think he's beloved enough.
But who knows. Baldwin is certainly right to argue that Democrats' best bet in 2020 is nominating some kind of celebrity. Think about it: instantaneous name recognition, fewer if any concerns about raising money, all or most of the personal baggage already sorted through, no risk of turning the candidate into damaged goods if he or she doesn't win out. The only downside is the whole lack of relevant governing experience thing, which seems to matter less and less in an era where front-runners are the losers of Senate races and the mayors of small Midwestern cities. If having spent time in the Senate and a series of well-defined positions on relevant questions of public policy mattered, Elizabeth Warren would have been crowned ages ago. Besides, the 2020 Democratic field is too crowded: The party needs an outsider consensus choice who can rise instantly above all the competition and start running as the quasi-nominee as early as possible, the way Trump did in 2016.
Subscribe to The Week
Escape your echo chamber. Get the facts behind the news, plus analysis from multiple perspectives.
SUBSCRIBE & SAVE
Sign up for The Week's Free Newsletters
From our morning news briefing to a weekly Good News Newsletter, get the best of The Week delivered directly to your inbox.
From our morning news briefing to a weekly Good News Newsletter, get the best of The Week delivered directly to your inbox.
For a brief period last year it looked possible that Democrats had found the perfect vehicle for opposition to Trump in Oprah Winfrey. After giving a speech at some award show, the Henry Ford of daytime talk shows was said to be "actively considering" a run at the White House. Eventually she changed her mind, but not after she raced ahead of Trump in polls and earned the endorsement of at least one congressional Democrat.
Baldwin and Winfrey are not, astonishingly, the only celebrities who dislike Trump. In fact, the only even moderately famous people who do are James Wood, who is so weird that he is probably Canadian or something and thus ineligible to run for president, and Chuck Norris, who is really more of a Mike Huckabee fan. In choosing a celeb candidate, DNC bigwigs could have their pick of a very large litter. Taylor Swift is not quite old enough, but what about Beyoncé? I am not exactly a connoisseur of American popular culture circa 2019, but there are dozens of people named Seth and Chris who are well known enough to appear in Google News almost every day. I'll bet all of them are liberal.
Indeed, we might do a good deal better than generic Hollywood progressive. For my money the best choice to run against Trump in 2020 would be Smokey Robinson, surely one of the greatest living Americans. Find me someone who dislikes "The Tracks of My Tears" and I will show you a paid-up Russian disinformation agent who should be hanged under the terms of a revived Alien and Sedition Act. In our culturally fractured age love of Motown is probably one of the only things that can unite left, right, and center. A Smokey Robinson-Loretta Lynn, male-female black-white, urban-rural, North-South unity ticket? Sign me up.
In all seriousness, though, I fully expect to see more B-list celebrities — not major Hollywood stars or chart-topping musicians but reality stars, talk-show hosts, and the like — enter politics. These people have nothing to lose and everything to gain. There is already no difference between the gushing coverage of, say, the Obamas' private lives and TMZ. Trump's candidacy has shown us that everyone — voters, party officials, the cable news bigwigs who spent hundreds of hours letting him call in to programs rather than discuss Jeb Bush's detailed policy white papers — thinks of politics as just another species of entertainment.
Somehow a sudden lurch in the direction of seriousness doesn't strike me as a very likely development.

Continue reading for free
We hope you're enjoying The Week's refreshingly open-minded journalism.
Subscribed to The Week? Register your account with the same email as your subscription.