Elizabeth Warren is everything Hillary Clinton pretended to be
She's the real thing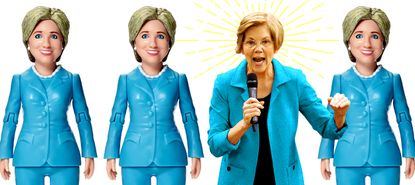 (Image credit: Illustrated | JOSEPH PREZIOSO/AFP/Getty Images, omyos/iStock, Screenshot/Walmart)
Imagine this: a woman, gunning to become the first female president, who has broadly lefty politics focused on social and economic justice, and who demonstrates careful attention to policy detail. While not a socialist, she accepts the need for drastic reforms to fix an ailing American society. Sounds familiar, no doubt, because it's how both Hillary Clinton and Elizabeth Warren have presented themselves.
The only difference is that Warren is the real thing.
Gaze back on Clinton's long career, and two overwhelming characteristics jump out: cynicism and ambition. She has long followed the tide of political currents even as it ran to very dark places, issuing racist warnings about "superpredators" when mass incarceration policy paid political dividends, supporting her husband's appalling welfare reform, and running a race-baiting campaign against Barack Obama in 2008.
Subscribe to The Week
Escape your echo chamber. Get the facts behind the news, plus analysis from multiple perspectives.
SUBSCRIBE & SAVE
Sign up for The Week's Free Newsletters
From our morning news briefing to a weekly Good News Newsletter, get the best of The Week delivered directly to your inbox.
From our morning news briefing to a weekly Good News Newsletter, get the best of The Week delivered directly to your inbox.
When out of office, she and her husband used their high profile to rake in gobs of cash hand over fist. From 2001 to 2015 they made more than $153 million giving speeches — including at least $7.7 million to big Wall Street banks.
By 2015, her previous politics had fallen out of favor, and she turned on a dime to portray herself as a Barbara Lee-esque progressive. There's nothing wrong with changing one's mind when previous ideas turn out badly, of course, but the problem was the palpable insincerity. Clinton talked like a leftist college professor while rolling out a complicated, milquetoast anti-poverty program and misrepresenting her opponent's health-care plan. Even when she came around to a half-decent platform after the convention, she barely mentioned it in her campaign advertising, preferring to attack Trump's character.
It was beyond obvious that she planned to govern just like her husband and Barack Obama — catering first and foremost to banks and other rich elites, but with a few small goodies thrown to the working class every now and then.
Clinton's conscience is not absent, of course, but she has regularly subordinated moral values to perceived political necessity. Indeed, Warren herself once told of seeing this characteristic firsthand in an interview with Bill Moyers. Back in the '90s, she had convinced Clinton that a bankruptcy bill would harm women and children. Clinton then went back to the White House and convinced her husband to veto the bill.
But when the same bill came up when she was in the Senate, Clinton voted for it. Moyers asked why, and Warren responded:
In other words, Clinton had been corrupted. She got bought off. She deliberately harmed the vast majority of her constituents to benefit a few rich elites who could give her lots of campaign donations — plus comfy sinecures and paid speeches after leaving office, which don't go to populist crusaders.
Warren, by contrast, has consistently held anti-plutocratic politics even when they've come at a price. Though she started out as a conservative Republican early in life, she moved to the left after studying the wreckage of individual bankruptcies and then fighting and losing the effort to stop Republicans and moderate Democrats from making the bankruptcy system much worse in 2005. Radicalized by the experience, she became a crusader for consumer rights, and convinced Democrats to put a Consumer Financial Protection Bureau in the Dodd-Frank financial reform.
But Republicans (and Democratic hesitation) blocked her from running the agency she designed, so she ran for Senate in 2012. That's the sort of political price that genuine populists end up paying sometimes.
As a presidential candidate, Warren's policy proposals are actually threatening to American oligarchs, and she evinces every intention of carrying them out as president. She wants to bust up corporate monopolies and oligopolies, and sharply regulate abusive tech platforms. She correctly wants to get rid of the filibuster, and has a decent proposal for guaranteed child care. She wants stiff tax hikes on the ultra-rich — a wealth tax on fortunes over $50 million, a larger one on those over $1 billion, and a 7-percent tax on corporate profits over $100 million. (In 2018, at least 60 Fortune 500 companies paid zero tax or even got a refund on tens of billions in profits, including titans like Amazon, IBM, Netflix, and Activision Blizzard.)
Where Clinton mainly valued the appearance of being a policy wonk (remember the lavish articles about how she had rooms full of policy experts?), Warren is a genuine obsessive — and more importantly, values policy in terms of being able to improve the lives of the broad population, not just demonstrate her own competence.
Currently Warren is bumping along somewhere around fifth place in most polls for the 2020 nomination, with about 6 percent support, which is surprising. If you liked how Clinton sounded in 2016, Warren is the woman for you.

Continue reading for free
We hope you're enjoying The Week's refreshingly open-minded journalism.
Subscribed to The Week? Register your account with the same email as your subscription.