Mandatory national service is a terrible idea
Why domesticating the draft won't build meaningful community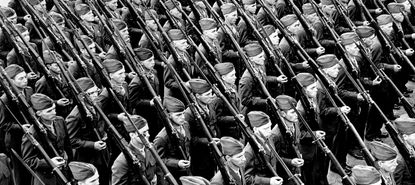 (Image credit: AP Photo)
Every few years, some politician too old to be personally affected by his own proposal trots out a new pitch for mandatory (or, at least, strongly encouraged) national service for America's youth. In 2002, it was Rep. Charles Rangel (D-N.Y.); more recently, John McCain and Hillary Clinton outlined plans for service schemes they described less as compulsion and more as opportunity.
Now presidential candidate and South Bend, Indiana, Mayor Pete Buttigieg has taken up the cause. He liked his time in the military, Buttigieg told MSNBC's Rachel Maddow this week, especially for how it connected him to "very different Americans," people with "different politics, different generation, different racially, different regionally." And he would like more Americans to experience that same sort of "social cohesion" without having to go to war.
"One thing we could do ... would be to make it, if not legally obligatory, then certainly a social norm that anybody after they're 18 spends a year in national service," Buttigieg said, adding that this is "one of the ideas that everybody likes."
Subscribe to The Week
Escape your echo chamber. Get the facts behind the news, plus analysis from multiple perspectives.
SUBSCRIBE & SAVE
Sign up for The Week's Free Newsletters
From our morning news briefing to a weekly Good News Newsletter, get the best of The Week delivered directly to your inbox.
From our morning news briefing to a weekly Good News Newsletter, get the best of The Week delivered directly to your inbox.
It's really not. It's an idea liked by people who will never personally be conscripted. It's an idea liked by people who haven't grappled with the implications of giving the state the right to take a year of your life. And it's especially an idea liked by people who haven't thought through the realistic implications of having a few million young people available to do Washington's bidding, a mental exercise that should be exceedingly easy — and troublesome — in what Buttigieg is correct to call a fractured era.
First, the question of age. "If national service is so good," notes The Economist, "everyone should do it." But the proposal is never thus universalized. It's always limited to young adults, which is an odd thing if the motivation, as Buttigieg says, is not military defense — where age may be relevant for its link to physical fitness — but renewed social cohesion. Don't older generations need to meet "very different Americans," too?
This puzzle isn't difficult to solve. Older adults "conclude, reasonably enough, that the benefit to society is not worth the cost to their personal liberty." Thus polling finds support for mandatory service is related to age in a perfect inverse: The older you are, the more likely you are to endorse Buttigieg's plan — which is to say, the safer you are from losing a year of your youth to the federal government, the more likely you are to say other people should lose a year of theirs. This difference is not the product of wisdom. It is selfishness cloaked in a costless pretense of civic virtue.
As for that cost to personal liberty, Buttigieg's focus on domestic over military service only negates some of the ethical dilemma for potential conscripts. All of the offense to the rights of the individual inherent to the draft remain. A service requirement doesn't have to force anyone to go to war to be an illegitimate seizure of our time and freedom to use it as we choose.
I don't often find myself quoting former President Ronald Reagan, but he was entirely correct in condemning compulsory national service for its "assumption that your kids belong to the state. If we buy that assumption then it is for the state — not for parents, the community, the religious institutions, or teachers — to decide who shall have what values and who shall do what work, when, where, and how in our society."
That question of what work should be done by our youthful conscripts is equally worth consideration. It does not take much imagination to realize what national service kids would be doing right now if such a program existed. In our present state of so-called national emergency, they would almost certainly be sent to southern Texas for construction work, and President Trump's border wall construction would be proceeding at a rather faster pace than it is now.
If the wall doesn't bother you, it should not be difficult to imagine a presidential project that would. What might former President Barack Obama have done with the labor of several million young Americans at his disposal? Or former President George W. Bush? For anyone who really wants to involve Washington in their community service, more targeted options without such risk of executive misuse — like the Peace Corps, AmeriCorps, VISTA, and USA Freedom Corps — already abound.
This is not to say there would be no positive effects of such a scheme. Social cohesion is a real concern, and I share Buttigieg's desire to revive it — though I'd prefer to do so unentangled from patriotism and fostered at a far more local and tangible scale. But we will not reinvigorate meaningful community by domesticating the draft. Mandatory service would be a pale, nationalized substitute for the real work people of all ages can and should do in our communities right now.

Continue reading for free
We hope you're enjoying The Week's refreshingly open-minded journalism.
Subscribed to The Week? Register your account with the same email as your subscription.