The grave dangers of Trump's 'patriotic correctness'
Trump questioning Ilhan Omar's patriotism isn't just dangerous for her. It's dangerous for everybody.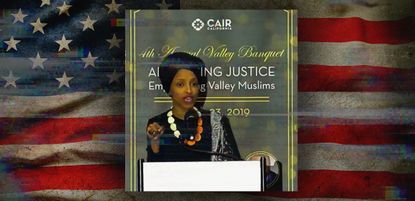 (Image credit: Illlustrated | Screenshot/@RealDonaldTrump on Twitter, iStock/STILLFX, iStock/The7Dew)
Rep. Ilhan Omar (D-Minn.) misspoke. In a speech about Islam and civil liberties in America, she described the 9/11 attacks with a phrase — "some people did something" — far too casual. In context, Omar's words were an inartful expression of a legitimate frustration: that, in the wake of this horror, the U.S. security state went into hyperdrive, and the rights of the innocent many were violated because of the abhorrent deeds of the guilty few. Out of context, her words have become a jingoistic cause célèbre.
Naturally, President Trump got in on the action, tweeting a video which juxtaposed Omar's phrase with graphic footage of the terror attacks. Omar reported receiving a "sharp increase" in death threats after the tweet, many of them explicitly referencing Trump's post. But, presented with this information by a local reporter while visiting Omar's home state on Monday, the president was unconcerned.
He had no second thoughts about the tweet, Trump said, "not at all." Omar has "got a way about her that's very, very bad, I think, for our country," he continued. "I think she's extremely unpatriotic and extremely disrespectful to our country."
Subscribe to The Week
Escape your echo chamber. Get the facts behind the news, plus analysis from multiple perspectives.
SUBSCRIBE & SAVE
Sign up for The Week's Free Newsletters
From our morning news briefing to a weekly Good News Newsletter, get the best of The Week delivered directly to your inbox.
From our morning news briefing to a weekly Good News Newsletter, get the best of The Week delivered directly to your inbox.
The logic here is stunning: For those who demonstrate insufficient patriotism, death threats are no problem. In fact, they may even be appropriate. Fail to adequately perform uncritical affection for the United States and it will be noticed and punished. Real Americans police each other's patriotism, Trump seems to be saying, and those who are "extremely unpatriotic and extremely disrespectful to our country" cannot expect to get off scot-free.
Of course, it goes without saying that controversial speech will have consequences. Omar could not anticipate — and I very much doubt she did anticipate — that her speech would be met with universal agreement or even silence from those who don't share her views. No politician with a national profile would be naive enough to imagine she could avoid confrontation; in this very speech, in fact, Omar called on American Muslims to be willing to "make people uncomfortable" in their civil rights activism if necessary.
But there is a chasm between the consequences Omar could have rightfully expected (criticism, denunciation, lost votes, lost office) and those she got (death threats, fueled in part by a tweet from the president, who does not regret his role in inspiring what are hopefully empty menaces to Omar's life). The former is appropriate and normal — part of participating in public conversation in a country like ours. The latter is what happens when patriotism goes awry, when devotion to the nation-state takes a turn toward the idolatrous, when we stop wanting what is best for our communities and simply want to be the best, unchallenged by even what is intended as constructive critique.
This poisonous sort of patriotism — I'll use Trump's word, though "nationalism" would serve as well — is jealous and officious by nature. It demands to be complete, so it requires its observants be ever vigilant for dissent. The result is what the Cato Institute's Alex Nowrasteh has astutely dubbed "patriotic correctness":
For those operating with a full-blown case of patriotic correctness — and Trump is unquestionably one of the fever's Typhoid Marys — "anything less than chest-thumping jingoism is capitulation" to those perceived to be America's enemies, Nowrasteh writes. It is, in effect, a type of treason (which, recall, is a death penalty offense. Trump's comfort with his role in Omar's receipt of death threats makes a certain grim sense by this rationale).
Thus it is no surprise to find Trump employing "treason" language with some regularity. "I think what the Democrats are doing with the Border is TREASONOUS," he tweeted last week, two days before posting the Omar video. This is a blatantly false accusation: Democrats' border security policies, whatever we think of them, simply do not fit the Constitution's intentionally precise definition of treason, which was narrowly crafted to avoid the abuse of this charge practiced by the monarchs of old Europe.
Kings who claimed to govern by divine right could levy charges of treason to suppress public dissent. Presidents of a nation ostensibly governed by its people — people who disagree on many things, immigration and our policy response to 9/11 both included — are not supposed to do the same.
That Trump does so, and that he does it with the support or at least indifference of so many, should serve as a glaring warning against the ugliness the patriotic correctness he practices can produce. Any demand of loyalty that has us making, condoning, or downplaying threats of murder over a crude turn of phrase is a loyalty imbalanced. It does not benefit our country, and it is no virtue.

Continue reading for free
We hope you're enjoying The Week's refreshingly open-minded journalism.
Subscribed to The Week? Register your account with the same email as your subscription.