Elizabeth Warren's polarizing plan to make college free
What the critics are saying, and why they're mostly wrong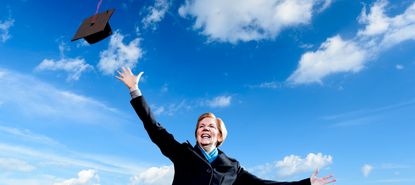 (Image credit: Illustrated | Scott Eisen/Getty Images, Deagreez/iStock, NAimage/iStock)
Elizabeth Warren is not counting on half-measures in her effort to win the White House. The Democratic Senator from Massachusetts is campaigning on big ideas — and the more of them there are, the better.
Her latest offering is a detailed proposal to make two- and four-year public colleges free for students, accompanied by plans to forgive the student loans of up to 42 million Americans, plus a pledge of at least $50 billion in new funding to support historically black colleges and universities. She would pay for all this with her proposed "Ultra-Millionaire Tax" on the 75,000 American families who possess at least $50 million in wealth.
"This is about opportunity for everyone," she said Monday night at a CNN town hall at Harvard University.
Subscribe to The Week
Escape your echo chamber. Get the facts behind the news, plus analysis from multiple perspectives.
SUBSCRIBE & SAVE
Sign up for The Week's Free Newsletters
From our morning news briefing to a weekly Good News Newsletter, get the best of The Week delivered directly to your inbox.
From our morning news briefing to a weekly Good News Newsletter, get the best of The Week delivered directly to your inbox.
Warren's proposal — like many of her ideas — was instantly polarizing. Some say her plan will cost too much. Others say students should just make smarter, cheaper choices about their education instead of expecting others to pick up the tab.
Those objections are debatable, at best. But there's at least one argument against Warren's plan that I find outright ridiculous. It is summarized briefly by Philip Klein at the Washington Examiner, who writes, "Warren's plan to cancel student loan debt would be a slap in the face to all those who struggled to pay off their loans."
Forget, for a moment, that the logic of this argument suggests it is morally wrong to ever solve problems. The real flaw in Klein's objection is that it ignores that previous generations of college students actually received greater amounts of government assistance than today's scholars.
The difference? That assistance was almost invisible.
Today's rising student debt is largely a result of policy choices. The short version of the story is that student debt is rising because college tuition is rising — and college tuition is rising, in large part, because state legislatures across the country have slowly been abandoning their commitment to fund public colleges and universities.
The Great Recession is one of the villains of this story; it prompted legislatures to cut their funding commitments to higher education, and for the most part, those cuts were never restored. According to one analysis, state funding for public colleges and universities in 2018 was $7 billion below its 2008 levels — and that is after adjusting for inflation. One way public four-year institutions have stayed in business is by raising tuition by an average of 36 percent during that decade. It is no coincidence that student debt in the United States quadrupled, from $345 billion to nearly $1.4 trillion, between 2004 and 2017.
Today's young students aren't less responsible than their predecessors. They're just getting far less help.
That means a post-high school education has become an increasingly huge financial burden at a moment when such an education might be needed most. The vast majority of new jobs require a college degree — and even folks who have just a little bit of college under their belts tend to earn more than those who do not. Freeing today's young adults from the anchor of student debt would let them obtain their educational credentials while producing benefits for the economy and society. Debt-free grads would be more likely to buy houses and start families — choices that today's young professionals have largely delayed for sound economic reasons, despite wrongheaded criticism from their elders.
Does all this add up to a case for free college?
That is the debate we need to have. Sen. Bernie Sanders (I-Vt.) has his own plan that's similar to Warren's, but there are other, more conservative solutions to the problems of rising debt and tuition, like North Carolina's program, which freezes tuition rates for in-state students for four years.
There is also a case to be made that free college will attract students who do not have the intellectual or academic tools to pursue education beyond high school; while state universities don't have to take all applicants, many states do offer "guaranteed admissions" to in-state students whose high school academic records are mediocre, at best. Already, studies suggest that 60 percent of first-year college students find they're not ready for college-level work, despite meeting eligibility requirements. Advocates need to be prepared for such criticism.
But the evidence certainly suggests that the "pull yourself up by your bootstraps" argument against Warren's proposal is tone-deaf at best and historically ignorant at worst — and that, at the very least, it is worth renewing the commitment by state governments to subsidize their local colleges and universities.
Free college? Maybe. Cheaper college? Absolutely.

Continue reading for free
We hope you're enjoying The Week's refreshingly open-minded journalism.
Subscribed to The Week? Register your account with the same email as your subscription.