Should Democrats start taking hostages?
Would Trump start cooperating if military funding depended on it?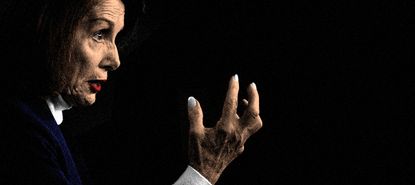 (Image credit: Illustrated | Alex Wong/Getty Images)
President Trump is not going to allow Democrats to conduct any oversight of his administration if he can help it. He's ordering his people to disobey subpoenas, trying to stop his tax returns from being released, and preemptively suing the House to keep Democrats out of his financial records.
Democrats can turn to the courts, of course. But it's probable that the conservative Supreme Court majority will eventually rubber-stamp whatever crackpot theory Trump's lawyers can dream up to keep his corruption out of public view. Indeed, they are already laying the groundwork to help Trump rig the 2020 census. ("If the president does it, that means it is not illegal." — 2020 Justice Kavanaugh opinion, probably.)
As Michael Sweeney suggests, this raises a question: Should Democrats start pushing the envelope on tactics? If Trump won't obey the law, perhaps Democrats can force him to do so by taking the debt ceiling, government operations, or military funding hostage.
Subscribe to The Week
Escape your echo chamber. Get the facts behind the news, plus analysis from multiple perspectives.
SUBSCRIBE & SAVE
Sign up for The Week's Free Newsletters
From our morning news briefing to a weekly Good News Newsletter, get the best of The Week delivered directly to your inbox.
From our morning news briefing to a weekly Good News Newsletter, get the best of The Week delivered directly to your inbox.
The argument in favor is straightforward. Trump is unquestionably the most corrupt president in American history, and almost certainly committed obstruction of justice during the Mueller investigation. It is vitally important as a matter of constitutional responsibilities and democratic values that the details of his corrupt administration and business empire are exposed — at the very least. If the administration won't obey the law, and the right-wing hacks in the judiciary won't force him to do it, then maximalist tactics to protect the foundation of American democracy are justified.
Of course Republicans will cry hypocrisy, and centrists will wring their handkerchiefs into shreds, but there is a key difference. Whereas Republicans took the debt ceiling hostage and shut down the government to try to achieve policy goals they couldn't get through the normal legislative process, Democrats would be doing it to force Trump to obey the law. The way the Constitution is supposed to work is for the House, Senate, and president to get together and iron out a compromise when they disagree about legislative priorities. Threatening disaster because you want to take away people's health insurance but didn't win enough seats to get it done is illegitimate — but doing so to preserve the constitutional democratic order is not. Abraham Lincoln fought a war that killed 700,000 people to do that in his time.
However, the argument against — at least in the case of the debt ceiling and government funding — is also pretty obvious. It isn't at all clear that Trump or his supporters actually care about the government continuing to operate, or the global financial system continuing to operate. A hostage has to be something the targeted person actually cares about. (Indeed, I would bet a considerable sum Trump doesn't even understand why hitting the debt limit would be a bad idea.)
Trump definitely does care about military funding, but that would be such an easy thing to demagogue it might not be worth it for Democrats — just imagine the screeching hysteria on Fox News. The military is very popular and it might backfire badly.
On the other hand, Trump is also known to fold easily in tough negotiations. He's got the classic bully psychology of enjoying vicious cruelty towards the weak and helpless, but deference towards an opponent with real power. He's shown that again and again as president — from gun control, to trade deals, to the border wall, he consistently blusters and rages, then caves. He's not a fundamentally strong person.
In any case, the chance of Democrats actually trying this sort of procedural maximalism is essentially zero. Attempting this sort of high-risk gamble would take the sort of unswerving determination and lockstep message discipline that Democrats plainly lack. But even if they don't want to risk the debt ceiling or government funding, they really must consider every possible lever at their disposal to force Trump to submit to legal oversight. Issue a blizzard of subpoenas and hold anyone who doesn't show in contempt of Congress immediately. Send congressional staff directly to the IRS to demand Trump's tax returns. Hire private investigators to look into Trump's businesses and past. Refuse to pass any routine business aside from budgetary matters. Comb through the U.S. code to find any obscure powers that might be invoked. Perhaps above all, scream bloody murder in the press. As the right-wing propaganda machine has demonstrated, there is real power in a coordinated media offensive — and Trump is an obsessive cable news addict.
At least do something to prove Democrats can't be pushed around. Failing to do so only invites Trump to ramp up his attacks on American democracy.

Continue reading for free
We hope you're enjoying The Week's refreshingly open-minded journalism.
Subscribed to The Week? Register your account with the same email as your subscription.