Avengers: Endgame's 15 funniest, most heart-wrenching callbacks
These are the grand finale's best winks to long-time fans of the Avengers movies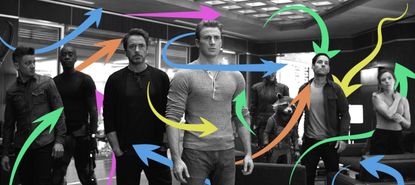 (Image credit: Illustrated | Marvel Studios 2019, Idris Guluzade/iStock)
Did Avengers: Endgame just break the record for most callbacks in a single film?
It certainly feels like it, as Marvel's grand finale is absolutely stuffed with nods both obvious and subtle to virtually every one of the 21 movies that came before it. In some cases, it's just for fun, while in others, directors Joe and Anthony Russo effectively use these references to land some devastating gut punches.
There are far too many of these winks to possibly mention every one, but let's take a look at some of the highlights. (Warning: Heavy spoilers for Endgame will follow.)
Subscribe to The Week
Escape your echo chamber. Get the facts behind the news, plus analysis from multiple perspectives.
SUBSCRIBE & SAVE
Sign up for The Week's Free Newsletters
From our morning news briefing to a weekly Good News Newsletter, get the best of The Week delivered directly to your inbox.
From our morning news briefing to a weekly Good News Newsletter, get the best of The Week delivered directly to your inbox.
1. "Together": The title Endgame itself comes partially from an Avengers: Age of Ultron scene in which Tony Stark warns of the final war to come, with Steve Rogers promising they'll win "together." But after their loss in Infinity War, Tony early in Endgame brings up this conversation, reminding Cap they weren't together like he promised, and they lost. Tony also refers to a vision he had of the Avengers dying that we saw in Ultron — and later, Steve lies with a cracked shield in a shot that mirrors this vision.
2. Budapest: Clint Barton and Natasha Romanoff while journeying into space note that they're far from Budapest now. This ties into a scene from The Avengers in which they name-drop this mysterious Budapest mission from their past. What that mission was, though, remains as enigmatic now as it was then.
3. The elevator: Although Captain America: The Winter Soldier isn't one of the films the Avengers time travel to, its iconic elevator sequence is recreated. While visiting Avengers Tower, Captain America is surrounded in an elevator by Hydra agents just like he was in The Winter Soldier — but this time, instead of a fight breaking out, he whispers "Hail Hydra." This is not only a legitimately clever way to get out of there but also a reference to the famous Winter Soldier scene when a senator is revealed to be a secret member of Hydra after he whispers that phrase.
4. Loki as Cap: During that Avengers Tower sequence, Loki briefly assumes the form of Captain America, just as he notably did during one of the funniest gags in Thor: The Dark World.
5. "On your left": These three words from Sam Wilson to Steve Rogers usher the fallen heroes from Infinity War back into the Marvel universe. They also reference Sam and Steve's very first encounter in Captain America: The Winter Soldier, in which Steve repeatedly delivers that same line to Sam while lapping him in Washington, D.C.
6. Instant kill: Spider-Man: Homecoming teased that Peter Parker's suit has something called "instant kill," which Karen asks if he wants to activate. At long last, in Endgame, he finally does.
7. Mjolnir: Perhaps Endgame's most memorable moment is when Captain America wields Thor's hammer, Mjolnir. This entire sequence calls back to Avengers: Age of Ultron's party scene, in which each Avenger tried to lift Thor's hammer. Captain America was the only one who could even get it to budge, sparking theories that he actually is worthy of lifting Mjolnir. In Endgame, this turns out to be the case, as Thor apparently knew all along.
8. "Cap?" Hope van Dyne in the final battle refers to Captain America as "Cap," something Scott Lang immediately takes note of. That's because in Ant-Man and the Wasp, Hope teased Scott for casually referencing Steve by that name. Clearly, it's grown on her since then.
9. Queens: Similarly, Captain America in the final battle refers to Spider-Man as "Queens," a reference to their back-and-forth in Captain America: Civil War, in which they momentarily bonded as both being from one of New York City's five boroughs even as they were duking it out.
10. He cares now! Black Panther notably calls Clint Barton by his name near the end of the movie. This references a moment in Captain America: Civil War when Clint tried to introduce himself and T'Challa simply responded, "I don't care." It looks like he does now.
11. Cheeseburgers: In a heartbreaking moment at Tony Stark's funeral, his daughter, Morgan, asks Happy Hogan for a cheeseburger. This is a callback to the original Iron Man; after Tony saved himself from terrorists, his most pressing request was an "American cheeseburger." Like father, like daughter.
12. Harley returns: Speaking of Iron Man-related heartbreak, making an appearance at Tony Stark's funeral is an all-grown-up Harley Keener, the adorable kid who came to Tony Stark's assistance in Iron Man 3.
13. "You're taking all the stupid with you": In their final exchange before Captain America travels back through time, Steve tells Bucky Barnes not to do anything stupid while he's gone, to which Bucky responds, "How can I? You're taking all the stupid with you." This exchange is lifted right from Steve and Bucky's goodbye in Captain America: The First Avenger, only with the lines swapped.
14. Tony's heart: If there was a dry eye in the house during the closing scenes of Endgame, the appearance of Tony's early arc reactor — which Pepper gifted to him in the original Iron Man engraved with the words "proof that Tony Stark has a heart" — likely took care of that.
15. Steve's dance: And, of course, there's the film's closing moment. In Steve's final conversation with Peggy in Captain America: The First Avenger before sacrificing himself, he told her he'd need a "rain check on that dance," and, upon waking up in the future, wistfully noted he missed his date. Now, Steve Rogers, having chosen to return to the past permanently, finally gets that dance after all these years (to "It's Been a Long, Long Time" from Captain America: The Winter Soldier) as he reaches the end of the line.

Continue reading for free
We hope you're enjoying The Week's refreshingly open-minded journalism.
Subscribed to The Week? Register your account with the same email as your subscription.