In praise of political swearing
Trump is not the only politician whose profanity was part of their appeal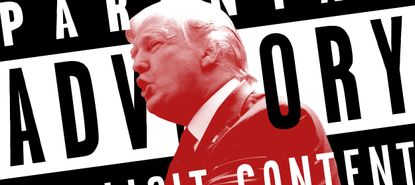 (Image credit: Illustrated | Mark Wilson/Getty Images, Wikimedia Commons)
Sign up to our 10 Things You Need to Know Today newsletter
A free daily digest of the biggest news stories of the day - and the best features from our website
Thank you for signing up to TheWeek. You will receive a verification email shortly.
There was a problem. Please refresh the page and try again.
Like all schoolchildren in the 1990s, I was once a dedicated scholar of the Motion Picture Association of America and its ratings system. More specifically, I tried to learn everything I could about what bad words you could get away with using in a film of a certain rating. "Damn," for example, was acceptable in a PG film like the first Star Wars. So was "s---" in limited quantities. "B----" usually took things too far; "bastard" was all right generally. Mel Brooks somehow managed to sneak a single glorious "f---" into the PG-rated Spaceballs.
It was to these pre-adolescent researches that my mind returned when I saw a recent article in The New York Times detailing President Trump's use of what Nabokov dismissed as "schoolboy words of four letters." It would not have occurred to me that Trump's profanity raised the eyebrows of anyone over the age of eight or younger than about 85. This is why I read our paper of record:
"Hell"? Watch Sleeping Beauty sometime, my nine-year-old self would have told the paper's correspondent. "Damn" is in Dragon Ball Z on Cartoon Network. Is "crap" even a swear word?
Subscribe to The Week
Escape your echo chamber. Get the facts behind the news, plus analysis from multiple perspectives.
SUBSCRIBE & SAVE
Sign up for The Week's Free Newsletters
From our morning news briefing to a weekly Good News Newsletter, get the best of The Week delivered directly to your inbox.
From our morning news briefing to a weekly Good News Newsletter, get the best of The Week delivered directly to your inbox.
I for one agree with Melissa Mohr, the author of the excellent Holy Sh*t: A Brief History of Swearing, who told the Times that Trump's cursing is one of the most straightforward parts of his appeal. So far from being the spontaneous product of an undisciplined mind, his shits and pisses are carefully considered. They are of a piece with his oddly captivating delivery — the staccato, the repetition and the occasionally downright bizarre syntax. It is all very wink-wink, nudge-nudge: he knows that we know that he knows he shouldn't call the special counsel investigation "bullsh*t" and he does it anyway — just like when he tweets about The Masters or bitches — sorry, I mean complains — about the targeting rule in football.
Trump is not the only politician whose profanity has stood him in good stead. Nobody remembers what, if any, role Joe Biden had in securing the passage of the Affordable Care Act, but who could forget the time he told President Obama that it was a "big f---ing deal"? Years later he is still jokingly alluding to it on the campaign trial, thanking God that his mother did not hear him while crossing himself. This is not how you address something that you think is going to lower you in the estimation of voters.
Which is why I often wonder why most American politicians continue to be shy about their potty mouths. Imagine if a hot mic had "caught" Hillary Clinton calling Trump "a fat piece of s---" or something even more colorful, or if she had dropped an f-bomb during one of their debates. The only successful verbal blow he was dealt in the entire course of the election campaign was Marco Rubio's taunt about the size of his hands. Afterwards, of course, the man who is now commander-in-chief of our armed forces talked in barely coded language about his penis on national television. The American people loved it.
This is also why I have no patience for fussbudgets like Rep. Adam Schiff (D-Calif.). "No one has debased the civil discourse in this country more than President Trump, and the president really does set the tone in the country," he told the Times in the profanity article. Can he really believe this? I suppose that when Dick Cheney called a reporter from the same newspaper a "major-league a--hole" or told a Democratic senator to "go f--- yourself" on the floor of that august body he was representing the highest traditions of civil discourse. Ditto Obama when he called Mitt Romney a "bulls---ter" or Jimmy Carter when he threatened to "whip" Ted Kennedy's "a--."
Actually this might be true. Never mind the Nixon tapes. Andrew Jackson kept a parrot that he had taught to employ the foulest oaths known to the hard men and women of the frontier. At the great man's funeral the bird "got excited and commenced swearing so loud and long as to disturb the people," according to one unfortunate clergyman in attendance. Lincoln had an inexhaustible repertoire of absolutely filthy jokes and anecdotes gathered up over a long career as a backwoods lawyer.
There are good reasons why swearing is an integral part of American political history. When politicians curse they do three very important things, rhetorically speaking. They make the speakers seem authentic, ordinary people who talk just like the rest of us — at least when they are not banging on about debt-to-GDP ratios and block grants and CBO estimates. They also give us the impression that the things that politicians care about are important. When we get angry and curse we are expressing genuine emotions for which there are no other suitable words. Why shouldn't they? Last and probably most important, they are entertaining, an essential but unfortunately neglected quality in American political rhetoric.
Anyone who says otherwise can kiss my a--.
Continue reading for free
We hope you're enjoying The Week's refreshingly open-minded journalism.
Subscribed to The Week? Register your account with the same email as your subscription.
Sign up to our 10 Things You Need to Know Today newsletter
A free daily digest of the biggest news stories of the day - and the best features from our website
Matthew Walther is a national correspondent at The Week. His work has also appeared in First Things, The Spectator of London, The Catholic Herald, National Review, and other publications. He is currently writing a biography of the Rev. Montague Summers. He is also a Robert Novak Journalism Fellow.