Illustrated | Daniel Smith, KatikaM/iStock
May 24, 2019
There is a national film industry that is bigger, brighter, and — I'll say it — even more fun than Hollywood. The Hindi-language "Bollywood" is the largest of India's national cinemas (which also includes Tamil-language "Kollywood" and Telugu-language "Tollywood"), and offers everything you could possibly want from the movies: romance, suspense, and, best of all, really, really good songs and excellent dance sequences. But even though India's film industry dwarfs our own when it comes to the number of movies made and tickets sold, somehow, Bollywood just hasn't caught on in America.
The influence of Bollywood and its famous music and dance sequences does manage to make its way stateside sometimes: Anyone remember the opening credits to Inside Man or the closing credits for Slumdog Millionaire? With the release of the live-action remake of Aladdin, director Guy Ritchie had a real shot at introducing millions of receptive Americans to the magic of Bollywood at long last. The film is peppered with Bollywood-style sequences that accompany its score. Unfortunately, Ritchie squandered his opportunity: Aladdin's dance scenes are awkwardly elbowed into the plot, rather than integral to the storytelling, and in execution they feel cramped and restrained. They utterly fail to channel the energy, luster, and electric emotion of Bollywood filmmaking.
(Aladdin/Disney)
(Aladdin/Disney)
Because of the enormity and diversity of Bollywood filmmaking, it's impossible to make generalizations, although the industry is best known internationally for its big-budget romances with elaborate ensemble dance sequences, majestic costuming, and expansive sets. Unlike American musicals, which add the semblance of realism to song-and-dance sections by using them as plot drivers, Bollywood's dance scenes often act more as interludes or "speed-bumps" in the story, as Quartz puts it, "beginning with an instrumental introduction to set the stage and ending, more often than not, with a fade out." By taking the audience's suspension of disbelief as a given, Bollywood is allowed the incredible possibilities of fantasy, making its musical sequences larger-than-life and dizzyingly choreographed. Essentially, though, the stars and even the stories are secondary to the music: As Bollywood singer Usha Uthup put it: "Always remember that the song is bigger than the singer."
It's reasonable to ask what Bollywood elements are doing in Disney's live action Aladdin in the first place. Indian filmmakers have had a century-long obsession with the folk stories in One Thousand and One Nights, of which "Aladdin" is a part. One of the country's earliest movies, Ali Baba and Forty Thieves, was another of the book's stories, reports the Hindustan Times. The 1924 American film The Thief of Baghdad was so successful in India that "it launched ... the 'fantasy' or 'jadui' genre of filmmaking," incorporating Arab and Iranian elements into Indian stories. In the 1990s, Alif Laila, based on One Thousand and One Nights, became one of the country's most popular TV shows ever. Disney is prepared for a heavy push of Aladdin in India, too, where the movie is being released in English, Hindi, Tamil, and Telugu.
That said, Ritchie's Aladdin is already facing justified criticism for its perceived monocultural interpretation of the "east." While Aladdin is played by Egyptian-Canadian actor Mena Massoud, Princess Jasmine, the daughter of the film's "Sultan" (an Arabic title), is played by Naomi Scott, whose mother is of Indian descent. Scott's casting in particular sparked complaints from some fans: As one frustrated blogger at The Geekiary wrote: "Why didn't Disney work on introducing an actual Indian or South Asian princess instead of turning Jasmine into one? Why did the writers of Aladdin think the Middle East and South Asia are the same?"
The location of Aladdin's fictional city of "Agrabah" isn't specified. The name sounds Arab enough that in 2015, 30 percent of Republican voters supported bombing it. According to the narrator in the 1992 Disney animated film Aladdin, it can be found somewhere near the "River Jordan." Its residents greet each other with the Arabic "salaam." In Ritchie's 2019 remake, there is reference to a mosque's minaret. Just to confuse matters more, the original "Aladdin" was set in China. Entertainment Weekly sheds some light on the decision to bring India's influence closer to the surface in 2019's Aladdin, by noting that "Ritchie's Agrabah is a port city based on the East-West crossroads of Arabia, thus making it a melting pot of Arabian, Indian, and Asian cultures."
Okay, sure, we have something of an explanation, then, for Ritchie's maybe-nevertheless-a-bit-out-of-place attempts at inserting large-scale Bollywood dance scenes into his adaptation of Aladdin. Will Smith, who plays the Genie in the film and is a Bollywood obsessive, said the "Prince Ali" dance scene in particular was supposed to be "Bollywood level." The problem is, Ritchie doesn't seem to know how to direct a Bollywood dance sequence, Smith doesn't seem to know how to dance in one, and Disney apparently didn't want to put its budget toward the level of production and attention to detail that such scenes are given in India.
Compare, for example, the low level of energy in "Prince Ali" and its relatively flat staging to the production and the dexterity of the camera in Kalank, an Indian film that came out earlier this spring:
Indian filmgoers were understandably not impressed by Disney's early footage. Reported the Hindustan Times: "Aladdin fans can't stomach Will Smith's Bollywood-style dance number." Oof.
But "Prince Ali" is not the only attempt at Bollywooding-up Aladdin. In the hope of wooing Jasmine while in his disguise as a prince, Aladdin participates in an ensemble dance at the Sultan's palace, complete with an intentionally over-the-top back flip. This dance sequence has the same problems as the "Prince Ali" scene: It simply feels too cramped to keep pace with India's comparable choreography, costumes, and sets.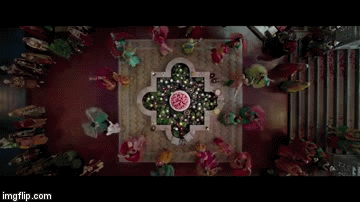 (Aladdin/Disney)
(Padmaavat/Viacom 18)
By not leaning fully into the Bollywood influence, Aladdin highlights another problem: It adheres too closely to the 1992 original. The reproduction of "Prince Ali" is perhaps the most daring dance sequence in Aladdin, but even it amounts to little more than an ensemble performance in a courtyard. Certainly in the made-up, relocated city of Agrabah, Disney could have choreographed something that broke with the original and was a little more risky, taking inspiration perhaps from the famous train dance in Dil Se or the flying Swan Boat scene in Baahubali: The Conclusion. The point of these sequences isn't to be "realistic" — let's face it, everyone is breaking out in choreographed song and dance anyway, so why pretend? — but to be big and breathtaking. The opportunities for Aladdin were endless.
Not even DJ Khaled's unexpected rap version of "Friend Like Me," used for a group dance at the end of the movie, could save Aladdin's half-hearted flirtation with Bollywood. Incredibly, a Delhi-based rapper, Badshah, released his own song for Disney India to promote the movie's release, and the ensuing music video mixes footage from Aladdin with his own slightly edgier footage. Is this what a Bollywoodified Aladdin would have looked like?
Well, uh, probably not. But it does make me wish Guy Ritchie had not tried so desperately to walk the line between a conventional Aladdin remake and something with a little more pizazz. He very well could have held off on the Bollywood flourishes entirely, saving himself from the argument that he doesn't understand the culture he is representing in the first place. Or he could have just gone all in, thrown in a flying swan boat dance sequence or two, and delivered the Bollywood-inspired Aladdin remake we deserve.