What Robert Mueller didn't say is what matters most
The special counsel's hidden message to Congress and the American people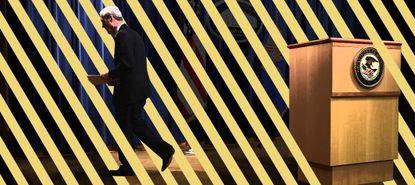 (Image credit: Illustrated | Chip Somodevilla/Getty Images, JuliaBabii/iStock)
Special Counsel Robert Mueller finally talked. Now the debate begins: What, exactly, was he trying to say?
Mueller may have intended to bring clarity to his now-complete Russia investigation by making a short televised statement Wednesday morning at the Department of Justice, but his actual words were a model of legalistic fog, deploying caveats and backwards speaking to confusing effect. Mueller's decision to be indirect about his intent probably gives President Trump and his defenders ample space to keep running with their "no collusion, no obstruction" narrative.
That's unfortunate. Because if you dig through Mueller's statement, one thing seems clear: He believes Congress should impeach Trump for obstructing the investigation into Russia's interference in the 2016 election.
Subscribe to The Week
Escape your echo chamber. Get the facts behind the news, plus analysis from multiple perspectives.
SUBSCRIBE & SAVE
Sign up for The Week's Free Newsletters
From our morning news briefing to a weekly Good News Newsletter, get the best of The Week delivered directly to your inbox.
From our morning news briefing to a weekly Good News Newsletter, get the best of The Week delivered directly to your inbox.
"If we had had confidence that the president clearly did not commit a crime, we would have said so," Mueller said — a backwards way of suggesting that yes, the president probably committed a crime. No, Mueller certainly wasn't straightforward in presenting a recommendation. Instead, he made several observations that — taken together — sure seemed designed to urge Congress to act:
• First, he reiterated that the Department of Justice can't bring charges against a sitting president. "It would be unfair to potentially accuse somebody of a crime when there can be no court resolution of an actual charge," he said.
• Second, he said the evidence wouldn't let him exonerate the president on obstruction charges. This statement is pretty notable — prosecutors tend to either make criminal allegations or stay silent; Mueller's choice to publicly and directly rule out presidential exoneration let him obey departmental policies while still urging the public to take a closer look at the evidence of presidential wrongdoing.
• Third, he hinted that there is room for somebody other than federal prosecutors to act. "The Constitution," he noted, "requires a process other than the criminal justice system to formally accuse a sitting president of wrongdoing."
Mueller didn't name that process, but it seems obvious: The Constitution lets Congress impeach a president for "high crimes and misdemeanors." Trump's efforts to obstruct the investigation — by ordering officials to lie and asking them to fire Mueller, among other activities — would definitely seem to qualify.
Yes, it would've been preferable if Mueller had come right out and said what he apparently meant. Even by speaking indirectly, though, he may have increased the already-growing pressure on House Speaker Nancy Pelosi (D-Calif.) to finally go ahead with the impeachment process. Already a handful of prominent Democrats are reiterating their calls for such a move.
Pelosi probably isn't happy with that: It seems likely that she and other Democratic leaders were hoping that Mueller would eventually offer them cover to move forward by more-directly calling out Trump's wrongdoing. Instead, the special counsel is forcing the leaders of Congress to make a choice about what to do with the evidence he gathered. He cannot make the choice for them.
It can be argued, at this point, that Mueller has been too reticent: He should have said what he meant instead of hiding his apparent point in a cloud of words. But further debate on Mueller's actions is pointless now. His words may not have been entirely clear, but the path forward is: It's time for Congress to decide whether or not it will act.

Continue reading for free
We hope you're enjoying The Week's refreshingly open-minded journalism.
Subscribed to The Week? Register your account with the same email as your subscription.