The origins of the Russia investigation, explained
Attorney General William Barr wants to find out why the Russia probe began. What's already known?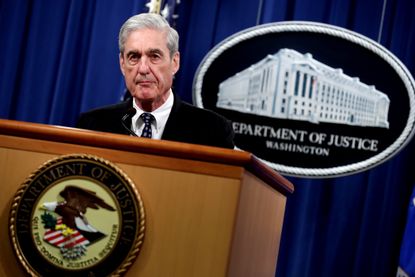 (Image credit: Chip Somodevilla/Getty Images)
Attorney General William Barr wants to find out why the Russia probe began. Here's everything you need to know:
When did the investigation start?
The FBI began probing the Trump campaign's connections to Russia on July 31, 2016, based on an alarming tip from the Australian government. Two months earlier, Trump foreign policy adviser George Papadopoulos had told Australia's top diplomat in London over drinks that the Russian government had "dirt" on Democratic presidential candidate Hillary Clinton and might release the information to help the Trump campaign. The diplomat, Alexander Downer, thought Papadopoulos was too young and inexperienced to have any real influence in a presidential campaign, but notified his superiors. When WikiLeaks began releasing hacked emails from the Democratic National Committee on July 22, the Australian ambassador to the U.S. informed American officials of what Papadopoulos had said. Days later, the FBI opened a counterintelligence investigation, code-naming the operation "Crossfire Hurricane."
Subscribe to The Week
Escape your echo chamber. Get the facts behind the news, plus analysis from multiple perspectives.
SUBSCRIBE & SAVE
Sign up for The Week's Free Newsletters
From our morning news briefing to a weekly Good News Newsletter, get the best of The Week delivered directly to your inbox.
From our morning news briefing to a weekly Good News Newsletter, get the best of The Week delivered directly to your inbox.
What did the FBI investigate?
The unusual ties of several Trump campaign aides to Russia. The early investigation focused on Papadopoulos, as well as Trump senior adviser Michael Flynn, campaign manager Paul Manafort, and foreign policy adviser Carter Page. Flynn had been paid $45,000 by Russia's state-sponsored television network RT for a 2015 speech in Moscow, where he was given a place of honor at the same dinner table as President Vladimir Putin. Manafort had been paid millions lobbying for pro-Russian interests in Ukraine. Page, an oil industry consultant who had lived in Russia for three years during the early 2000s, was already well known to the FBI. Russian spies had attempted to recruit him as an asset in 2013, after which a Russian operative was overheard in a wiretapped conversation telling his superiors that Page was "an idiot." As a Trump campaign aide, Page traveled to Moscow for three days in July 2016. While there, he gave a speech harshly criticizing the Obama administration's foreign policy toward Russia and met with officials of Rosneft, a state-run oil company. The FBI obtained a secret court order to wiretap Page in October, after he had left the campaign. That warrant from the Foreign Intelligence Surveillance Court has become one of the most controversial parts of the investigation.
Why is it controversial?
The FBI used portions of the so-called Steele dossier — which was funded by the Democratic Party — in its wiretap warrant application. Between June and December 2016, former British intelligence officer Christopher Steele wrote a series of 17 memos alleging a "well-developed" conspiracy in which the Russians would try to help Trump win the election, and in return get U.S. sanctions relief and other favorable policies. The memos also claimed the Russians had financial and personal kompromat they could use to blackmail Trump. Steele primarily based his report — which he later called "raw intelligence" — on his long-standing sources in Russia. Steele did this work for Fusion GPS, a research firm retained by the Democratic National Committee and the Clinton campaign. Believing that Russia had the ability to blackmail Trump and that this posed "a national security threat," Steele took his findings to the FBI.
Was the dossier legitimate?
The Steele dossier's most sensational claims have never been confirmed. That includes the infamous "pee tape" of Trump allegedly frolicking with prostitutes in Moscow during the Miss Universe pageant in 2013. Some claims have been disproved by the Mueller report, but that investigation also found that Steele's overall claim of a Russian attempt to influence the election in Trump's behalf was on target. Trump has said the FBI's use of "this Crooked Hillary pile of garbage" should discredit the entire Russia investigation. The Crossfire Hurricane team, however, didn't receive the dossier until September 2016, months after it had begun the investigation.
Was the probe warranted?
After Trump fired FBI Director James Comey, citing "this Russia thing," special counsel Robert Mueller conducted a two-year investigation that concluded that Russia had interfered in the 2016 presidential election "in a sweeping and systematic fashion." Mueller found that several people close to Trump — including Manafort and longtime confidant Roger Stone — had had dozens of contacts with Russians and were "receptive" to offers of help. Mueller also found 10 instances in which Trump personally may have obstructed justice in trying to limit or shut down the investigation. Republican Sen. Marco Rubio, a member of the Senate Intelligence Committee, said the committee's work had convinced him that the FBI had no choice but to begin a probe. "There was a growing body of evidence that a foreign government was attempting to interfere in both the process and the debate surrounding our elections," Rubio said. "The [FBI's] job is to investigate counter-intelligence. That's what they did."
The Strzok and Page texts
President Trump and his allies say there is strong evidence other than the Steele dossier that the FBI probe was tainted by partisan politics: texts between two FBI officials who worked on the investigation, Peter Strzok and Lisa Page. The two — who at the time were involved in an affair — exchanged numerous messages fiercely criticizing Trump while working on the investigations into Hillary Clinton's email server and, later, Russian election interference. "This man cannot be president," Page wrote in one text, after Trump made boastful allusions to his penis during a campaign event. Strzok has testified that he never let his personal feelings influence his professional work, and he and his defenders point out that neither he nor anyone else leaked to the press before the election that Trump was under investigation for possible collusion with a foreign government. Such a leak could have been politically devastating to Trump, who said in an interview last week, "Had that gone out before the election, I don't think I would have had enough time to defend myself. To prevent word of their investigation from getting out, agents even held off interviewing any Trump officials until after the election. Mary McCord, a 20-year Justice Department veteran who was involved in the early phase of the investigation, said the FBI's fear of being accused of trying to sabotage rump's campaign "could have worked to the president's benefit here."

Continue reading for free
We hope you're enjoying The Week's refreshingly open-minded journalism.
Subscribed to The Week? Register your account with the same email as your subscription.