The cowardly silence of Mitt Romney
He promised to oppose the president's excesses. Now he's quiet.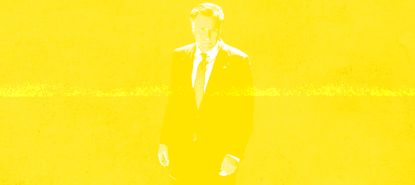 (Image credit: Illustrated | MANDEL NGAN/AFP/Getty Images, javarman3/iStock, IMOGI/iStock)
Another ugly weekend in an unendingly ugly presidency. Once again, President Trump targeted a minority lawmaker — this time, Rep. Elijah Cummings (D-Md.). Once again, Trump used the language of "infestation" in his attack.
By now, Trump's racist and divisive tweets are old news. He has done this routine before. He will certainly do it again, no matter how much harm it does the country. Americans will have a chance to deal with that in the 2020 election, if not sooner. Until then, though, it's time to start holding Trump's enablers accountable. Specifically, it's time to shine a spotlight on Sen. Mitt Romney (R-Utah). Romney, you may remember, promised America just a few months ago that he would step forward, when required, to oppose the president's excesses. So far, he is failing the test.
Let's recap what happened over the weekend.
Subscribe to The Week
Escape your echo chamber. Get the facts behind the news, plus analysis from multiple perspectives.
SUBSCRIBE & SAVE
Sign up for The Week's Free Newsletters
From our morning news briefing to a weekly Good News Newsletter, get the best of The Week delivered directly to your inbox.
From our morning news briefing to a weekly Good News Newsletter, get the best of The Week delivered directly to your inbox.
"Rep, Elijah Cummings has been a brutal bully, shouting and screaming at the great men & women of Border Patrol about conditions at the Southern Border, when actually his Baltimore district is FAR WORSE and more dangerous. His district is considered the Worst in the USA," Trump tweeted, and added: "As proven last week during a Congressional tour, the Border is clean, efficient & well run, just very crowded. Cumming District is a disgusting, rat and rodent infested mess. If he spent more time in Baltimore, maybe he could help clean up this very dangerous & filthy place."
Cummings chairs the House Oversight Committee, which has been a thorn in the president's side since Democrats took control of the chamber earlier this year. It's the committee that invited Michael Cohen, Trump's disgraced lawyer, to testify in February. Last week, the committee voted to subpoena the emails of White House staffers, including Trump's daughter, Ivanka, and her husband, Jared Kushner. After Cummings criticized administration officials over conditions at the border, the president apparently had enough: He decided to smear Cummings — and the district he represents.
The backlash was intense. But administration officials were unapologetic. "I understand that everything that Donald Trump says is offensive to some people," Trump's acting chief of staff, Mick Mulvaney, said Sunday morning. He later added: "But that doesn't mean that it's racist. The president is pushing back against what he sees as wrong. It's how he's done in the past and he'll continue to do in the future."
Of all the Republicans who know Trump is bad for the country but stay silent publicly, perhaps it's unfair to single Romney out. But he has only himself to blame. On January 1, just as he was about to join the Senate, Romney voluntarily penned an op-ed for The Washington Post, boldly declaring that Trump's character "falls short" of what the country needs in a president.
"I will support policies that I believe are in the best interest of the country and my state, and oppose those that are not," he wrote. "I do not intend to comment on every tweet or fault. But I will speak out against significant statements or actions that are divisive, racist, sexist, anti-immigrant, dishonest, or destructive to democratic institutions."
Trump, of course, passed that point earlier this month with his series of tweets suggesting minority women lawmakers "go back" to their "crime-infested" countries of origin. (All are American citizens; three of the four were born in the country.) Romney did criticize Trump's initial "go back" tweets, but in decidedly toothless fashion — avoiding questions about whether those tweets were actually racist. It was a moment that called for the kind of boldness that Romney had promised. Instead, he offered only meekness. "There is a power in labeling racist rhetoric for what it is," a Salt Lake City newspaper columnist observed, "and Mitt kept it in his back pocket."
Admittedly, I fell for Romney's pledge to stand up to Trump. "Did Mitt Romney just join the resistance?" I wrote. "It sure looks like it." I was wrong. Really wrong.
It's not like I had expected Romney to suddenly become a liberal Democrat. I fully expected that he would vote for giant tax cuts, a hawkish foreign policy, and all the other things that Republicans normally support. And I wrote at the time that Romney had some accounting to do for helping raise Trump's political profile in the first place. Romney, after all, sought out and received Trump's endorsement during the 2012 presidential campaign — back when Trump was known as a reality show star peddling the racist "birther" theory about then-President Obama. Romney never did get around to making amends on that matter.
Still, it seemed that Romney had painted himself into a corner. "His op-ed is a repudiation of Trump that the president is unlikely to forgive or forget, and which Romney won't easily back away from," I wrote. "For better or worse, Mitt Romney has joined the resistance. The real question is if he'll make it matter."
Now we know: It doesn't matter.
Of course, nearly the entire Republican Party has been silent in the face of Trump's provocations. But Romney's silence is particularly salient. Not just because he represents what used to be the party establishment, as the last GOP presidential nominee before Trump. But because he promised so publicly to fight back against the president's worst impulses. By essentially giving Trump a pass on the last two weeks — by being so mealy mouthed about it — Romney has signaled that Trump's latest behavior doesn't merit serious opposition. He is giving Trump, other Republicans, and the public permission to move on as though none of this matters.
Trump will keep being Trump — he benefits from what former President George W. Bush once called "the soft bigotry of low expectations." Nobody expects him to be any better than he is. But there was a time, just a few months ago, when it seemed possible that Romney might meet the moment with bravery and boldness. The moment has passed.

Continue reading for free
We hope you're enjoying The Week's refreshingly open-minded journalism.
Subscribed to The Week? Register your account with the same email as your subscription.