Why secretive government lists of 'dangerous' people inevitably go wrong
Haven't we learned our lesson yet?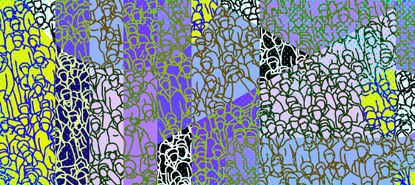 Remember that 30 Rock episode where Liz Lemon calls Homeland Security on her new neighbor, Raheem (Fred Armisen), because she's convinced he's a terrorist? If you see something, say something, Liz figures, and she sees Raheem and his brother, Hakeem, filming themselves, plastering their walls with maps, and exercising on an agility course at a nearby park. It turns out reasonably okay for Raheem, whose odd behavior was an audition for The Amazing Race, but the ease with which Liz's meddling subjects him to federal scrutiny is the least fictional part of the story.
The FBI's Terrorist Screening Database (TSDB), which a federal judge on Wednesday ruled violates the constitutional rights of the roughly 4,600 American citizens listed, has always been primed for such abuse. Some of this is about the particular failings of this watchlist, but it is also typical of the genre. Unaccountable government lists of "dangerous" people inevitably go wrong.
The due process deficiencies of the terror watchlist are remarkable, and it is a shame Wednesday's decision may be too narrow to require a more substantive reform. Beyond those few Americans, there are about 1.2 million other people on the list. Around 99 percent of the names nominated for addition are accepted, a 2014 lawsuit revealed, with new nominations rolling in by the hundreds of thousands each year. A leaked 2013 document of "Watchlisting Guidance" obtained by The Intercept said adding people to the list required neither "concrete facts" nor "irrefutable evidence;" rather, "fragmentary information" is enough. The dead can be watchlisted, as can family and friends of people already watchlisted, and even people "acquitted or against whom charges are dismissed for a crime related to terrorism" can be put on the terror watchlist.
Subscribe to The Week
Escape your echo chamber. Get the facts behind the news, plus analysis from multiple perspectives.
SUBSCRIBE & SAVE
Sign up for The Week's Free Newsletters
From our morning news briefing to a weekly Good News Newsletter, get the best of The Week delivered directly to your inbox.
From our morning news briefing to a weekly Good News Newsletter, get the best of The Week delivered directly to your inbox.
People can be removed from the list — Omar Mateen, the perpetrator of the Pulse Nightclub shooting in Orlando, was taken off before his attack — but the procedure here is murky to nonexistent. The several days of rough questioning for Raheem on 30 Rock, though obviously intended to critique the excesses of the war on terror, were briefer and more direct than any real-life remedy for innocents watchlisted by mistake. The feds' criteria are "a black box," wrote Judge Anthony Trenga, a George W. Bush appointee, and "individuals are not told, even after filing, whether or not they were or remain on the watchlist and are also not told the factual basis for their inclusion."
This unfairness and incompetence is to be expected with a list of this nature. When the state constructs secretive lists of allegedly bad people, things go awry. Think of the Cold War-era lists of alleged communists in the State Department and Hollywood. These were never part of federal bureaucracy the way the present watchlist is, but the NSA's Project MINARET, which was used to spy on journalists, members of Congress, Vietnam War protesters, and Civil Rights leaders including Martin Luther King, Jr. (who was also on an FBI surveillance list), certainly was. So was the Wilson-era Military Intelligence Division's "Negro Subversion" division, which tracked African Americans like W.E.B. Debois to prevent advocacy of socialism.
In the terror watchlist, as in secret lists past, lack of due process invites sprawl and misuse by ineptitude and malice alike. In the name of comprehensive security, the list grows and grows, subjecting an ever-larger number to federal scrutiny for no demonstrated reason. (Around 40 percent of those on the watchlist have "no recognized terrorist group affiliation.")
Obviously, terrorists exist, and law enforcement have an interest in identifying them. But there is a long distance between inaction and construction of a watchlist where inclusion, as Trenga wrote, "does not require any evidence" of past, present, or intended criminality.
This is not law enforcement in the literal sense of the phrase. In some cases, by the government's own admission, there is no expectation that watchlisting will prevent future crime. As in the days of McCarthyism, accusation is treated as proof. Suspicion is guilt.
None of that has kept the watchlist from being widely used and disseminated by the FBI. The main list feeds an array of other lists, the best-known being the No-Fly List, which is how we found out the watchlist has included entries like a Stanford scholar, a toddler, and a U.S. Marine veteran. Information from the TSDB has also been distributed to more than 1,400 private entities, including hospitals and universities. These applications produce the practical effects innocent watchlist members can suffer, including travel restrictions, reputational damage, and job loss — all imposed without due process or a clear means of redress.
This is why even the strictest gun control advocates should reject the occasional proposal that the TSDB as a whole or its No-Fly List subset be used to restrict weapons sales. It's not about the Second Amendment but the Fifth, Sixth, and Seventh. Expanding the watchlist's uses will only make it more durable and its arbitrary punishments more institutionally entrenched.
Permitting the state to build vague lists of suspects under a veil of official secrecy is bad enough, but broadening the ways those lists may used to ruin innocent lives is worse. Our aim should be to restrain this monster, not give it a longer chain.

Continue reading for free
We hope you're enjoying The Week's refreshingly open-minded journalism.
Subscribed to The Week? Register your account with the same email as your subscription.