Why illiberal conservatives lose arguments
On David French vs. Sohrab Ahmari and the future of conservatism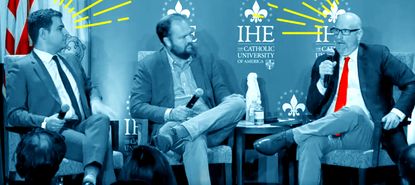 Sign up to our 10 Things You Need to Know Today newsletter
A free daily digest of the biggest news stories of the day - and the best features from our website
Thank you for signing up to TheWeek. You will receive a verification email shortly.
There was a problem. Please refresh the page and try again.
Like millions of my fellow Americans, including many in the somewhat smaller group of people who might otherwise be expected to take an interest in such things, I skipped Thursday's live debate between the dueling conservative thinkers David French and Sohrab Ahmari and watched the NFL opener instead.
For several months now, French, an attorney and frequent contributor to National Review, and Ahmari, the opinion editor of the New York Post, have been the figureheads in an argument (i.e., a series of tweets and one-off columns) about the future of American conservatism. French's name has become synonymous with so-called "fusionist" conservatism. What Ahmari stands for is perhaps slightly less clear — certainly what he is against is easier to identify.
Their exchange had a great deal in the common with the 10-3 Packers-Bears outing. If I thought the Venn diagram of pro football obsessives and people who are very invested in what conservatives fighting on Twitter have to say would include a lot of names in the middle, I might just run with the analogy. (The best defense arrayed against a quarterback whose rise and fall could be plotted on a graph against the fortunes of the Tea Party fusionism won't get you very far if your own offense is tentative and haphazard.)
Subscribe to The Week
Escape your echo chamber. Get the facts behind the news, plus analysis from multiple perspectives.
SUBSCRIBE & SAVE
Sign up for The Week's Free Newsletters
From our morning news briefing to a weekly Good News Newsletter, get the best of The Week delivered directly to your inbox.
From our morning news briefing to a weekly Good News Newsletter, get the best of The Week delivered directly to your inbox.
I am mostly on Ahmari's side in the argument over the old free-market fusionist conservative consensus. But French won Thursday's debate. The reasons for this are, I think, instructive.
The first is simply that French seemed better prepared. He insisted that the debate take place on his terms, within the narrow world of First Amendment litigation and in the cloying language of civility, and Ahmari did nothing to broaden the scope of their engagement. French talked mostly in abstractions. When Amhari responded with anecdotes — including a disgusting one about toddlers being taught to "twerk" — French dismissed them as exactly that, as if they were not representative of victories won long ago by their mutual enemies in arenas in which supposedly value-neutral constitutionalist proceduralism is of no avail.
But the most important reason is simply that French was arguing as a representative of an ideology. Fusionist conservatism has been with us for decades. Like Marxism, it is an unfalsifiable monolith. Any evidence that might be presented against it — the failure of the GOP to accomplish anything in the three decades since the end of the Cold War save the lowering of marginal tax rates — is regarded by its adherents as proof that it hasn't really been tried yet. The liberalization of the global economy that has immiserated the working class in this country while making slaves of millions of people in the Third World and turning the planet into a garbage dump? Buddy, we can buy toasters for $10 now! Fighting the culture war in the Supreme Court with proceduralist arguments about the text of the Constitution that liberals abandoned in the 1960s with Griswold? Well, uhh, we get paid to do it, and besides, Kennedy did us a solid on that cakes thing. The fate of the millions of Americans who live at the margins of society, who are not well-informed consumers with strong familial ties and capital of both the social and economic variety? Payday loans. Our adventures in Afghanistan, Iraq, Libya, and Syria that have created a global refugee crisis which has done more to undermine the stability of European institutions than the KGB ever dreamed of? Whoops, our bad. Defenders of America's involvement in Vietnam are fond of saying that we won the battles but lost the war. Frenchist conservatives have been defeated in virtually every engagement they've entered, but they insist that the field is somehow still theirs.
Criticism of this blinkered consensus will be negative by definition. And for a very long time it will be anything but monolithic. Specifics will almost certainly be lacking. But this will have to change. And the answer to the questions posed by fusionists will have to be radical ones. For writers like French and his National Review colleague Jonah Goldberg, we are not living in a period of late-imperial decadence but in the best of all possible worlds, one in which religious conservatives live the sort of lives that their neighbors do — contributing to GDP, ordering boutique wedding cakes, taking pictures of their dogs — while insisting that they deserve the right to opt out of various social norms on a whim. Progressives, with good reason, regard this as an absurd arrangement. If you want to enjoy all the benefits of late-modern consumer capitalism, you cannot reject its not-so-incidental trappings. By fits and starts, post-liberal conservative thinkers will have to show us how to reject both.
Four years ago, a handful of ex-Witherspoon Institute staffers were whispering in the pages of religious monthlies about the doom of proceduralism. Now Marco Rubio is citing papal encyclicals in opinion pieces decrying the market absolutism of his party while his Senate colleague Mazie Hirono calls the Knights of Columbus an extremist group.
The contradictions are heightening. Opponents of a dead consensus will not carry the day by allowing their opponents to pretend they don't exist in the first place.
Continue reading for free
We hope you're enjoying The Week's refreshingly open-minded journalism.
Subscribed to The Week? Register your account with the same email as your subscription.
Sign up to our 10 Things You Need to Know Today newsletter
A free daily digest of the biggest news stories of the day - and the best features from our website
Matthew Walther is a national correspondent at The Week. His work has also appeared in First Things, The Spectator of London, The Catholic Herald, National Review, and other publications. He is currently writing a biography of the Rev. Montague Summers. He is also a Robert Novak Journalism Fellow.