The Warren-Klobuchar smackdown America needs
Tuesday night's debate got to the heart of the ideological divide in the party. If only the other candidates hadn't gotten in the way.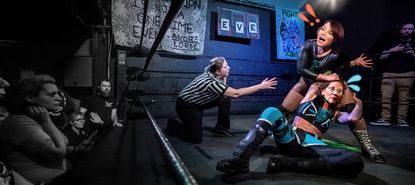 (Image credit: Illustrated | Chip Somodevilla/Getty Images, Win McNamee/Getty Images, Guy Corbishley / Alamy Stock Photo, yopinco/iStock)
Sign up to our 10 Things You Need to Know Today newsletter
A free daily digest of the biggest news stories of the day - and the best features from our website
Thank you for signing up to TheWeek. You will receive a verification email shortly.
There was a problem. Please refresh the page and try again.
At the three-hour Democratic debate in Westerville, Ohio Tuesday night, a dozen candidates contended for time and attention. Most of them comported themselves well, made fair points, got in good jabs at each other, and did an admirable job of standing out in the crowd. But two of them stood out more than the others — for their confidence and intelligence no less than for distilling the ideological options on offer in their purest essences.
America would have been better off with a one-hour debate between Massachusetts Sen. Elizabeth Warren and Minnesota Sen. Amy Klobuchar.
The overall dynamic of the evening clearly conveyed the message that Warren is now the presumptive front-runner. Former Vice President Joe Biden had plenty of opportunities to speak, and he was marginally more sure-footed than he was in the previous debate. Vermont Sen. Bernie Sanders had a very good night, putting to rest concerns about his post-heart-attack health, speaking with passion about the "political revolution" he hopes to lead, and displaying somewhat more focus and restraint than he sometimes does in these events.
Subscribe to The Week
Escape your echo chamber. Get the facts behind the news, plus analysis from multiple perspectives.
SUBSCRIBE & SAVE
Sign up for The Week's Free Newsletters
From our morning news briefing to a weekly Good News Newsletter, get the best of The Week delivered directly to your inbox.
From our morning news briefing to a weekly Good News Newsletter, get the best of The Week delivered directly to your inbox.
But from the very start of the evening, it was Warren who dominated, both in the forcefulness of her remarks on a broad range of topics and in drawing repeated fire from most of the other candidates, all of whom understand very well that she is now the primary obstacle to their presidential ambitions.
And of all of Warren's antagonists, it was Klobuchar who was most effective at drawing blood. If Warren made a compelling case for her boldly populist left-liberal agenda, Klobuchar did an admirable job of taking a stand for caution in the name of centrist-liberal moderation.
She certainly wasn't the only one to try. South Bend, Indiana, Mayor Pete Buttigieg took repeated aim at Warren and former Texas congressman Beto O'Rourke in a tone of studied world-weariness and amped up earnestness. On at least two occasions, New Jersey Sen. Cory Booker made a point of imploring his fellow Democrats not to attack one another and instead to present a united front against Donald Trump.
But it was Klobuchar who made the clearest and most consistent case for moderation — and usually did so in response to Warren's ambitious policy proposals.
Early in the evening, Warren and Sanders defended their Medicare-for-all proposals and were then asked if taxes would need to rise for middle-class Americans to pay for the program. Sanders admitted that taxes would rise for "virtually everybody," but Warren sounded evasive. That prompted Klobuchar to hit back hard: "At least Bernie is being honest here, and saying how he's going to pay for this and that taxes are going to go up. And I'm sorry, Elizabeth, but you have not said that and I think we owe the American people to tell them where we will send the invoice."
Later on, during a discussion of Warren's advocacy for a wealth tax, Klobuchar took aim at her again. Referring to billionaire candidate Tom Steyer, who was also on stage, the Minnesota senator tried to take her down a peg or two, "I want to give a reality check to Elizabeth. No one on this stage wants to protect billionaires. Not even the billionaire wants to protect billionaires. We just have different approaches. Your idea is not the only idea."
In response, Warren jabbed back, "I think as Democrats we are going to succeed when we dream big and fight hard, not when we dream small and quit before we get started."
Such exchanges, and there were others, might sound like petty point-scoring, but they reveal a serious fault-line in the Democratic Party, and one with major policy implications. Warren, like Sanders, is running an aspirational campaign. The laundry list of sweeping proposals, perhaps even more than the fate of any specific proposal, is the point. Warren wants Democrats to aim high and "dream big," with the hope being that in striving to achieve a lot, the party will at least succeed in getting some important things done and passed. For Warren, it's all about the trying.
Klobuchar, by contrast, is a pragmatist who's deeply concerned about the dangers of raising unrealistic expectations, making promises that won't be kept, and proposing what she considers to be irresponsibly expensive or onerous government programs. She's not an ideological conservative, but she is much more temperamentally conservative than Warren and most of the other candidates running for president. She would prefer that policy proposals remain tethered to the political ground, matching up with prevailing views of the possible. A more charitable description of Klobuchar's approach might be "aim low, succeed."
Those options — left-wing idealism on one side, centrist sobriety on the other — represent competing ideological and regional factions in the party, and the country would benefit enormously from playing out that dispute on the biggest possible stage. Biden also represents the temperamentally conservative position, but he's far less willing to defend it forthrightly, and far less capable of arguing cogently and clearly for that or any other position. Klobuchar would be a far better champion for it, though only if her polling position improves dramatically. With her languishing at under 2 percent in the polls, she might not even manage to qualify for the next debate. That would leave Biden as the main, and far weaker, advocate for relative policy caution and restraint.
On Tuesday night at least, it was Amy Klobuchar who stood as the strongest alternative to Elizabeth Warren, the obvious front-runner. If only it could have been a real debate.
Want more essential commentary and analysis like this delivered straight to your inbox? Sign up for The Week's "Today's best articles" newsletter here.
Continue reading for free
We hope you're enjoying The Week's refreshingly open-minded journalism.
Subscribed to The Week? Register your account with the same email as your subscription.
Sign up to our 10 Things You Need to Know Today newsletter
A free daily digest of the biggest news stories of the day - and the best features from our website
Damon Linker is a senior correspondent at TheWeek.com. He is also a former contributing editor at The New Republic and the author of The Theocons and The Religious Test.