How California's new gig economy law could put freelancers out of business
The road to unemployment is paved with good intentions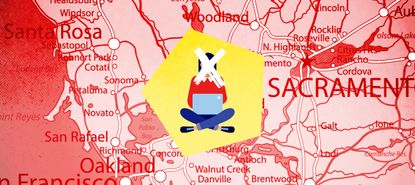 (Image credit: Illustrated | luckyvector/iStock, Cartarium/iStock, decobrush/iStock, Aerial3/iStock)
Sign up to our 10 Things You Need to Know Today newsletter
A free daily digest of the biggest news stories of the day - and the best features from our website
Thank you for signing up to TheWeek. You will receive a verification email shortly.
There was a problem. Please refresh the page and try again.
If I lived in California, I'd be staring down unemployment.
A new law governing freelance work was signed into law late last month. It isn't scheduled to take effect until January, but if panicking freelancers aren't able to force a change before then, many will be banned from doing their jobs. It's a classic case of well-intended but functionally destructive regulation: In the name of protecting workers, Assembly Bill 5 will prohibit some them from working. In the resultant chaos, a lucky few will secure full-time jobs while the rest are "helped" right out of a stable income stream.
A.B. 5's primary target is gig employers like ridesharing apps Uber and Lyft, whose drivers are classified as contract workers, not employees. That means they aren't entitled to benefits like health insurance or paid time off even if they're working full-time hours, which A.B. 5 seeks to change. The law sets up stricter rules to push these workers across the line into employeedom and make provision of benefits mandatory.
Subscribe to The Week
Escape your echo chamber. Get the facts behind the news, plus analysis from multiple perspectives.
SUBSCRIBE & SAVE
Sign up for The Week's Free Newsletters
From our morning news briefing to a weekly Good News Newsletter, get the best of The Week delivered directly to your inbox.
From our morning news briefing to a weekly Good News Newsletter, get the best of The Week delivered directly to your inbox.
Naturally, Uber and Lyft have already announced they have no intention of changing how they classify their drivers. "Just because the test is hard doesn't mean we won't be able to pass it," said Uber's chief legal officer, Tony West, last month. "We continue to believe that drivers are properly classified as independent [contractors]," he added, vowing readiness for a legal fight.
So A.B. 5 may well fail to achieve its main goal. But that doesn't mean it won't produce any changes. On the contrary, it will effectively make freelance writing and other creative work illegal, even while appearing to accommodate workers' needs.
Journalists are among the more than 50 professions for which A.B. 5 includes special exemptions, alongside doctors, dentists, lawyers, real estate agents, and the like (the list is significantly composed of industries with a lot of lobbying cash). For writers — as well as editors, cartoonists, photographers, and videographers — the exemption specifies that you can remain an independent contractor if you do not submit content — articles, editing work, cartoons, photos, or videos — to any single company more than 35 times per year.
To put that in context, here at The Week I write four columns per week. Were I subject to a 35-article cap, I'd hit my limit here in less than nine weeks. So I'd either have to stop writing for The Week by the end of February or dramatically slow my pace of work to less than one column weekly, cutting my yearly output from about 200 columns to the mandated 35. Then, if I want to maintain my current income, I'd have to find five other outlets willing to publish 35 of my articles each year. Instead of working with one editor, I'd have to juggle six — and that's if I were fortunate enough to successfully diversify my publication clients, which would be a monumental task, particularly with all the other freelancers trying to do the exact same thing at the exact same time. Many outlets realistically wouldn't want to bother with enormously expanding their freelance rolls, because it takes extra time and energy to maintain all those relationships; instead, they'd hire a few new full-time workers and cut their freelance budget altogether. If I didn't get one of those new jobs — and living outside of major media hubs like New York City and Washington, D.C., makes that likely — I'd be out of work entirely. Californians who say A.B. 5 threatens them with homelessness aren't exaggerating.
The dangerous ignorance behind this law is on display in comments from Assemblywoman Lorena Gonzalez, the bill's author, to The Hollywood Reporter. "As for how lawmakers settled on the 35-submission figure, Gonzalez says that she and her team decided that a weekly columnist sounded like a part-time worker and so halved that worker's yearly submissions. After protest from some freelancers, the number was bumped up to 35. 'Was it a little arbitrary? Yeah. Writing bills with numbers like that are a little bit arbitrary,'" Gonzalez conceded.
"A little bit arbitrary" is generous. I'd say something more like "capricious," "cruel," and "willfully obtuse." Maybe for the most elite and privileged pundits, a single weekly column is a part-time job. The rest of us — i.e., the vast majority of freelancers, many of whom (myself included) consider the lack of employer-provided benefits a fair trade for the flexibility freelancing brings — write more than one or two days a week.
That's how legislation intended to hurt big business "will ultimately harm small business owners," summarizes a report at Dame, and indeed will "disproportionately harm writers who are women, disabled, and/or face other forms of marginalization" as well as smaller publications who work with freelancers to feature a larger range of perspectives than they can afford to have on staff.
Thus the panic. "Everyone's freaking out, like my anxiety is going through the damn roof," said California writer Amy Lamare. My anxiety will be through the roof, too, if the California model sticks and spreads to other states — which it well might.
Busybody lawmakers like Gonzalez could ease our fears by learning to leave well enough alone: Recognize that regulations have unintended consequences, that big business will always have the resources to shield itself from harms the little guy will suffer, and that legislators know much less about what's best for other people's lives than they imagine.
Want more essential commentary and analysis like this delivered straight to your inbox? Sign up for The Week's "Today's best articles" newsletter here.
Continue reading for free
We hope you're enjoying The Week's refreshingly open-minded journalism.
Subscribed to The Week? Register your account with the same email as your subscription.
Sign up to our 10 Things You Need to Know Today newsletter
A free daily digest of the biggest news stories of the day - and the best features from our website
Bonnie Kristian was a deputy editor and acting editor-in-chief of TheWeek.com. She is a columnist at Christianity Today and author of Untrustworthy: The Knowledge Crisis Breaking Our Brains, Polluting Our Politics, and Corrupting Christian Community (forthcoming 2022) and A Flexible Faith: Rethinking What It Means to Follow Jesus Today (2018). Her writing has also appeared at Time Magazine, CNN, USA Today, Newsweek, the Los Angeles Times, and The American Conservative, among other outlets.