The GOP goes gonzo
Today's Republican Party will say anything, and increasingly do anything, to keep power — including turning American democracy into a farce and themselves into laughingstocks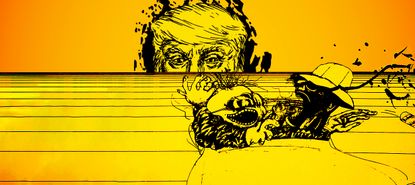 (Image credit: Illustrated | JHPhoto / Alamy Stock Photo, P. S. Art Design Studio / Alamy Stock Photo, Yuri Parmenov/iStock)
When a group of House Republicans staged a protest and barged into the secure rooms of the House Intelligence Committee on Wednesday morning, claiming that the testimony being collected there about possible criminality and abuse of power by President Trump constituted a "Soviet-style process" that "should not be allowed in the United States," Americans were witnessing perhaps the clearest example yet of the GOP's embrace of gonzo politics.
The name "gonzo" comes, of course, from author Hunter S. Thompson and his effort in the 1970s to pioneer a new form of journalism that was politically engaged and adopted a highly ironic (and sometimes openly hostile) attitude toward the subjects it covered. There would be no pretense to dispassionate objectivity in gonzo journalism. Instead, the writer would insert himself into the story, like a drugged up anthropologist engaged in participant observation, eager to see what his own interactions with and mockery of the subject would produce by way of absurdity.
Taken to its furthest extreme, the gonzo style terminates in the Borat movies, in which a comedic actor (Sacha Baron Cohen) plays an absurd character who films himself baiting real-life subjects (some of them public figures, some of them ordinary people) into saying self-incriminating and humiliating things on camera. The result is one part brutally effective satire, two parts nihilistic cruelty.
Subscribe to The Week
Escape your echo chamber. Get the facts behind the news, plus analysis from multiple perspectives.
SUBSCRIBE & SAVE
Sign up for The Week's Free Newsletters
From our morning news briefing to a weekly Good News Newsletter, get the best of The Week delivered directly to your inbox.
From our morning news briefing to a weekly Good News Newsletter, get the best of The Week delivered directly to your inbox.
Until recently the gonzo style was confined to an edgy form of muckraking quasi-journalism. When it dealt with public figures, including those involved with politics, it invariably sought to make them the butt of a joke. But in the digital age, this has changed — and interestingly, the change has taken place almost exclusively on the right, where a gonzo style of politics has migrated from alt-right "news" websites to the political arena. It has since taken root and flourished in the richly fertilized soil of the Trump presidency.
To grasp what's distinctive about the gonzo style of politics, we first need to clarify what it isn't.
"Normal" politics involves politicians and other public figures articulating principles and proposing policies to advance a normative vision of the public good. It presumes that all of us share a reality of truth and facts and that it's possible to determine the best way to order that common life. The partisan clashes we associate with normal politics emerge from the fact that different classes and factions within the polity disagree about the public good and what it demands and requires. This clash of views prompts citizens to make arguments and deploy rhetorical appeals in order to persuade the greatest possible number of people to join one side in the conflict against the others. The tacit expectation of normal politics is that this debate will be conducted in good faith.
Everyone who studies politics or engages in it seriously is well aware that this vision of it as a debate society with an active, well-meaning audience of voters rendering well-considered judgment is obviously idealized. In reality, politics also involves deal-making, compromises with principles, and even dirty tricks designed to undermine the authority of opponents and woo and manipulate the views of citizens. When it gets especially nasty, political actors get accused of hypocrisy. "You profess to be high-minded and concerned only with the public good, but your actions show that you're just as willing as your opponents to crawl around in the mud! What a hypocrite!"
Yet it's important to recall the old adage that describes hypocrisy as the tribute that vice pays to virtue. Even the nastiest form of "normal" politics still presumes a relatively fixed public standard of truth and commonly shared notions of right and wrong. Political actors simply prove themselves willing to diverge from such standards from time to time in order to advance their substantive ends.
Gonzo politics is different in kind. Its hypocrisy is so absolute that the concept itself becomes meaningless. That's what happens when truth and any sense of commonality, the good, or a shared public world collapses in on itself like a black hole, with the only thing remaining the pursuit of power solely for the sake of its own selfish rewards. Under such conditions, politics becomes all show, all performance, with no objective criteria of truth or goodness available to evaluate it.
Elements of gonzo politics began to emerge on the right during the Obama administration with James O'Keefe's concealed video sting operations, which started out as fairly standard gonzo journalism directed against Planned Parenthood. But it soon grew into something else, deploying outrightly deceptive editing for the purpose of making it sound like the subjects O'Keefe and his colleagues caught on video said things they didn't. They had started orchestrating stunts instead of stings. It was just a few baby steps away from Jacob Wohl's Trump-era string of ineptly executed scams intended to spark scandals about leading Democrats.
Meanwhile, in Congress, Republicans spent years investigating, and investigating, and then investigating again the death of a U.S. ambassador and three staffers at the American embassy in Benghazi, Libya, in September 2012. The conclusion of a grand total of 10 investigations and years of inflammatory accusations against the Obama administration? No evidence of lying and cover up.
But that was nothing compared to what we see now. Despite the absurdity of the Benghazi obsession, it was still (barely) possible to believe that at least some of the high-ranking Republicans involved really believed the Obama administration had done something terribly wrong and that they were out to uncover the truth. Such presumptions of good faith have since become impossible to sustain. Not after the performance-art gonzo press briefings of Trump's first press secretary Sean Spicer, or the absurd grandstanding of the House intelligence committee under the leadership of Rep. Devin Nunes (R-Calif.) during the first two years of the Trump administration, or the daily national gaslighting of the president's own Twitter account.
But still, the events on Wednesday took the GOP's practice of gonzo politics to a whole new level. It was House Minority Whip Steve Scalise (R-La.) who described the closed intelligence committee meeting as a "Soviet-style process," helped lead (with Rep. Matt Gaetz (R-Fla.) the assembled congressmen in chants of "let us in!", and encouraged the storming of the Secure Compartmentalized Information Facility (SCIF), where witnesses provide potentially confidential testimony to members of the committee. Others worked to spread paranoia, with Rep. Earl L. "Buddy" Carter (R-Ga.) warning in ominous tones, "If a government can do this to the president of the United States, they can do it to you as well. You need to be scared. You need to be very scared."
It was a sham from start to finish, and everyone involved knew it. President Trump is in serious trouble. He and his closest advisers have admitted to impeachable actions. Others have testified to statements and behavior that incriminate him further. That makes mounting a defense of him in terms of publicly accepted standards of truth and falsehood, right and wrong, extremely difficult if not impossible. Yet the president is demanding a defense regardless, and members of his party have volunteered to go along by play-acting indignation and spouting indisputable lies.
What lies, you ask? Like the core assertion of the congressional protesters that Republicans were excluded from Wednesday morning's deposition when Republicans were present in the SCIF during the protest and several of those chanting outside are on committees whose members were entitled to attend.
Like the claim that lawmakers are being shut out of secret proceedings when, as The New York Times notes, more than 100 members of the House are eligible to participate and Democrats have promised to present the gathered testimony in public hearings after it has been reviewed for classified material.
Like the insinuation that Democrats have adopted totalitarian tactics when Republicans proceeded in exactly the same way during the early stages of Congress' Benghazi investigation.
And like the risible contention that the House pursuing a constitutionally delineated process to investigate possible malfeasance at the head of the executive branch is some kind of tyrannical threat to private citizens.
It was a joke, a stunt, a Jackson Pollack masterpiece of artfully splattered BS. It showed utter contempt for the Constitution, the institutions of American government, and the minds of Republican voters.
That's gonzo politics in practice. It differs from the frequently violent theatrics that engulfed Congress during the years leading up to the Civil War in one crucial respect: Lawmakers in the 1840s and '50s actually believed in things. They actually supported and opposed slavery and its spread. They actually cared about the scope and limits of states rights. And were ultimately willing to kill and be killed over the dispute.
Today's Trumpist Republicans care about nothing beyond maintaining and expanding their own political power. And they will say anything, and increasingly do anything, to keep it — including turning American democracy into a farce and themselves into laughingstocks.

Continue reading for free
We hope you're enjoying The Week's refreshingly open-minded journalism.
Subscribed to The Week? Register your account with the same email as your subscription.