The Democrats' impeachment process has a credibility problem
Even if Pelosi can make the process appear fair, it's probably a lost cause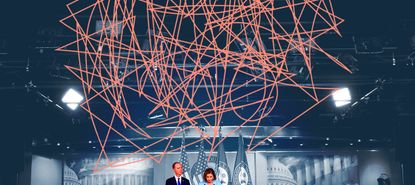 (Image credit: Illustrated | Win McNamee/Getty Images, EvgVect/iStock)
Has the House impeachment inquiry hit a brick wall on credibility? Or have House Democrats decided to call Republicans' bluff?
After weeks of refusing to hold a full floor vote to formally launch an impeachment inquiry, House Speaker Nancy Pelosi (D-Calif.) abruptly changed position this week. A Thursday vote will set out more clear parameters for the ongoing investigation without explicitly declaring an impeachment inquiry, but it's far from clear whether this changes anything appreciably — or if there's anything to change with the current focus on Ukraine policy as the predicate for impeachment.
The bill that emerged Tuesday afternoon appears to directly address some of the key criticisms of House Republicans, who grew so frustrated with the closed hearings that they staged an intervention of sorts last week, breaching the Secure Compartmented Information Facility (SCIF) in which the depositions were being taken under the control of House Intelligence Chair Adam Schiff. That set off worries among Democrats that further such demonstrations could obstruct and drag out the impeachment process into next year and into the election cycle, something Pelosi would like to avoid.
Subscribe to The Week
Escape your echo chamber. Get the facts behind the news, plus analysis from multiple perspectives.
SUBSCRIBE & SAVE
Sign up for The Week's Free Newsletters
From our morning news briefing to a weekly Good News Newsletter, get the best of The Week delivered directly to your inbox.
From our morning news briefing to a weekly Good News Newsletter, get the best of The Week delivered directly to your inbox.
Democrats' claims that the demonstrations were a GOP stunt had some basis in fact. Some of the Republicans who participated actually did have access to the hearings as members of three committees participating in the testimony. Contrary to some claims made at the time, Republican committee members had the opportunity to ask questions of the witnesses during the deposition and were very engaged in that process.
Still, other Republican complaints had started to take their toll. Republicans wanted Democrats to hold a full House vote to openly authorize an impeachment inquiry, rather than use committees to conduct an ad hoc investigation while House Democratic leadership publicly acknowledged that impeachment was the goal. They also wanted open hearings with the witnesses being subpoenaed, which Democrats refused to grant in order to keep witnesses from knowing preceding testimony. Democrats pointed out that the House rules allowed for closed-session depositions and compared them to secret grand-jury proceedings, but Republicans countered that grand juries don't leak characterizations of the testimony at pressers, as Schiff and other Democrats had been doing all along.
That has made the proceedings seem as though they're being conducted by a kangaroo court, which has allowed Trump to argue that the process is corrupt. The only way to gain traction for this process is to give it more credibility — and to call the bluff of Republicans and Trump. Thus, Pelosi introduced a bill that will allow Republicans to call their own witnesses and to access all deposition materials, under the same rules used in the Bill Clinton impeachment process in 1998. The bill also establishes a mechanism for the full release of testimony, which Republicans have repeatedly demanded.
This presents an immediate tactical risk for the White House. One of Pelosi's motives is to parry Trump's refusal to cooperate based on a lack of formal approval by the full House. A federal court ruled against Trump last week, but Trump can tie that question up for months on appeals, time that Pelosi perceives she does not have. A full House vote approving these rules not only means that Republicans no longer have due-process complaints (at least going forward), it signals to courts that the full House has indeed given tacit approval for an impeachment inquiry in providing a relatively fair structure for it.
However, Pelosi is more worried about a different court: the court of public opinion. That perception that the impeachment process is unfair has hampered Democrats' ability to generate the kind of public support they need to take this to a full vote on impeachment without risking the gains Pelosi made in the 2018 midterms. National polling showing support for impeachment gaining momentum overall, but the response from the American public looks quite different on a state-by-state basis. A poll by The New York Times and Siena College last week showed that voters in six critical swing states with the closest margins in 2016 generally oppose impeachment, 43/53. Those numbers would suggest that continuing on this impeachment process might produce a Pyrrhic victory for Democrats in 2020, one that could produce a historic win for an already-impeached president for the first time ever.
To fix that problem, and to force the Senate to take this more seriously, Pelosi has to revamp the process to provide at least the appearance of fairness. However, it's not likely to matter in the end. Impeachment is only the first step in the removal process, and in this case it's likely to be the last step Democrats can successfully take.
The Republicans control the Senate, but their majority matters less than the fact that Democrats don't have a supermajority. If Democrats had uncovered a truly serious crime in this probe, that would likely convince at least 20 Senate Republicans to make Mike Pence president. The core problem is that Ukraine-Gate doesn't appear to involve an explicit statutory crime at all, but instead an alleged abuse of authority to gain political advantage over former Vice President Joe Biden. The House can decide what constitutes an impeachable offense, but the Senate decides whether it's even worthy of a full trial, let alone a removal.
An impeachment without a removal will, in the end, look a lot like a political campaign no matter how much Pelosi improves the process. Voters will ask themselves why Democrats spent all year obsessed with impeachment under varying rationalizations and then chose the one issue on which they could almost guarantee no success in removal. Pelosi may win a tactical victory with this upcoming vote, but it's not going to solve the big strategic issue awaiting Democrats at the end of this process.
Want more essential commentary and analysis like this delivered straight to your inbox? Sign up for The Week's "Today's best articles" newsletter here.

Continue reading for free
We hope you're enjoying The Week's refreshingly open-minded journalism.
Subscribed to The Week? Register your account with the same email as your subscription.