Davos billionaires are happy to let the world burn
Organized money will not avert climate disaster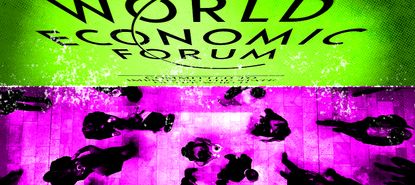 (Image credit: Illustrated | FABRICE COFFRINI/AFP via Getty Images, iStock)
Everyone's favorite rally of neoliberal oligarchs is taking place this week in Davos, Switzerland. The World Economic Forum, "known for preaching the gospel of touchy-feely stakeholder capitalism against a backdrop of $43 hot dogs, $10,000 hotel rooms, and several hundred trips by private plane," as Lionel Laurent writes at Bloomberg, is struggling to maintain its #brand while global politics descends into fascism and the climate crisis gathers strength.
The Davos conference demonstrates only one thing: If the billionaire stranglehold over global politics is not broken, we are all going to fry in a future climate hell.
For one thing, President Trump is getting a distinctly more friendly reception this time than at previous Davos conferences. Sure, the man may be a boorish, corrupt accused rapist who was just impeached for trying to rig the 2020 election, but taxes are low, the markets are booming, and Wall Street is largely free from burdensome regulators. Oligarchs can accommodate themselves to just about anything that doesn't directly threaten their pocketbooks.
Subscribe to The Week
Escape your echo chamber. Get the facts behind the news, plus analysis from multiple perspectives.
SUBSCRIBE & SAVE
Sign up for The Week's Free Newsletters
From our morning news briefing to a weekly Good News Newsletter, get the best of The Week delivered directly to your inbox.
From our morning news briefing to a weekly Good News Newsletter, get the best of The Week delivered directly to your inbox.
Nevertheless, a few still have some glimmerings of a conscience — which probably explains why somebody arranged for climate activist Greta Thunberg to attend one of the discussion panels. Oligarchs always want to have some well-scrubbed youth at their conferences to talk about the importance of "raising awareness" about "the issues," preferably in order to gather some private charity donations. The ultra-wealthy are happy to kick a few pennies to supplicant nonprofit organizations to eradicate guinea worm or whatever. It makes their near-chokehold over global politics seem softer and more reasonable.
But Thunberg offered the Davos robber barons no such moral alibi. Instead she attacked the attendees like she always does at such events. She said world leaders are "cheating and fiddling around with numbers" with untested schemes to get emissions down by scrubbing carbon out of the atmosphere. She correctly scoffed at a new plan joined even by Trump to supposedly plant 1 trillion trees (so as to absorb carbon) as inadequate. "Planting trees is good of course, but it's nowhere near enough," she said. "It cannot replace mitigation."
Indeed, this is far from the first time oligarchs have attempted to co-opt Thunberg's celebrity. Barack Obama ended a meeting with Thunberg with a fist bump, declaring "You and me, we're a team." Left unmentioned was Obama's record of pushing fracking and pipeline construction to such an extent that the U.S. became the largest producer of oil and gas in the world under his watch — ahead of even Saudi Arabia and Russia. As Osita Nwanevu writes at The New Republic, "Greta Thunberg and Barack Obama are not on the same team."
Earlier this month, a much more sinister oligarch gave a speech for the Mont Pelerin Society at Stanford. This was Peter Thiel, the infamous venture capitalist and Facebook board member who harassed the publication Gawker to death with frivolous lawsuits. As Max Read writes at New York, Thiel has followed the traditional wealthy libertarian pathway to tyranny. Libertarians traditionally argue against state "interference" with people's natural property rights, but this idea doesn't bear the slightest scrutiny. The smarter ones like Thiel have long realized that the state is vital for protecting their wealth from the unwashed masses (who helped create it), and is now publicly advocating its power be placed in oligarch hands alone. "Thiel has wed himself to state power not in an effort to participate in the political process but as an end run around it," Read writes.
Indeed, as Quinn Slobodian writes in his book Globalists, the Mont Pelerin Society worked for years to create just these sorts of international structures that would place property beyond the reach of democratic polities. That kind of thinking is behind the many anti-democratic elements of the International Monetary Fund, the European Union, various international trade agreements, and so on. They worked to create an international dictatorship of wealth, with considerable success. Thiel is now carrying on that tradition.
Any climate policy worth the name will have to tear up these Mont Pelerin structures by the roots. Taxes on the rich will have to go up drastically, both to cut the vast carbon emissions of the oligarch class and to fund a crash decarbonization program around the world. Regulations of all kinds will need to be made drastically more stringent.
Davos attendees are certain to find all this distasteful in the extreme. They would much prefer a bunch of ineffective half-measures, or failing that, nothing at all. As John Kenneth Galbraith once said, "People of privilege almost always prefer to risk total destruction rather than surrender any part of their privileges." Better to fall in with Trump — especially if a populist crusader like Bernie Sanders wins the Democratic nomination, which is looking increasingly possible. Thiel is where the Davos elite will land in such an eventuality. They'll just be a lot more passive-aggressive about it.
Editor's note: An earlier version of this article misstated the location of the Mont Pelerin Society speech. It has been corrected. We regret the error.
Want more essential commentary and analysis like this delivered straight to your inbox? Sign up for The Week's "Today's best articles" newsletter here.

Continue reading for free
We hope you're enjoying The Week's refreshingly open-minded journalism.
Subscribed to The Week? Register your account with the same email as your subscription.