In defense of Alan Dershowitz's defense
He's right: Trump did nothing impeachable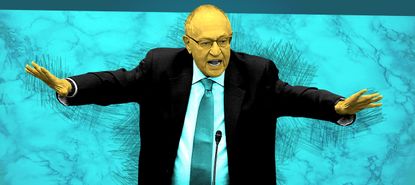 (Image credit: Illustrated | Senate Television via AP, Milovan Kitanovic/iStock)
Sign up to our 10 Things You Need to Know Today newsletter
A free daily digest of the biggest news stories of the day - and the best features from our website
Thank you for signing up to TheWeek. You will receive a verification email shortly.
There was a problem. Please refresh the page and try again.
By the time the first day of questions in President Trump's Senate impeachment trial concluded around 11:00 p.m. on Wednesday evening, I doubt that even the president was still watching. A glance at his Twitter account just before midnight suggested that, if he had any reservations about the novel arguments being made by members of his counsel, particularly Alan Dershowitz, he wasn't interested in sharing them with the rest of us. Three years into this presidency, I think it's fair to interpret his unwonted silence as tacit approval.
For the first time since Trump's infamous conversation with President Zelensky of Ukraine was reported, he and his team appear to be coming around to an argument that has entertained publicly by no one except Sen. Rand Paul (R-Ky.) and the former acting attorney general, Matthew Whitaker — namely, that Trump did exactly what he has been accused of and that this was not impeachable.
It has been clear since October that this is the only possible defense of his conduct. If you believe that Trump and Rudy Giuliani actually cared about the state of corruption in an insignificant former Soviet Republic, congratulations, I have an $83,000 a month job for you at a mining company that I'm sure you also think you are qualified for. Of course they wanted to see former Vice President Joe Biden and his son Hunter made the subject of an investigation during the 2020 presidential campaign, even if it was one that did not go beyond a few eyebrow-raising initial headlines. They would have pressed for the same thing if Sen. Amy Klobuchar (D-Minn.) had bragged about dangling a billion dollars in front of the government of Iceland in order to secure the firing of a troublesome fisheries minister who just so happened to have been making problems for her cousin who was mysteriously engaged as a cod consultant on a five-figure monthly retainer. And it wouldn't have been because Icelandic fishing is a notoriously dirty business.
Subscribe to The Week
Escape your echo chamber. Get the facts behind the news, plus analysis from multiple perspectives.
SUBSCRIBE & SAVE
Sign up for The Week's Free Newsletters
From our morning news briefing to a weekly Good News Newsletter, get the best of The Week delivered directly to your inbox.
From our morning news briefing to a weekly Good News Newsletter, get the best of The Week delivered directly to your inbox.
As Dershowitz argued on Wednesday: So what? If equating one's own political fortunes with those of the nation is an impeachable offense, then every president in American history ought to have been subjected to this process. This is not some late decadent development that begins with Lyndon Johnson using the FBI to spy on Barry Goldwater or Richard Nixon drawing up his enemies list for the IRS. In 1812, James Madison (the subject of so many windy Tea Party-style tributes from Democrats over the course of the impeachment process) secretly used an intermediary to purchase papers from a French con man that he hoped would implicate his domestic political rivals in a supposed British plot to undermine American national security. Unlike Trump, whom no one, so far as I know, has accused of wasting government funds in pursuit of his Ukrainian scheme, Madison even spent $50,000 of State Department funds to obtain the documents — an astonishing sum equivalent to around a million of today's dollars. Thomas Jefferson thought the whole thing was brilliant, even after the scheme was unearthed when Madison attempted to seize upon it as a pretext for going to war with the United Kingdom (which, in case you're wondering, did end up happening).
Every president believes that the continued peace and security of the United States depends, among other things, upon his own political survival. This is why, as Dershowitz pointed out via a series of tedious hypotheticals involving former President Barack Obama, so many of them often shrink from saying or doing certain things that they otherwise consider to be in the national interest: If they get booted out of office and their rivals gain a foothold, they won't be able to do accomplish anything, good or otherwise. This is not some esoteric Machiavellian theory of politics — it is a simple fact about human capabilities.
Impeachment seems increasingly like a dead letter that was never meant to function in the (rather vague) manner in which it is outlined, but rather to deter presidents from committing serious common-law offenses, in addition to treason or receiving bribes. When you consider how bad many of our presidents have been while all falling short of these, impeachment starts to look like a remarkably effective bit of constitutional machinery.
There is something distinctly sad about the impeachment trial and its lonely, vigil-like goings-on, falling as they do at the end of the Christmas season, on the eve of both the Super Bowl and the Iowa caucus. Throughout Wednesday's marathon eight-hour session, Democrats refused to focus on their own articles of impeachment. Instead their lines of questioning ranged increasingly far afield, from talk of bribery to accusations that Trump had committed treason when he made a joke about Russia on CNN in 2016. Sen. Bernie Sanders (I-Vt.) even went so far as to "ask" (if that is the right verb for a ludicrous declaration put, Jeopardy-like, into technical question form) whether it is reasonable to assume that everything Trump says is a lie, in which case he ought to be convicted without any further ado.
This is one reason that I am entirely sanguine about Dershowitz's apparently cynical line of defense here. This impeachment, like the alleged offense that occasioned it, is about political willpower, not evidence or standards or constitutionalism, much less Schoolhouse Rock clichés about "our democracy." Which side one comes down on says a great deal about one's prejudices, but nothing about the underlying merits of the case. It is us vs. them, partisanship more or less for its own sake.
We already have enough of that sort of thing during normal working hours. The American people do not want or need it in the late-night TV slot as well.
Want more essential commentary and analysis like this delivered straight to your inbox? Sign up for The Week's "Today's best articles" newsletter here.
Continue reading for free
We hope you're enjoying The Week's refreshingly open-minded journalism.
Subscribed to The Week? Register your account with the same email as your subscription.
Sign up to our 10 Things You Need to Know Today newsletter
A free daily digest of the biggest news stories of the day - and the best features from our website
Matthew Walther is a national correspondent at The Week. His work has also appeared in First Things, The Spectator of London, The Catholic Herald, National Review, and other publications. He is currently writing a biography of the Rev. Montague Summers. He is also a Robert Novak Journalism Fellow.