Sarah Huckabee Sanders' shameless campaign for governor
Can the former White House spokesperson lie her way to the Arkansas governor's mansion?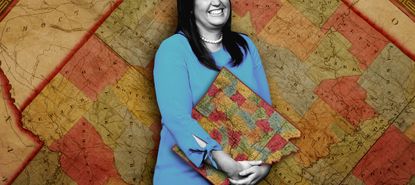 (Image credit: Illustrated | Getty Images, iStock)
Sarah Huckabee Sanders' candidacy for governor of Arkansas is one of the funniest things I've heard this year.
Funny, because, well of course. Sanders' political ambitions have been obvious ever since she departed as former President Donald Trump's press secretary, telling The New York Times in a 2019 interview that she felt "called" to serve as senator or governor. Funny, because her announcement — less than four weeks after the outgoing president incited a riot intended to keep him in power — could not be more ill-timed. And downright hilarious, if Sanders believes voters of Arkansas don't deserve better from their leader than a stooge for Trump.
For almost two years — or about 64 Mooches — between 2017 and 2019, Sanders served as Trump's battering ram, his wall, and his liar-in-chief. In her jewel-tone dresses and softly-curled television hair (courtesy of her office's government-funded stylist), the daughter of former Arkansas Gov. Mike Huckabee quickly earned a reputation for wielding the podium of the White House press secretary like a verbally abusive P.E. teacher.
Subscribe to The Week
Escape your echo chamber. Get the facts behind the news, plus analysis from multiple perspectives.
SUBSCRIBE & SAVE
Sign up for The Week's Free Newsletters
From our morning news briefing to a weekly Good News Newsletter, get the best of The Week delivered directly to your inbox.
From our morning news briefing to a weekly Good News Newsletter, get the best of The Week delivered directly to your inbox.
Sanders' predecessors, Sean Spicer and Anthony Scaramucci, weren't exactly agreeable. But Sanders — who was reportedly given the gig because "there wasn't anybody else" — brought a Trumpian combativeness to the briefings. She was known for her blunt answers ("frankly I don't think ['animals'] was strong enough," she told the press when asked about Trump's use of the dehumanizing word to describe "some immigrants"), her defenses of the indefensible (calling it "very Biblical" to separate migrant families at the border), as well for the sarcasm and insults she'd unload on reporters trying to do their jobs. More recently, she came under fire for mocking President Biden's stutter.
In the video she dropped Monday announcing her campaign, Sanders spent seven long minutes telling Arkansas voters she remains a Trump lackey. She closely aligns herself with the now-disgraced president and spins her old job as akin to the troops they visit in her opening anecdote — a MAGA warrior, essentially. The message might be politically-expedient in a state like Arkansas, where there was a massive 28-point margin in favor of the incumbent president in the election he ultimately lost to Biden, but the timing is still unsavory, coming just weeks after a failed insurrection left five people dead. In fact, Sanders spends more time in her announcement video talking about Trump than her father, though he was governor of the Natural State for 10 years, and remains popular there.
Voters — including voters who backed Trump — deserve better than a leader who's wrapped up in obsequiousness to her former, twice-impeached boss. "Your governor is your last line of defense," Sanders says in her announcement. "In fact, your governor must be on the frontline." She's right, but would Arkansans have been able to count on her to defend their lawfully-cast votes the way governors like Georgia's Brian Kemp (R) and Arizona's Doug Ducey (R) were forced to when they stood up to Trump? After energetically defending one of the most dishonest politicians in American history, she has zero credibility when she touts herself as a leader "with the courage to do what's right, not what's politically correct or convenient."
And then there are her lies. Though Sanders has defended her reputation, claiming she never said anything that she didn't believe to be true at the time, the evidence overwhelms her and doesn't check out. All White House press secretaries are admittedly in the spin business, their job being to make the president look better. But put in the impossible position of providing backing for Trump's fire hydrant of falsehoods, Sanders offered the American public neither honesty nor transparency. "Sanders had a front row seat to what Trump was doing and she did nothing to stop him," Kurt Bardella, a former House Oversight Committee spokesperson, wrote for NBC when Sanders left her post in 2019. "She allowed herself to become an instrument of propaganda and an amplifier of extremism. That is her legacy. She could have walked away anytime. But she didn't." CNN's media correspondent Brian Stelter separately described Sanders' legacy as "the death of the daily press briefing," since she shortened on-camera briefings to the point that they might as well not have been called at all. "[D]uring Spicer's six months on the job, he and his team totaled more time in briefings and gaggles than Sanders held in the year after he left," The Washington Post wrote after Sanders' first year; finally, she did away with on-camera briefings all together.
You wouldn't know it from Sanders' announcement, though, that she pathologically avoided the people whose entire job it was for her to inform. "I took on the media, the radical left, and their cancel culture," Sanders brags in the video. "And I won." It's another boldfaced lie; as CNN's Jim Acosta pointed out on Twitter, Sanders attempted to get him banned from the White House using a doctored video, only to lose in court under a Trump-appointed judge. Sanders' "campaign is going to be gaslit," Acosta predicted. The spin has already begun.
The classic Sanders response to this criticism would be, "with all due respect, you actually don't know much about me." But with all due respect, her legacy of lies and political opportunism ensure that Arkansas voters actually do.

Continue reading for free
We hope you're enjoying The Week's refreshingly open-minded journalism.
Subscribed to The Week? Register your account with the same email as your subscription.