Biden wants to make America a global leader again. Start with vaccines.
Don't let China and Russia beat the U.S. at being nice to others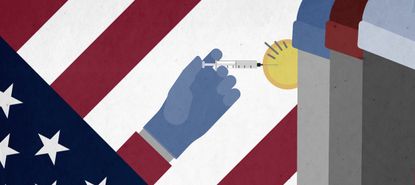 (Image credit: Illustrated | iStock)
President Biden came into office promising to "restore dignified leadership at home and respected leadership on the world stage." I have long been skeptical of such rhetoric — in the past, "global leadership" has typically meant barging around the world starting wars of aggression or pointlessly meddling in the affairs of other nations, and in my view the U.S. would be well advised to tend to its own numerous problems instead of doing that.
But there is a way that America really could provide some global leadership: By securing coronavirus vaccine supplies for the rest of the world, and by allowing other countries to produce doses for themselves.
The U.S. already has way more than enough vaccines ordered to inoculate our entire population. They haven't all been delivered yet, but production of the Pfizer/BioNTech and Moderna shots has been steadily accelerating, and now mass deliveries of the Johnson & Johnson version have also started. Behind those are the not-yet-approved Novavax shot which could add even more to the pile later this spring. Already in several states vaccines are available for basically all adults, and within weeks that will be true across the country. Very soon the American vaccine rollout will depend on coaxing vaccine-skeptical people into getting their shots rather than simply delivering them around the country.
Subscribe to The Week
Escape your echo chamber. Get the facts behind the news, plus analysis from multiple perspectives.
SUBSCRIBE & SAVE
Sign up for The Week's Free Newsletters
From our morning news briefing to a weekly Good News Newsletter, get the best of The Week delivered directly to your inbox.
From our morning news briefing to a weekly Good News Newsletter, get the best of The Week delivered directly to your inbox.
Meanwhile, there are also about 60 million doses of the AstraZeneca vaccine, which has been approved for use in Europe and several other countries but not yet in the U.S., piled up in American supply depots. Now, there has been some controversy over the AstraZeneca shot lately, over a tiny handful of blood clotting events. As Gretchen Vogel and Kai Kupferschmidt write in Science, some 13 people in Europe have come down with a strange clotting disorder after receiving it, and seven have died. As a result, some 20 European countries have paused use of the AstraZeneca shot for the moment.
In reality, this appears to be just a weird coincidence. In Britain, which has used more doses of AstraZeneca than any other country by far, the government reports that there have been no more clotting events in the vaccinated population than there were before inoculation started. Thus the European Medicines Agency (which regulates such things in the E.U.) announced Thursday that the vaccine was not associated with increased risk of clots, and confirmed its approval for use.
The process of FDA approval for this shot is started, but it will likely be weeks at least before it is completed — and by that time, those doses will be far in excess of need in the U.S. We also know that though the AstraZeneca shot is not quite as effective as the mRNA vaccines, it does work. Gibraltar (a tiny peninsula on the coast of Spain that is a British territory) has inoculated its entire adult population with it, and cases have fallen virtually to zero.
Indeed, even aside from surplus doses, the U.S. is already way out ahead of almost all other countries in vaccination. As Zeynep Tufekci argues at The New York Times, we ought to be giving these doses away to poorer nations that have barely started the process. The Biden administration did announce Thursday that it would give 1.5 AstraZeneca million doses to Canada, and 2.5 million to Mexico, but that is far from adequate. The whole continent of Africa has gotten basically no vaccines.
But that's not all America could be doing. As Alex Pareene writes at The New Republic, there have been repeated efforts among non-rich countries to get the World Trade Organization to suspend international intellectual property rights on coronavirus treatments. Thus far Western nations, home to the pharmaceutical companies producing the vaccines, are (as usual) blocking this effort.
Now, suspending patent rights may not be a silver bullet. There is limited drug manufacturing capacity in poorer nations, particularly for the finicky mRNA vaccines, and there are other trade law issues aside from the WTO. Many countries are simply too poor to buy millions of vaccines at any price. But lifting the patents certainly couldn't hurt, and it might help a lot.
Protecting these patents is putting the narrow interest of a handful of pharmaceutical companies — and really just a handful of stockholders and top executives — above the American national interest and the interest of humanity as a whole. It is absolutely imperative to squelch the transmission of the coronavirus as soon as possible, because allowing it to circulate in poorer countries poses the risk that it will mutate past the vaccines, leaving the whole world back at square one of a new pandemic. Heading off that possibility would be worth paying almost any price — and in reality, even if rich countries fronted the entire cost of vaccinating the world, it would cost a few tens of billions of dollars, tops. Anything that has even a tiny chance of speeding up global vaccination should be done immediately.
If it is really so necessary to preserve "incentives" for pharmaceutical companies or whatever, so be it — just buy them off and be done with it. Force the pharma companies to sell their patents at a fair price (indeed, the U.S. government already has some patent rights on the Moderna vaccine, because a government employee personally designed it), put them in the public domain, and tell the rest of the world to get cranking as best they can.
China and Russia have been giving out substantial shipments of their homemade vaccines even before their own populations have been inoculated, in what is presumably an effort to cultivate goodwill. That's the kind of international leadership contest I can get behind. Are we really going to let those devious authoritarian countries open up a "being nice to others" gap? America should help itself and the world, and burnish its dented reputation, by being a good global citizen.

Continue reading for free
We hope you're enjoying The Week's refreshingly open-minded journalism.
Subscribed to The Week? Register your account with the same email as your subscription.