Federer beats Nadal as old rivals serve up another classic
Swiss master claims an 18th Grand Slam at the age of 35 with an epic five set win in Melbourne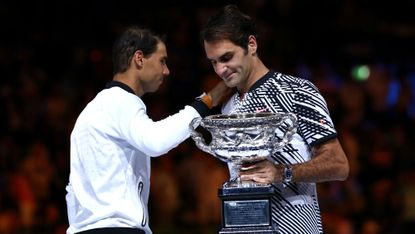 (Image credit: Cameron Spencer/Getty Images)
Roger Federer defeated Rafael Nadal in an epic Australian final on Sunday to win his 18th Grand Slam title and his first for five years.
The Swiss beat his long-time rival 6-4, 3-6, 6-1, 3-6, 6-3 in a match that lasted three hours and 40 minutes and left the Rod Laver Arena breathless. "I'd like to thank my team," said an exhausted Federer, as he collected his fifth Australian Open title.
"It's been a difficult last six months. I didn't think I'd make it but here I am... everybody says they work very hard - I do the same - but I try not to shout about it."
Subscribe to The Week
Escape your echo chamber. Get the facts behind the news, plus analysis from multiple perspectives.
SUBSCRIBE & SAVE
Sign up for The Week's Free Newsletters
From our morning news briefing to a weekly Good News Newsletter, get the best of The Week delivered directly to your inbox.
From our morning news briefing to a weekly Good News Newsletter, get the best of The Week delivered directly to your inbox.
It is Federer's first Grand Slam triumph since he won Wimbledon in 2012 and it was all the more impressive because for the last six months he has been recovering from a knee injury that flared up not long after his semi-final defeat at Wimbledon.
In defeating Nadal, Federer is the first man to claim five or more titles at three different Grand Slam events - five Australian Opens, five US Opens and seven Wimbledons. He's also, at 35, the second-oldest man to win a Slam tournament, two years shy of Ken Rosewall's age when he won the Australian Open in 1972.
"I've been coming here for almost 20 years now," reflected Federer. "I've always enjoyed it and now my family does too. Thanks again for everything, to everybody. I hope to see you next year. If not, this was a wonderful run here and I can't be more happy to win."
Coming 24 hours after the 35-year-old Serena Williams had lifted the women's crown, Federer's victory struck a further blow for 30-somethings but also highlighted the paucity of fresh, young talent emerging in the sport.
Instead two veterans, theirs ageing bodies increasingly susceptible to injuries, defied their tournament rankings to contest a final that lived up to the pre-match billing. Federer, the 17th seed, took the first set with one break of Nadal's serve, but the 30-year-old Spaniard, ranked ninth in Melbourne, fought back to take the second.
But Federer, who at one point in the match needed a off-court medical time-out, roared back in the third, attacking his opponent's return to cruise to see out the set 6-1, only to allow Nadal to make it two sets apiece in the fourth because of a string of his forehand errors.
The fifth and final set will live long in the memory for the 26-stroke rally that was won by Federer and proved a decisive moment in the match. With both players reaching the limits of their endurance, it was the Swiss who was able to find that little bit extra, winning the game, set and the match with a forehand shot that needed confirmation from Hawk-Eye.
"Tennis is a tough sport," said Federer. "There are no draws. If there were I would have been happy to accept one and share it with Rafa."
Nadal, who first played Federer in a Grand Slam final in Paris in 2006, was characteristically gracious in defeat, saying: "I worked very hard to get where I am. I fight a lot, probably Roger deserved it a little bit more than me, [but] I'm just going to keep trying. I feel I am back at a very high level."
Legends assemble! Rafa Nadal makes Australian Open final
27 January
Rafa Nadal will play Roger Federer in a Grand Slam final for the first time since 2011 after winning an extraordinary semi-final against Grigor Dimitrov in front of a frenzied crowd in Melbourne.
After Federer and the Williams sisters had rolled back the clock to book their places in what will go down as a historic finals weekend, the Spaniard made it a clean sweep for the legends as he pushed through in typically dogged fashion – the 30-year-old forced to fight tooth and nail to edge a five hour, five set thriller against the Bulgarian.
The win caps a remarkable sequence of events at the Australian Open, with all four finalists, even Serena Williams, believed to be past their prime. Between them they have a combined age of 135 and a total of 60 Grand Slam titles.
"In a pulsating match that lasted 4hr 56 min, Nadal eventually came through to set up the final that the majority of the tennis world has been desperately hoping for," says Charlie Eccleshare of the Daily Telegraph. Their match will provide the "perfect closing chapter to a throwback Australian Open, which now boasts four singles finalists aged 30 or older – a first for a grand slam in the Open era".
Indeed the finals are an exact replica of those at Wimbledon nine years ago when Federer and Nadal served up what is widely regarded as the greatest Grand Slam final ever played.
How much of a toll the semi-final takes on Nadal remains to be seen, but he was pushed to the very limit as Dimitrov refused to buckle, eventually winning 6-3, 5-7, 7-6 (7-5), 6-7 (4-7), 6-4.
Nadal needed all his "famed determination of old" to see off the "courageous and freeflowing" Dimitrov, says Mike Dickson of MailOnline. The atmosphere inside the Rod Laver Arena was incredible and when Nadal broke Dimitrov in the ninth game of the final set "the roof nearly came off". The final game, during which Dimitrov saved two match points, was played out "amid uproar", says Dickson.
Roger Federer and Williams sisters set up 'flashback' finals
26 January
Roger Federer's Melbourne fairytale is not over yet as he advances to the final of the Australian Open with an extraordinary five-set win over his compatriot Stan Wawrinka. On the women's side, Venus and Serena Williams have added to the sense of deja vu by setting up their first Grand Slam final meeting since 2009.
The combined age of the three confirmed finalists at Flinders Park is 106. If Rafa Nadal can beat Gregor Dimitrov in the second men's semi-final it would give the final a distinctly old-school feel.
It was Federer, who has not won a Grand Slam since 2012 and last appeared in the Australian Open final in 2010, who produced the performance of the day as he overcame Wawrinka 7-5, 6-3, 1-6, 4-6, 6-3 in just over three hours.
The 35-year-old Swiss veteran now "stands on the brink of arguably his greatest achievement", says Mike Dickson of Mailonline, with an 18th Grand Slam title just one match away.
"Over the course of an undulating three hour and five minute contest Wawrinka, despite playing a compatriot, must have felt like he was in an away Davis Cup match as the Rod Laver Arena roared his opponent on."
Even after Wawrinka recovered from two sets down to make it 2-2, Federer, playing his first tournament since Wimbledon last year, "continued to surpass his expectations and pulled ahead in the fifth set when it looked like third seed Wawrinka had him on the ropes".
All eyes will now be on the second semi-final. "The prospect of a blockbusting showdown with Rafael Nadal on Sunday now seems tantalisingly close," says Simon Briggs of the Daily Telegraph. It would be a "miraculous reunion" if it were to happen.
"At 35, he is the oldest man to reach a grand-slam final since Ken Rosewall, then 39, at the US Open in 1974. With the Williams sisters also through to the women's final, this Australian Open will surely be remembered as the flashback slam."
The Williams sisters have progressed to the final in very different circumstances. Venus, 36, whose last Grand Slam final was in 2009 against her sister at Wimbledon, took two-and-a-half hours to beat Coco Vanderweghe 6-7 (3-7), 6-2, 6-3.
It was very different for Serena, targeting her 23rd Grand Slam title. She beat Mirjana Lucic-Baroni with "ominous ease" in just 50 minutes, says Russell Jackson of The Guardian.
"There could hardly be more contrasting wins – and there will be some who wonder again about the symbiosis between them. How hard will Serena strive to pass Steffi Graf's Open era number of majors when she knows what an eighth slam title would mean to her sister?"
Serena Williams crushes Johanna Konta at the Austalian Open
25 January
Johanna Konta's hopes of becoming the first British woman to win a Grand Slam singles title since Virginia Wade's Wimbledon triumph in 1977 are over.
The Briton was ruthlessly brushed aside in the quarter-final of the Australian Open by Serena Williams, the six-time champion who won 6-2, 6-3 in 75 bruising minutes.
"I am pleased to get through this," said the 35-year-old American, who faces Croatia's unseeded Mirjana Lucic-Baroni in the semi-final. "Johanna Konta has been playing so well. I was in the locker room watching her clean up her matches, she is a future champion here for sure."
The gracious words are unlikely to cheer Konta in the short-term as she comes to terms with the demoralising defeat in her first clash with Williams.
The ninth seed strode out on court to face the veteran American on the back of on a nine-match and 18-set winning streak, but she had no answer to the power and experience of the indefatigable Williams, who is now just two matches away from claiming an Open-era record 23rd major title.
Even with the fact that Williams had an unusually off day with her first serve, making just 45 per cent of them count, her overall game was simply too strong for the Briton and the first set was done and dusted in 33 minutes.
Konta threatened to fight her way back into the match in the second set, breaking Williams to establish a 3-1 lead, but that only seemed to galvanise the American, who reeled off the next five games to cruise into the last four.
There the second seed will face world number 79 Lucic-Baroni, appearing in her first Grand Slam semi-final for 18 years. Back in 1999 the 34-year-old Croat reached the last four at Wimbledon, and although the teenager lost to Steffi Graf, she seemed set for a glittering future. She had already won the women's double title at the 1998 Australian Open with Martina Hingis (at 15 years and ten months she was the youngest player in history to win a title at the Australian Open) but in the next decade Lucic-Baroni slipped from view, subsequently revealing that she had suffered at the hands of her abusive father.
She returned to the women's tour in 2007 but has achieved little since, her best result in a Grand Slam event reaching the fourth round of the 2014 US Open.
"I can't believe this, this is crazy," exclaimed Lucic-Baroni, after her shock win over Karolina Plisokva. "The only thing I can say is god is good. I can't believe I'm in the semi-finals again. I feel a little bit in shock right now. I know this means a lot to every player but to me this is overwhelming, this has truly made my life and everything bad that has happened OK."
For Williams, the semi-final will be a chance to renew acquaintances with Lucic-Baroni, an opponent she last faced 19 years ago at the Wimbledon championships. "It is really happening for the mid-thirties," joked Williams. "Mirjana - it is so good to see her back out and inspiring to see her in the semi-finals."
Federer on a roll as he sets up Wawrinka semi-final showdown
24 January
Roger Federer is on course for an extraordinary triumph at the Australian Open after sweeping past Mischa Zverev, the conqueror of Andy Murray, in straight sets to set up a semi-final against Stan Wawrinka.
The 35-year-old Swiss star beat the German 6-1, 7-5, 6-2 in 92 minutes on Tuesday "after playing the sort of tennis of which only he or an angel is capable", says Kevin Mitchell of The Guardian.
Federer is the oldest Grand Slam semi-finalist since Jimmy Connors at the US Open in 1991. "If he were to go all the way and win on Sunday, he would be the oldest champion to win three majors after turning 30 since Ken Rosewall, who completed his hat-trick here 45 years ago", says Mitchell.
With Rafa Nadal still in the mix "the whole tournament will start to feel like a throwback to 2005", says Simon Briggs of the Daily Telegraph. "Federer is enjoying even more delirious support than Peter Colt, the fictitious tennis champion who starred in Wimbledon.
"Federer has always had a Hollywood glamour about him, but to return from a six-month injury lay-off to reach the semi-final here in Melbourne is a script that few would be brave enough to write."
Having outlasted both Novak Djokovic and Murray, the men who appeared to have stolen his crown for good, Federer now faces his compatriot Wawrinka, "arguably [the] most dangerous player left in the draw given he has won three grand slams in as many years", says the Daily Mirror.
Wawrinka saw off Jo Wilfried Tsonga in their quarterfinal during which "the two players became involved in an extraordinary on-court squabble about eye contact", reports Stuart Fraser of The Times. "The argument broke out, in French, after the first-set tie-break when Tsonga complained about Wawrinka looking at him too much."
Wawrinka could be heard telling Tsonga to calm down and although the pair shook hands after the match they refused to discuss the row.
"A thrilling semi-final battle between the two Swiss compatriots is expected on Thursday. Federer leads their head-to-head record 18-3, but Wawrinka, now with three grand slam titles, has vastly improved in recent years," says Fraser.
Federer and Nadal roll back the years as Murray bows out
23 January
Following shock defeats for Andy Murray and Novak Djokovic, old stagers Roger Federer and Rafa Nadal are hoping to turn the clock back at Melbourne.
The two former world number ones have made it through to the quarterfinals of the Australian Open, with Federer overcoming Kei Nishikori on Sunday and Nadal seeing off Gael Monfils in four-sets on Monday to reach the last eight of a Grand Slam for the first time in two years.
"There is a decent chance the two players who will contest the title next Sunday will have a combined age of 65 and were, by general consensus, headed for the sport's dustbin," says Kevin Mitchell of The Guardian.
"The smart money has correctly installed Stan Wawrinka as the new favourite, followed by Milos Raonic and Nadal. Nevertheless it is the comeback of Federer, who has cut a stylish swathe through the first four rounds culminating in a five-set win over the fifth seed, Kei Nishikori, that has sent a shiver of familiar excitement through the tournament and the game."
Federer and Nadal have not met in a Grand Slam final since the 2011 French Open, when Nadal won in four sets to win his sixth crown at Roland Garros, notes the Melbourne Herald Sun, which adds that fans are "hoping and praying" that the pair will be the last men standing at the Australian Open.
Murray's shock exit at the hands of Mischa Zverev was the biggest talking point of the weekend, but his departure and that of Dan Evans, beaten by Jo Wilfried Tsonga, did not signal the end of British interest in the tournament. Johanna Konta has booked her place in the quarter finals of the women's draw, beating Ekaterina Makarova 6-1, 6-4 in 69 minutes to set up a daunting clash with Serena Williams.
"Konta beat Venus Williams in the first round here last year but has never faced Serena," notes the Daily Mirror. "The world number two has only played two British players – Laura Robson and Heather Watson – and never lost."
Williams will not lack motivation against Konta. If she wins the tournament she will set a new open era record of 23 Grand Slam titles and reclaim the world number one spot.
Australian Open: Dan Evans marches on - in a £13 T-shirt
20 January
Never mind Andy Murray, who swept into the fourth round of the Australian Open on Friday; it is Dan Evans who has been the talk of Melbourne this week.
The 26-year-old continued his great run Down Under to see off home favourite Bernard Tomic, the world number 26, in straight sets, winning 7-5, 7-6 (7-2), 7-6 (7-3) in two hours and 48 minutes.
Having already beaten the number seven seed Marin Cilic, Evans's next opponent will be former Australian Open finalist Jo-Wilfried Tsonga and the British player will not be alone in fancying his chances.
"The Evans-Tomic battle was a wonderful match, full of brilliant and clever shot-making, and invested with rolling drama from start to finish. There was a lot of mutual respect at the finish," says Kevin Mitchell of The Guardian.
But he may have had a point to prove, says Stuart Fraser of The Times. "Almost five years ago, Tomic's father, John, had cancelled a practice session with Evans because he did not believe he was good enough. Yesterday, he sat in the stands of the Hisense Arena and watched Evans outfox his son."
Evans showed off his wily side to recover from a cramp, complaining about the light drizzle to have a ten-minute break towards the end of the third set.
"An emotional Evans could barely hold back the tears when the final point was won, looking up to the sky before punching the air with relief," says Charlie Eccleshare of the Daily Telegraph, who adds that Evans has been playing in £13 T-shirts all week after losing his sponsorship deal with Nike at the end of last year.
He bought 18 of the tops from a Uniqlo store before the start of the tournament – and the Daily Mail notes that having earned £139,000 for making the last 16, he could by more than 10,000 of the tops.
However, the company may decide to offer him a few freebies after Novak Djokovic, its highest-profile brand ambassador, was knocked out of the tournament.
Meanwhile, Murray made short work of Sam Querrey, winning 6-4, 6-2, 6-4 to set up a match with the unseeded Mischa Zverev. Roger Federer also booked his place in the last 16 by destroying Tomas Berdych 6-2 6-4 6-4 and he could be Murray's opponent in the quarter finals.
Djokovic out of the Australian Open - can Murray capitalise?
19 January
World number 117 Denis Istomin has knocked defending champion Novak Djokovic out of the Australian Open, handing Andy Murray a huge boost in his quest for a first title in Melbourne.
Djokovic, a six-time winner in Australia, "struggled for rhythm" as he lost 7-6 (10-8), 5-7, 2-6, 7-6 (7-5), 6-4 in four hours and 48 minutes, reports the BBC.
It is only the second time in seven years the Serb has lost to a player ranked outside the top 100 and only the first time he has lost in the second round of a Grand Slam since 2008.
But it appears symptomatic of Djokovic's recent form. The 29-year-old "has struggled for consistency since winning his first French Open title in June 2016 and completing a career Grand Slam", says the BBC.
"He was knocked out in the third round at Wimbledon by American Sam Querrey but looked to have returned to form when he won the Rogers Cup in July. However, he went on to lose to [Juan Martin] del Potro in the first round of the Olympics and was knocked out of the doubles competition the following day.
"He struggled physically in the US Open final, losing in four sets to third seed Stan Wawrinka, before he lost the world number one ranking to Murray in November."
Despite all that, Istomin's win goes down as "one of the biggest upsets in Grand Slam history", says the Daily Mail.
The 30-year-old Uzbek was a wildcard entry after a poor run of form last year saw him reduced to playing on the secondary men's circuit.
But he produced "a performance of staggering quality" against Djokovic, says the Mail, adding that for once, the result was more eye-catching than his attire.
"If a player who has never moved beyond the fourth round of a grand slam can indeed claim to have a signature look, Istomin's fluorescent glasses and headband count, because they make him look like an extra from the mid-90s cyber-thriller Hackers," says Russell Jackson of The Guardian. "This performance was the tennis equivalent of blacking out the Pentagon."
However, it could be Murray who is the biggest beneficiary of Istomin's heroics, says the Daily Telegraph. The Scot is "now odds on favourite to win a maiden Australian Open after five final defeats - four of which have come against Djokovic".
The paper identifies Grigor Dimitrov and Milos Raonic as two of the main danger men in Djokovic's half of the draw.
Britain can also look to Johanna Konta, who made it through to the third round of the women's game, beating Naomi Osaka of Japan in straight sets, although team-mates Heather Watson and Kyle Edmund were knocked out.

Continue reading for free
We hope you're enjoying The Week's refreshingly open-minded journalism.
Subscribed to The Week? Register your account with the same email as your subscription.