10 things you need to know today: June 4, 2022
Ukraine says it regained part of Sievierodonetsk, McCormick accepts defeat, and more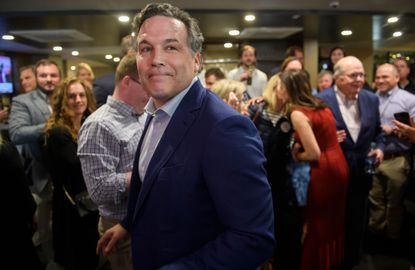 (Image credit: Jeff Swensen/Getty Images)
1. Ukraine claims to have regained part of Sievierodonetsk
Ukraine has won back from Russia about 20 percent of the city of Sievierodonetsk, regional governor Serhiy Haidai said late Friday, noting, however, that Russian troops are attacking the city's bridges to prevent Ukraine from bringing in reinforcements, food, and medicine. Still, the governor said, it was "not realistic" that the city would fall in the next two weeks. "As soon as we have enough Western long-range weapons, we will push their artillery away from our positions," Haidai said. "And then, believe me, the Russian infantry, they will just run."
2. David McCormick concedes to Dr. Oz in Pennsylvania primary
Former hedge fund executive David McCormick conceded to the former President Donald Trump-backed Dr. Oz in Pennsylvania's Republican Senate primary on Friday, catapulting Oz to a general election standoff against Democrat Lt. Gov. John Fetterman. The two Republican candidates had been locked in a tight contest for weeks, after Oz's ever-so-slight lead in the race triggered a recount. "It's now clear to me, with the recount largely complete, that we have a nominee," McCormick conceded Friday. Oz later said that his opponent had called to congratulate him.
Subscribe to The Week
Escape your echo chamber. Get the facts behind the news, plus analysis from multiple perspectives.
SUBSCRIBE & SAVE
Sign up for The Week's Free Newsletters
From our morning news briefing to a weekly Good News Newsletter, get the best of The Week delivered directly to your inbox.
From our morning news briefing to a weekly Good News Newsletter, get the best of The Week delivered directly to your inbox.
3. Ex-Trump aide Navarro charged with contempt of Congress
A federal grand jury indicted Peter Navarro for contempt of Congress after he refused to cooperate with the House select committee investigating the Jan. 6. Capitol riot. The indictment was unsealed on Friday. Navarro, an ex-adviser to former President Donald Trump, is up against two counts of contempt: one for failing to procure documents as demanded by the committee, and the other for failing to comply with a subpoena for his testimony. Navarro had previously claimed he couldn't cooperate with the investigation for reasons of executive privilege. Earlier in the week, Navarro revealed he'd been served a subpoena as part of the Justice Department's investigation into Jan. 6.
4. DOJ will not press contempt of Congress charges against Meadows and Scavino
The Department of Justice will not charge former White House Chief of Staff Mark Meadows and former Deputy Chief of Staff Dan Scavino with contempt of Congress for refusing to cooperate with the Jan. 6 probe in the House, U.S. Attorney Matt Graves reportedly told House general counsel Doug Letter on Friday. The decision is notably at odds with the House's recommendation on the matter. In a statement, Jan. 6 select committee Chair Rep. Bennie Thompson (D-Miss.) and Vice Chair Rep. Liz Cheney (R-Wyo.) called the choice "puzzling." "We hope the department provides greater clarity on this matter," they said.
5. Prince Harry and Meghan Markle return for 1st royal family event in 2 years
As part of Queen Elizabeth II's ongoing jubilee festivities, Prince Harry and Meghan Markle on Friday attended the National Service of Thanksgiving at St. Paul's Cathedral in London — their first public event with the royal family since their dramatic exit in 2020. They were met with cheers, as well as some boos, from the crowd as they arrived. The queen herself, however, wasn't in attendance for the service, as Buckingham Palace said she would skip the event due to experiencing "discomfort." Harry and Meghan previously returned to the U.K. to visit the queen, for whom Platinum Jubilee celebrations kicked off Thursday, earlier this year.
6. Labor Department releases May jobs report
The U.S. added 390,000 jobs in May, the Labor Department announced Friday in its latest monthly report. Economists seemed to respond optimistically to the May numbers, despite unemployment having held steady at a still-positive 3.6 percent instead of dropping to the estimated 3.5. And though average hourly earnings jumped 5.2 percent in the year through May (good news for workers, but tough news for policy), wage growth slowed slightly from April in what some are taking as a sign of possible cooling and moderation. "Despite the slight cooldown, the tight labor market is clearly sticking around and is shrugging off fears of a downturn," Daniel Zhao, Glassdoor's senior economist, told CNBC. "We continue to see signs of a healthy and competitive job market, with no signs of stepping on the brakes yet."
7. White House lit up orange for gun violence awareness
The White House's north facade was covered in orange light from Friday at sunset until 1:30 a.m. ET on Saturday in recognition of National Gun Violence Awareness Day, which arrived this year following multiple high-profile, deadly mass shootings that shook the nation. Certain other government buildings — like City Hall in New York City — will also be lit up orange this weekend. On Thursday, in the wake of yet another shooting, President Biden urged Congress to take action and enact common-sense gun laws to keep Americans safe. "How much more carnage are we willing to accept?" he asked.
8. Biden's trip to Saudi Arabia postponed: Report
The White House has postponed President Biden's purported upcoming visits to Saudi Arabia and Israel from June until next month, officials told NBC News on Friday. A broader trip to the Middle East is now being planned for July, the sources said; the reason for the schedule change was apparently not immediately clear. Notably, the White House never publicly confirmed Biden's original travel plans. "We are working on a trip to Israel and Saudi Arabia for a GCC+3 Summit," a senior administration official said Friday. "We are working to confirm dates. When we have something to announce, we will."
9. GOP lawmaker drops re-election campaign over support for gun control
Republican Rep. Chris Jacobs of New York on Friday announced he would not be running for re-election after his support for gun control measures like an AR-15 ban and an increased minimum age for gun ownership cost him conservative backing. His support for such changes arrived after a shooter last month opened fire inside a Buffalo supermarket, killing 10. "Despite this backlash, I truly believe I could win this election, but it would be an incredibly divisive election for both the Republican Party and for the people of the 23rd District," the Buffalo-area representative said Friday. "The last thing we need is an incredibly negative, half-truth filled media attack funded by millions of dollars of special interest money coming into our community around this issue of guns and violence and gun control."
10. Elon Musk planning to cut 10 percent of salaried Tesla staff
Tesla CEO Elon Musk plans to cut 10 percent of his car company's salaried workforce thanks to what he described to executives as a "super bad feeling" about the economy. Musk alerted employees of his decision in a Friday email. "Tesla will be reducing salaried head count by 10 percent, as we have become over staffed in many areas," he wrote. The cuts will not apply to staffers who build cars or batteries or who install solar panels, he added, and the number of hourly workers will increase. The email arrives just days after Musk demanded all workers at both Tesla and SpaceX return to the office full-time for a "minimum" of 40 hours a week or resign.

Continue reading for free
We hope you're enjoying The Week's refreshingly open-minded journalism.
Subscribed to The Week? Register your account with the same email as your subscription.