10 things you need to know today: November 2, 2021
Biden apologizes at COP26 for Trump withdrawal from climate accord, Manchin withholds support on $1.75 trillion spending bill, and more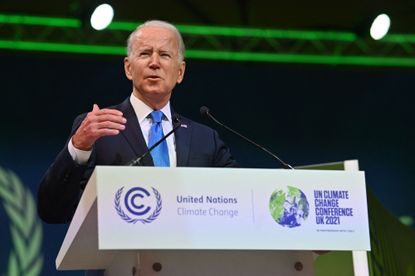 (Image credit: PAUL ELLIS/AFP via Getty Images)
1. Biden apologizes for Trump withdrawal from Paris climate deal as COP26 starts
President Biden apologized Monday for former President Donald Trump's decision to withdraw the United States from the landmark 2015 Paris climate accord. Biden, who rejoined the agreement, said as the United Nations' COP26 climate change conference got underway in Glasgow, Scotland, that the U.S. was "back at the table" and ready to lead a push for commitments to reduce emissions to hold warming to 1.5 degrees Celsius above pre-industrial levels. U.N. Secretary-General Antonio Guterres warned world leaders at COP26 that they were not doing enough to fight climate change, with massive damage already unstoppable. He said in opening remarks at COP26 that the world must cut greenhouse gas emissions or face catastrophic damage from rising temperatures. "We are digging our own graves," he said.
2. Manchin says he can't yet back $1.75 trillion spending bill
In a setback for President Biden's agenda, Sen. Joe Manchin (D-W.Va.) said Monday that he would not yet commit to backing the $1.75 trillion framework Biden unveiled for his Build Back Better plan. The bill would expand the social safety net and provide $555 billion for clean energy and other measures to fight climate change. Manchin said the proposal had "budget gimmicks" that would cost more than its supporters say. He accused progressives of refusing to compromise, although the bill has been slashed in half from the original $3.5 trillion because he and fellow moderate Sen. Kyrsten Sinema (D-Ariz.) demanded cuts. Both essentially have wielded veto power, because Democrats need every vote in their caucus to pass the bill in the 50-50 Senate.
Subscribe to The Week
Escape your echo chamber. Get the facts behind the news, plus analysis from multiple perspectives.
SUBSCRIBE & SAVE
Sign up for The Week's Free Newsletters
From our morning news briefing to a weekly Good News Newsletter, get the best of The Week delivered directly to your inbox.
From our morning news briefing to a weekly Good News Newsletter, get the best of The Week delivered directly to your inbox.
3. Biden unveils new U.S. methane emission rules
President Biden and his administration unveiled a series of policies Tuesday to limit methane gas leaks from oil and gas wells and pipelines. Biden is at the United Nations-sponsored COP26 climate change summit in Glasgow, Scotland, where methane emissions are a major agenda item. Methane, a key component of natural gas, is the No. 2 greenhouse gas behind carbon dioxide. It dissipates more quickly than carbon dioxide, but is 80 times more powerful in the first 20 years after reaching the atmosphere. The U.S. and European Union are pushing other countries to sign the Global Methane Pledge to cut emissions 30 percent by 2030. A new Environmental Protection Agency rule to be finalized next month will require oil and gas wells to monitor and capture methane leaks.
4. Supreme Court justices appear likely to allow challenge to Texas abortion law
Supreme Court justices on Monday expressed skepticism about Texas' new ban on nearly all abortions as they heard nearly three hours of arguments, suggesting a majority of the justices were leaning toward allowing abortion providers to pursue their challenge to the law. Justices Brett Kavanaugh and Amy Coney Barrett, the two newest members of the court's expanded 6-3 conservative majority, asked questions suggesting the law's novel enforcement by private lawsuits rather than government action could justify a challenge filed by abortion providers, but not necessarily one pursued by the Justice Department. The two justices said the state appeared to have adopted an unconstitutional limit on abortions, then engineered it so doctors and clinics couldn't challenge it in federal courts. Both Kavanaugh and Barrett were in the 5-4 majority that let law take effect in September.
The New York Times Los Angeles Times
5. Vaccination of U.S. kids ages 5 to 11 set to start Nov. 8
The federal vaccination program for children ages 5 to 11 will be fully operational on Nov. 8, White House coronavirus coordinator Jeff Zients said Monday. The Food and Drug Administration signed off Friday on emergency-use authorization for coronavirus vaccines for kids in that age group, which includes about 28 million children. The Centers for Disease Control and Prevention's leadership is expected to give the final go-ahead. Public health experts say vaccinating children is crucial to curbing the pandemic and preventing outbreaks in schools. This latest sign of progress came on the day when the global death toll from COVID-19 reached 5 million, even as infection and death rates fall in the United States.
The Washington Post The Wall Street Journal
6. China locks nearly 34,000 people inside Shanghai Disneyland over 1 COVID case
Chinese authorities temporarily shut down Shanghai Disneyland with nearly 34,000 people trapped inside after a single visitor was found to be COVID-19 positive, The Wall Street Journal reported Monday. Shanghai Disneyland, which was Disney's first park to reopen during the pandemic, tested every person before allowing visitors to leave. Shanghai's government said everyone tested negative. The reaction to the positive case, which was discovered Sunday, demonstrated China's "zero-tolerance" approach to the coronavirus nearly two years into the pandemic, even though the country now says it has an 80 percent vaccination rate. Shanghai Disneyland was to remain closed through Tuesday. China said it confirmed 48 domestic cases on Saturday, spread over several provinces.
7. 2,300 NYC firefighters call in sick as vaccine mandate starts
About 2,300 New York City firefighters called in sick on Monday, the day the city's COVID-19 vaccine mandate took effect for municipal workers, FDNY Commissioner Daniel Nigro said. On a typical day, 800 to 1,000 department employees are off due to illness. Nigro said those staying home to protest the mandate must return immediately. "If you're sick, you're sick, it's a dangerous job. I get it. If you're not sick, I want to see you back at work," Nigro said. "Once the members come to their senses and stop using medical leave improperly, they can help out not only the citizens of the city but their brothers and sisters who are staffing these units." Mayor Bill de Blasio said about 9,000 city employees out of a 378,000-person workforce have been place on leave without pay for failing to comply with the requirement to get at least their first shot.
8. Stocks hit record highs as Dow touches 36,000 for 1st time
Stocks edged up Monday, with the Dow Jones Industrial Average briefly breaking 36,000 before inching down but still closing at a record high of 35,913.84. The S&P 500 also closed at a record high after rising by 0.2 percent. The tech-heavy Nasdaq gained 0.6 percent. It too set a closing record. Tesla continued its recent surge, with its shares jumping by nearly 8.5 percent days after the electric-car maker became the first automobile manufacturer with a market capitalization of $1 trillion. Stocks tied to the economic recovery, including Ford and Occidental Petroleum, also rose. "The key story arc driving equities is the strengthening global recovery," Fundstrat's Tom Lee wrote in a note to clients. U.S. stock futures were mostly flat early Tuesday.
9. Durst charged with 2nd-degree murder of wife who vanished in 1982
A Westchester County, New York, grand jury on Monday indicted real estate heir Robert Durst for the alleged murder of his first wife, Kathie McCormack Durst, who disappeared from their home in 1982. Durst was sentenced to life in prison last month for killing a close friend, Susan Berman, in 2000. He now could face a second trial. Durst acknowledged to producers of the 2015 documentary, The Jinx: The Life and Deaths of Robert Durst, that he had a "pushing, shoving argument" with his wife the night she vanished, but he has maintained that he didn't kill her. Kathie Durst's body was never found. Westchester County Dist. Atty. Miriam Rocah said the indictment was a "crucial step" toward accountability after nearly four decades of speculation.
The New York Times Los Angeles Times
10. Jury quickly seated in Kyle Rittenhouse homicide trial
A jury was chosen and seated in Kyle Rittenhouse's homicide trial in Kenosha County, Wisconsin, on Monday, after an unusually quick one-day selection process. Rittenhouse, 18, faces six criminal counts over the shooting deaths of two men and the wounding of another during a protest that erupted after the police shooting of a Black man. When Judge Bruce Schroeder asked if any potential jurors hadn't heard about the case, none raised a hand. Schroeder talked to the jury pool about jurors' responsibilities and about judicial bias, but when one man said he couldn't be impartial due to his fervent support for gun rights, Schroeder said: "I don't want it to get sidetracked into other issues. I don't care about your opinions on the Second Amendment."

Continue reading for free
We hope you're enjoying The Week's refreshingly open-minded journalism.
Subscribed to The Week? Register your account with the same email as your subscription.